News
The Handmaid's Tale Season 4 Confirmed
Hulu announced during their summer 2019 TCA press tour appearance that The Handmaid's Tale season 4 has been ordered.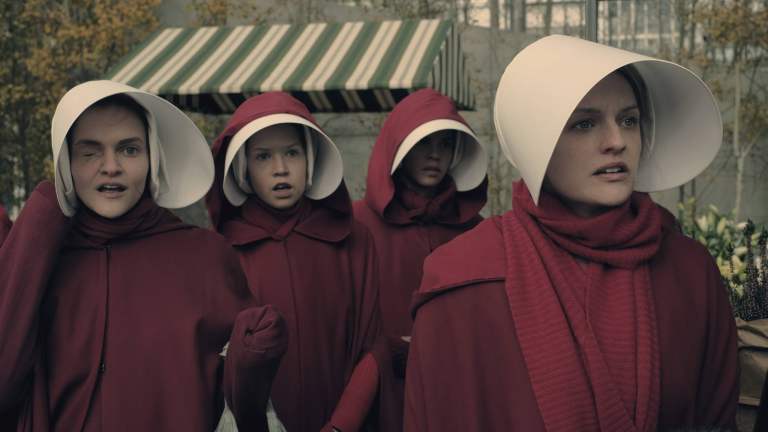 Margaret Atwood, how quickly can you get rolling on some more Handmaid's Tale sequels?
Hulu has announced that it is has ordered The Handmaid's Tale season 4, bringing it even further beyond Atwood's original source material. Three seasons beyond to be exact.
"Hulu is taking big swings on bold and brand-defining stories that reflect the culture and inspire conversation. The series we're presenting today come from many of the biggest storytellers and fresh new voices in entertainment, and reflect why Hulu is a home for creators to do their very best work," Hulu's Senior Vice President of Originals Craig Erwich said.
The Handmaid's Tale renewal was a part of a whole host of announcements that Hulu confirmed during its appearance at the summer 2019 TCA press tour. Among those announcements were a production deal with Amy Schumer, premiere dates for Dollface, Reprisal, and Runaways season 3, and the casting of Mahershala Ali in Ramy season 2. Ali has had a very busy week, having just been revealed as the new Blade during Marvel's SDCC appearance.
But it was The Handmaid's Tale that was Hulu's marquee announcement as it remains the streamer's marquee show. The Handmaid's Tale depicts a dystopian future in which the United States has collapsed and been replaced by a tyrannical religious government in the land of "Gilead." The Handmaid's Tale season 1 closely followed Margaret Atwood's classic novel and told the story of a "handmaid" branded Offred (Elisabeth Moss) trying to survive in a world where most women are glorified pregnancy chambers.
The Handmaid's Tale season 1 won the Emmy award for Outstanding Drama Series. The subsequent two seasons have moved far beyond Atwood's source material and delve deeper into the complicated geopolitical standing of Gilead and the freedom fighters up north in Canada. The Handmaid's Tale season 3 currently releases new episodes every Wednesday. The finale will arrive on August 14.
Read and download the Den of Geek SDCC 2019 Special Edition Magazine right here!
Alec Bojalad is TV Editor at Den of Geek and TCA member. Read more of his stuff here. Follow him at his creatively-named Twitter handle @alecbojalad