News
The Dragon Prince Tie-In Books Are Made For Fans
The Dragon Prince's upcoming books from Scholastic promise to not be your standard tie-in fare.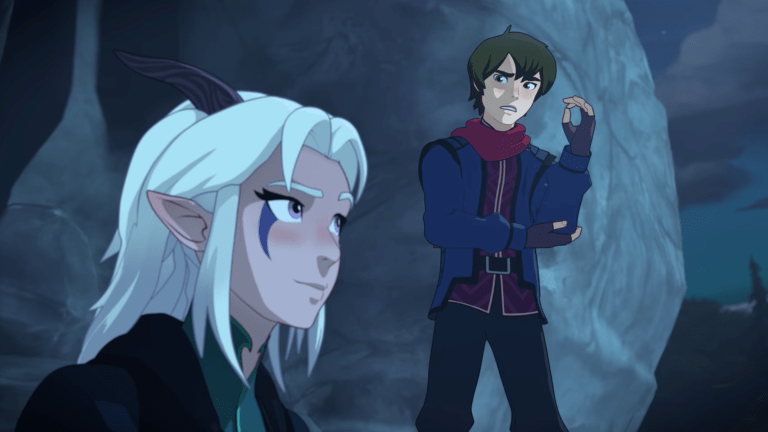 A lot of tie-in books for children's media are fairly disposable. They aren't always bad, they just don't often scream out as something for hardcore fans to pick up. They're usually basic chapter books rigidly adapting episodes, sparse picture guides, or other pieces of content that feel less essential than their source material.
The Dragon Prince's tie-in books are planning to be must reads for hardcore fans. As announced at San Diego Comic-Con, The Dragon Prince team has entered into a licensing deal with Scholastic to publish novels, graphic novels, and guidebooks for the series. According to show creators Aaron Ehasz and Justin Richmond, these books won't be throw away titles.
At first when they entered into a deal with Scholastic they did worry that such a major publishing company would simply pump out some books and be done with it. However, Scholastic have been "fantastic creative partners," says Ehasz. The editors brought on board are invested in The Dragon Prince since they themselves are fans or have friends/family members who are fans.
On Ehasz and Richmond's side, they are actively involved in everything that'll be published for the series. While something like the guide book will still be for younger audiences it'll include valuable information for fans that hasn't been seen in the series. Ehasz also stresses the graphic novels are canon to the series. 
read more: Give The Dragon Prince a Chance
"It's not random side stories. We're creating it and bringing on writers to co create with us."
Of special note in the deal with Scholastic are the novelizations of The Dragon Prince, which is where the creators of the series plan to give the kind of detail they wish they had more time for in the series.
"We didn't want to just do a novelization of The Dragon Prince series," explains Ehasz. "We wanted to do novels that were deeper, truer, and gave more details and insight into what was going on with the characters. What does this ritual mean? What's the background?"
read more: What to Expect From The Dragon Prince Season 3
He clarifies that while the novels will be the same story as the show and no plot details will be different, it'll be richer. They'll be able to get inside characters heads and show what they're thinking. An example Ehasz points to is one of Rayla's first scenes in the series when she can't bring herself to a kill a human.
"She's an assassin who's never killed someone. How do you clear your mind and go to just be the instrument of death and just finish it? How do you do it? That whole time, that's what she's trying desperately to do is just be an instrument of death and let her mind and heart keep that out of it and she loses that battle. [In the show itself] we show it and it's raining and it's beautiful, but that's a chapter I love in this book. [It shows the reader] what she's thinking and what a struggle it is for her trying so hard to kill this guy and she doesn't do it."
Ehasz and Richmond hope fans will love this sort of detail and liken it to the differences between watching the Harry Potter movies and reading the books. Each provides its own experience and fans learned new things about the universe.
read more: Everything You Need to Know About The Dragon Prince Season 3
"[These books are] going to feel every bit as rich and deep and valuable as The Dragon Prince hopefully feels to fans right now," promises Ehasz. We can't wait to read them!
Special thanks to Hazel for her help with the interviews for this article.
Shamus Kelley is a pop culture/television writer and official Power Rangers expert. Follow him on Twitter! Read more articles by him here!
Read and download the Den of Geek SDCC 2019 Special Edition Magazine right here!