News
The Dangerous Book for Boys Trailer Reveals Bryan Cranston's Amazon Series
Breaking Bad's Bryan Cranston developed Amazon's TV adaptation of non-fiction guidebook The Dangerous Book for Boys.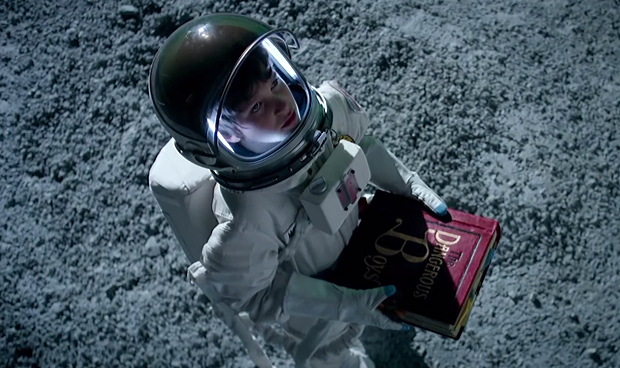 The Dangerous Book for Boys may brandish a title that sounds like an Atomic Age Cub Scouts guide, but the upcoming Amazon Prime series – based on a popular 2007 British book – was co-developed for TV by Bryan Cranston, arriving as an intriguing peak television offering that combines the poignant dramatic element of grief with pure unadulterated imagination.
The Dangerous Book for Boys Trailer
While the series adapts the 2007 non-fiction book by Conn and Hal Iggulden, The Dangerous Book for Boys trailer showcases an Amazon series that centers on a fictional story that's put through the lens of the book's themes.
The Dangerous Book for Boys focuses on a young man named Wyatt (Gabriel Bateman) and his brothers, Dash (Drew Powell) and Liam (Kyan Zielinsky), who are reeling in the aftermath of the death of their father (Chris Diamantopoulos). Hoping to bring about a bit of joy, their grieving mother (Kevin Can Wait castoff Erinn Hayes) hands Wyatt an heirloom in the form of a copy of The Dangerous Book for Boys. However, in a Jumanji-like manner, the how-to book transports Wyatt into a fantasy world with changing themes in which he is somehow reunited with his late father, who teaches him practical life skills that the book endows and, presumably becoming a more whole person in the real world as a result.
The Dangerous Book for Boys Release Date
The Dangerous Book for Boys will release its six-episode debut season on Amazon Prime on March 30.
The Dangerous Book for Boys Details
While the aura of a legendary television starring role on AMC's Breaking Bad still emanates strong from Bryan Cranston, he's also become quite industrious with the behind-the-scenes chemistry of the industry as a producer on Amazon projects like the sci-fi anthology series Philip K. Dick's Electric Dreams and drama Sneaky Pete. Now, it seems that his working relationship with the retail monolith/streaming platform will continue with the comedy series The Dangerous Book for Boys. Cranston co-created the Dangerous Book project with Superbad director Greg Mottola during the 2014/2015 season. The series will arrive under the production banners of Amazon Studios and Sony Pictures Television, Dangerous Book arrives as six half-hour episodes.
Interestingly, The Dangerous Book for Boys' classification as an "adaptation" pushes some limits, since its source material, Conn and Hal Iggulden's 2007 book, has no real plot to adapt, existing earnestly as a cheeky guidebook that actually teaches young men real-life skills during a modern age when computers, video games, television and movies have facilitated a more sedentary, detached generation who lack the kind of practical skills that older generations were raised to possess.
In a tidbit that Breaking Bad fans might find interesting, Dangerous Book first blipped Cranston's radar during the time of that show when his co-star and onscreen wife, Anna Gunn, gave him a copy, telling him, "this reminds me of you!" While Cranston's only child is a daughter (Sweet/Vicious actress Taylor Dearden), the boy book resonated with him and, in an interview with IndieWire, he described his epiphany for the TV concept, stating:
"There is no plot and there are no characters in the book. It's a guide to how to embrace boyhood: How to build a fort, how to talk to a girl, what are the rules in baseball, what are the great battles in history. But there is no show. I was in Boston [performing 'All the Way'] and running along the Charles River when all of a sudden it popped into my head how to crack this story!"
Indeed, The Dangerous Book for Boys has become quite the passion project for Cranston, who came close to a TV deal with NBC back in September 2016 before the Peacock Network ultimately passed. With the book by the Iggulden siblings already an Amazon bestselling hit that was only contemporaneously outsold by mega-fiction-franchise closer Harry Potter and the Deathly Hallows, it will certainly be interesting to see how the tongue-in-cheek, yet educational approach of Dangerous Book will translate to a television comedy.