News
The Artists Behind The Name of the Wind's 10th Anniversary Edition
We interviewed artists Nate Taylor and Sam Weber about their contributions to The Name of the Wind's 10th Anniversay Edition.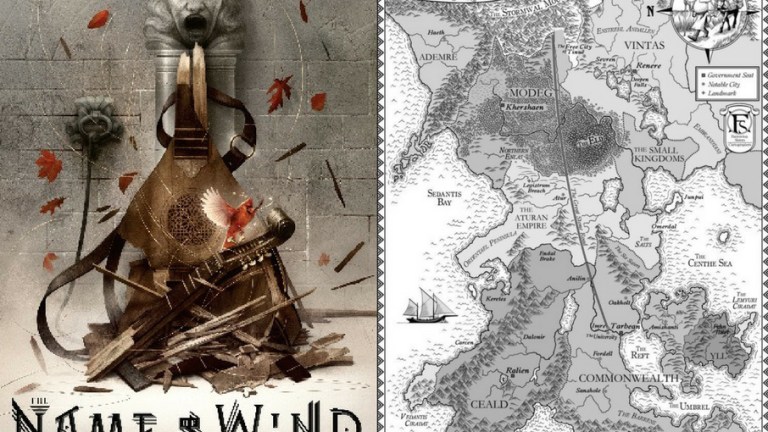 When it comes to crafting a new edition of a bestselling book, there are many people who contribute to the process. For The Name of the Wind's 10th Anniversary Edition, two of those people were Nate Taylor and Sam Weber, who contributed supplementary maps and the cover art, respectively, for the gorgeous new tome.
Den of Geek talked to both Taylor and Weber via email to ask about the process of contributing to a celebratory edition of such a beloved book. Here's what they told us…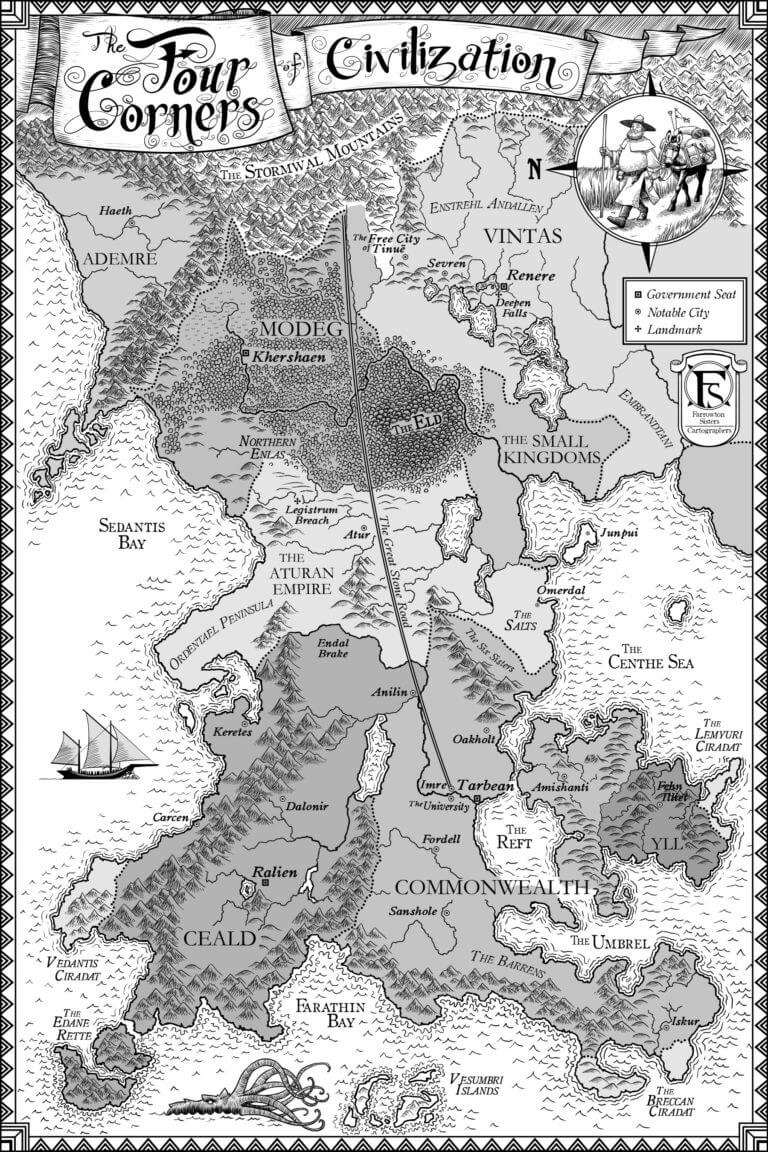 Nate Taylor, map designer
Nate Taylor, who also did the art for Rothfuss' delightfully subversive The Adventures of the Princess and Mr. Whiffle as well as for The Slow Regard of Silent Things, contributed new, detailed maps of Kvothe's world for this new installment.
Den of Geek: You've collaborated with Pat Rothfuss many times before. How did the two of you first meet and why do you enjoy collaborating with him? How did you get involved with this project?
Nate Taylor: Pat Rothfuss and I met through a mutual friend, Pat Johnson, while they were both doing graduate studies at Washington State University.
We were all writing stories then, so Rothfuss just naturally fit into our group of friends. He shared an early draft of his novel, and used the Hero system to set up an RPG for us to all get into his world. I was hooked immediately. I think the first thing I drew from his world was the Adem warrior I played in the first game.
It's always been enjoyable to work with Rothfuss because he has solid ideas of what he wants from illustrations, but he also respects good artistic contributions, so it's a two-way street that allows us to make the best collaboration.
Fast forward a few years to right before The Name of the Wind came out. I asked Pat if he needed help with the official map for his world, and he gave me the chance to make it pretty. That was the first real collaboration, and the reason I keep working with him because we get along. It's far easier to get through creative differences when the people like each other, and he's been a friend for more than 15 years.
How long did it take to make the maps for the 10th anniversary edition, from planning to execution? What does that process look like? Do you read or re-read the book, talk to Pat?
This time around took a lot longer because I wanted to take my time with this map. I wanted to make it intricate.
It started with Pat's creative direction, that he wanted the map to seem less Medieval and more Renaissance in its styling. Printing presses exist in the Four Corners, and he wanted the map to reflect that.
The next step was settling on the style of the map details, the look of the trees, mountains, water, and country borders. It took several Skype sessions and a multitude of emails to iron out those details, plus the new towns, landmarks and region names. It was extensive, but so rewarding to watch the map come together. I'm solidly pleased with it.
Were there unexpected problems, cartographically or creatively, you ran into when making the maps for this world?
The Aturan Map was the most challenging. It was from a much earlier time in Temerant, so I spent a lot of time looking at old maps from our own world where continents were distorted and simplified. It took several tries of squeezing and twisting different land forms that were more distant from the heart of the Empire.
I was hesitant to do too much, but Pat kept pushing the distortions farther until it was perfect. It's also a little rough to draw medieval-looking sea creatures.
Maps in fantasy books is such a rich tradition. Were there books or styles you looked to when designing the maps for The Name of the Wind? Were there ways in which you wanted to push the boundaries of tradition?
I've loved drawing maps since I was a kid, and geography was one of my favorite subjects. I'd copy maps of the US or Alaska, my home state. When I started writing my own stories, I'd draw maps for those lands too. I didn't look much at fantasy maps until I was older, but I didn't appreciate them at the time. I think I'm a bigger fan of modern maps, more precise lines, so this one was much more comfortable for me.
That said, we looked at some of the prettier maps from recent fantasy like Lockwood's Summer Dragon and even the Skyrim game. I spent a lot of time looking up maps from the 15th and 16th centuries, especially the ways text was integrated into the maps, and how cartographers interpreted geographic features.
I wasn't looking to push any boundaries with the map. I just wanted to to accomplish the goals of being accurate, appealing to the eye, and a believable product of the Four Corners.
The Name of the Wind is a beloved fantasy book that has now been out for 10 years. That means 10 years of other people imagining what this world looks like. Was that intimidating at all for you? Did you draw inspiration from fans' understanding or renderings of this world?
I've loved seeing the artwork that people have produced since the book first came out, but it's more invigorating than intimidating. That's true even when Marc Simonetti and Dan Dos Santos create their gorgeous illustrations.
Seeing that other artists love this book as much as I do just makes me want to create even more because it's not about getting it right. Everyone has their own head canon for how things look in the world, and each of those is a beautiful interpretation of the text.
The biggest reason why we never showed Auri's face in The Slow Regard for Silent Things was because Pat didn't want to interfere with any readers' pre-existing visions of her. So, to be fair, I relied on my own mind and Pat's feedback when doing the illustrations in the appendix.
What other projects are you working on right now that you're particularly excited about?
Well, I just finished the cover art and chapter illustrations for a new edition of Sometimes the Magic Works by Terry Brooks which is coming out from Grim Oak Press next year.
I'm currently working on a paranormal detective comic called Nick Rimfire written by the aforementioned Pat Johnson, and that will also be available next year.
Finally, I can also say I'm working on adapting Pat Rothfuss' mini-story"The Boy Who Loved the Moon" to graphic novel format. No release date yet, but I'm working on it.
Sam Weber, cover artist
You may recognize Sam Weber's style from his cover of Neil Gaiman's Norse Mythology or Ken Liu's The Wall of Storms. Weber designed the intricate book jacket for The Name of the Wind's 10th Anniversary Edition.
Den of Geek: First, how did you get involved in this project? Were you familiar with The Name of the Wind and Pat Rothfuss before undertaking the book jacket for the 10th anniversary edition?
Sam Weber: I was contacted by the Art Director, Paul Buckley about working on the cover. I've loved The Name of The Wind since I first read it years ago and was so honored to be asked to work on the project.
How long does something like this take, from planning stages to execution? What does that process look like? Do you read or re-read the book, talk to the author?
This particular cover took a little longer than usual. Overall, I think we worked on it for two months or so, although I was painting other things as well. The sketches and decision making actually took up the majority of that time. The image had to work as a cover and as poster which made things a little more complicated as well.
With such an important title and big name author, there's always a lot of scrutiny and back forth since everyone is so invested in things turning out well. It's exciting to work on titles like The Name of The Wind, but also a challenge to get everyone on board with your ideas. Paul was such a huge help in that regard, I couldn't have done it without him.
I didn't end up rereading the book in this instance, or even talking with the author directly (although he was involved in all the decision-making), primarily because the direction and overall concept was decided before I become involved. We knew going in that we wanted to show the broken lute and so the process became much more about composition and styling, and less about finding a particular moment in the story that we could use as an iconic image.
Tell us about the book jacket. How would you describe it to someone who couldn't see it for him or herself?
It has a broken lute on it, and a bird, and scary statue face.
The Name of the Wind jacket is incredibly intricate. Is there an instinct with such a narratively-dense book to reflect that in the jacket design?
Oh definitely. Most of the details have some sort of significance, to the story or some kind of personal connection to the narrative.
The rope is a reference to Kvothe's poverty and the bondage that kind of life imposes on people. The leaves are a nod to the Edema Ruh scattered and wandering the world.
It's this kind of thinking that makes the image meaningful to me. Even if the symbolism isn't clear or obvious, I hope it speaks to the audience in some way.
Many of your cover jackets and other artworks include people. Did you ever consider including Kvothe or another character in the jacket design for The Name of the Wind?
We knew from the beginning that showing Kvothe on the cover was something wanted to steer away from. Dan Dos Santos' gorgeous interior illustrations depict Kvothe with such loving, sensitive grace. We knew Kvothe would be well represented in the book and I felt it would be best to try something different, something that would compliment Dan's beautiful paintings.
You have done many book jackets. How has your process changed since you first started? Do you have favorites?
It's hard to pick a favorite, I like and at the same time struggle with so much of my work.
As far as process goes, I think things are a little more streamlined and organized now. I have a fairly specific process nowadays that really helps move the project along smoothly. When I first started I think projects just felt more chaotic.
With that said, I still like to inject a little uncertainty and chaos into my work whenever possible. It keeps things interesting and is what will inevitably take the work to new places.
What are your favorite book jackets done by other artists?
I think there are probably too many to mention them all here. So many great covers are created every year. There's so much incredible talent making things today, it feels like I'm humbled every time I turn on my computer or go to the book store.
With that said, I've really been loving the covers Jaime Jones has been doing for Tor as of late. They're so beautiful, expertly painted, and have such a wonderful soul to them.
Do you think you can judge a book by its cover? (I've never had a chance to ask a professional before.)
Ha! I wish. But, no, I honestly don't think a book should be judged by its cover.
What other projects are you working on right now, book cover-related or otherwise, that you're particularly excited about?