News
Terry Gilliam's The Man Who Killed Don Quixote Gets Its Wind Knocked Out
The Man Who Killed Don Quixote loses American distribution, retains Cannes opening, and cost Terry Gilliam's health.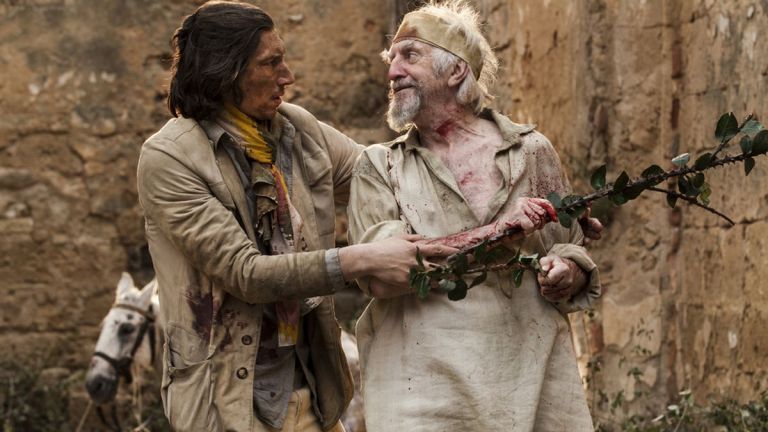 The Man Who Killed Don Quixote is once again fighting for life. This film has really become the impossible dream for master director Terry Gilliam, who directed Time Bandits, Brazil, The Fisher King and so many films with such unique perspective. Amazon is getting ready to yank distribution of the film in the United States, according to Variety.
That won't stop The Man Who Killed Don Quixote from playing Cannes. "We have won," Thierry Frémaux, who heads Cannes, announced from the stage of the Debussy in the Palais. Distributor Ocean Films took to Twitter to confirm "The Cannes Film Festival breaks the spell. The Man Who Killed Don Quixote enters the history of cinema. In all rooms on May 19, 2018," Variety reported.
Gilliam himself had a minor stroke and is laid up in London. It's no wonder, he's been tilting at this windmill in 1989. He didn't even get started filming his adaptation of Miguel de Cervantes Saavedra's 1605 novel until in 2000. A documentary, Lost in La Mancha, was made about the film, distributed and was on DVD before years before the finalized version of the film was even cast. Now that the film is finally finished, and a promotional campaign and trailers have already been released, it is in danger of not being seen in America. For those of us who have been waiting for this film, not even the healing powers of the Balsam of Fierbras is a consolation.
The finished film stars Adam Driver, Jonathan Pryce, and Stellan Skarsgård. Amazon agreed to distribute the film in 2015, but the company's entertainment head Roy Price was dropped last fall after sexual harassment charges. Amazon Studios pulled out of U.S. distribution on May 8. They had invested heavily in the film.
The Man Who Killed Don Quixote was already in a legal battle between Gilliam and the film's former producer Paulo Branco, who says he and his Alfama Films allege were wrongly cut out. Branco and Gilliam entered into a contract In 2016, but they didn't secure the budget and the former Monty Python member found new backers.  A French court ruled in favor of Branco last May, but said he could not stop the film from shooting.
Branco launched an injunction on April 25 to stop the film's French cinema release, including the Cannes screening. Banco claimed his company Alfama Films owns the rights.
"The Festival de Cannes will respect the legal decision, whatever it may be, but we strongly affirm that we stand squarely on the side of filmmakers and in particular on the side of Terry Gilliam," Cannes' organizers said in a statement on April 30.
"We know how important this project, which has gone through so many trials and tribulations, is to him. The trouble [was] caused on this last occasion by the actions of a producer who has shown his true colors once and for all during this episode and who has threatened us, via his lawyer, with a 'humiliating defeat.'"
Branco pointed out "the Cannes Film Festival is not above the law, and the virulence and aggressiveness of [its] tone will not change anything."
Gilliam got out of the hospital a day before a French court ruled The Man Who Killed Don Quixote's world premiere could close the Cannes film festival on May 19. The court ruled the screening has to be preceded by a statement saying it does not prejudice Branco's claim to the rights to the film. The court also ordered Gilliam, Star Invest Films France, and sales agent Kinology to each pay $1,800 to Branco for court costs.
Gilliam's first attempt to make the film starred Johny Depp in the lead role of Sancho Panza. Production was delayed after actor Jean Rochefort was injured and couldn't film the horse mounted scenes with a herniated disc. The production also suffered hail storms that damaged equipment. Then a NATO aircraft flew over the location and messed up audio recording. Gilliam admitted defeat and shut down production after flash floods destroyed sets.
The director tried again with Ewan McGregor in Depp's role after Colin Farrell turned it down. It also would have starred The Godfather's Robert Duvall. Gilliam couldn't get financing. Gilliam's third try cast Jack O'Connell as his lead with John Hurt, Michael Palin, and Ewan McGregor.
Well, there's always the upcoming Disney version.