News
Star Wars Prequel Novels Releasing in 2019
These Star Wars books will follow the adventures of Padme, Obi-Wan, and Qui-Gon Jinn.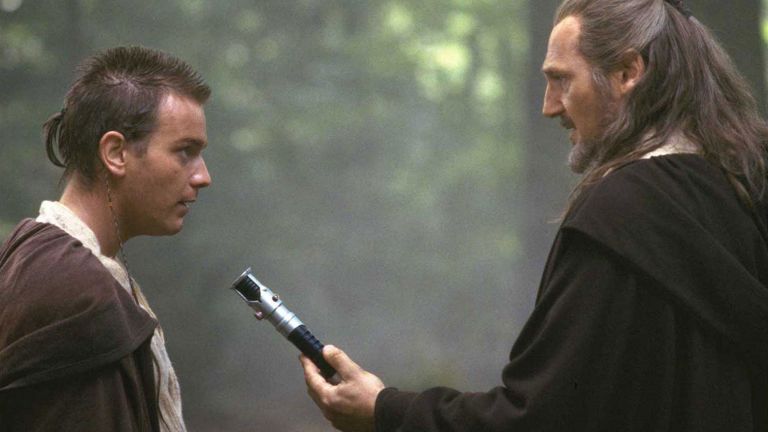 Two upcoming Star Wars books will expand the world of the prequel films. 
As revealed at SDCC, Lucasfilm will work with various authors on a series of canonical prequel Star Wars stories. The announcement began with the reveal of Queen's Shadow; a novel by E.K. Johnston that dives into the history of Padmé Amidala.  The story seems to take place sometime between The Phantom Menace and Attack of the Clones and will follow Amidala as she transitions from being a Queen to being a senator. 
That's one of those Star Wars stories that hasn't been properly told before, and it will certainly be nice to have more information on what happens in that mysterious time frame between the first and second prequel movies. Queen's Shadow is set to release on March 5, 2019.
The next confirmed prequel novel is called Master and Apprentice. We know less about this one, but this Claudia Gray novel will focus on Obi-Wan Kenobi and Qui-Gon Jinn's adventures prior to the events of The Phantom Menace. Given that the pair seemed to be early into their master/apprentice relationship in that film, we're going to assume that this book will pick up around the time that the two Jedi were paired together. 
Master and Apprentice is currently scheduled for release on February 26, 2019. 
At this time, Lucasfilm did not reveal any other canonical prequel books that are in the works. However, it's certainly not unreasonable to suspect that some kind of expanded stories are in the works. For one thing, we've never known a company to leave Star Wars money alone, and it just makes sense that the studio would be interested in using these books to create some healthy distance between film releases. 
Read the Den of Geek SDCC 2018 Special Edition Magazine Here!