News
G.I. Joe: Snake Eyes Gets New Solo Series
Rob Liefeld sets his sights on the coolest G.I. Joe character with a new Snake Eyes series.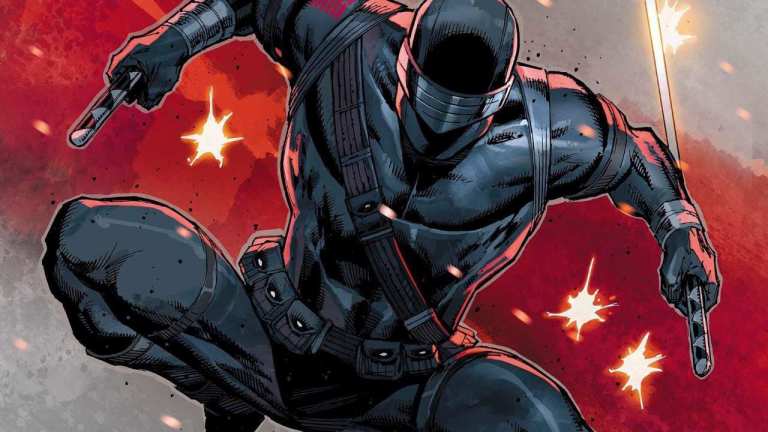 Some pretty big news dropped to kick off San Diego Comic Con week this year: IDW and Rob Liefeld announced that the legendary creator is coming on board for a Snake Eyes focused comic in 2020.
"Two words: 'BUCKET LIST,'" said Liefeld, "One more word: 'ICON.' Snake Eyes is Wolverine, Deadpool, and Spider-Man rolled into one amazing character [Editor's note: …] for an entire generation of fans that thrilled to his adventures in comics and cartoons and hung on his every toy release! My parents drove me all over the county to get me G.I. JOE action figures as a kid. These were my first and most favorite toys."
Snake Eyes: Deadgame is Liefeld's first G.I. Joe work. He'll be serving as writer and artist on the book, but details beyond that were scarce. The Image co-founder is wrapping up a run on Major X, his first X-Men work in years.
Liefeld's 30-year career has seen him work on nearly every major character DC and Marvel have to offer. He started his interior pencil work with Hawk & Dove for DC, and shortly thereafter joined New Mutants, where he co-created Cable, Deadpool, Domino, and X-Force, also known as "the most popular corner of the X-Universe in wider media." He, along with Jim Lee, Jim Valentino, Erik Larsen, Todd McFarlane, and Whilce Portacio, jumped from Marvel in 1992 and created Image Comics, which endures today as the most high-profile creator-owned comics company in the industry. Since that move, which also let him create Youngblood, Prophet, Brigade and others, he's periodically bounced back into the Marvel and DC Universes, with runs on Captain America, Deathstroke, The Savage Hawkman, Cable & Deadpool, and others. 
IDW picked up the G.I. Joe license in 2008, and almost immediately set up some of the most incredible stories ever told with the characters: they launched much of the line with Chuckles infiltrating Cobra and trying to stop them from detonating a stolen nuke; put Cobra through a civil war that had a substantial Joe and Cobra body count; added Thundercracker from the Transformers to the team, and then handed Copra's Michel Fiffe the reins for G.I. Joe: Sierra Madre.They also gave Larry Hama room to continue his story from the '80s Marvel Joe book, the run that gave us the all-time classic silent Snake Eyes issue. 
"The high-octane, adrenaline-fueled action and adventure Rob brings to every comic he creates is a perfect fit for Snake Eyes, and we're all as excited as you are to see him really cut loose on the pages of this very special G.I. JOE series!" Said Chris Ryall, IDW's President & Publisher/Chief Creative Officer.
Snake Eyes: Deadgame from Liefeld and IDW will be out in 2020. For more on why IDW's G.I. Joe books are great or more from the SDCC 2019 floor, stick with Den of Geek!