News
Slaughterhouse-Five TV Series Lands at Epix
Patrick Macmanus, showrunner of Syfy's Happy!, will develop a TV series based on Kurt Vonnegut's Slaughterhouse-Five.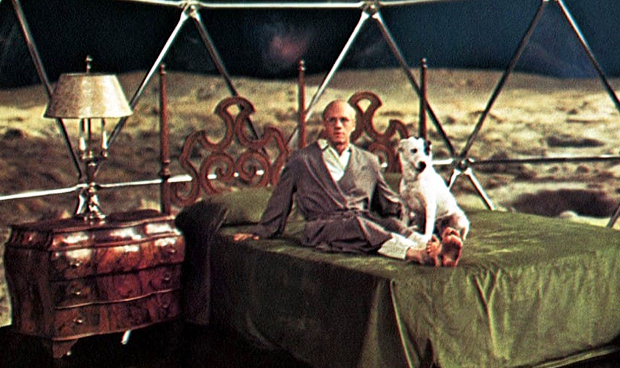 A long-overdue live-action adaptation of Kurt Vonnegut's classic time-bending 1969 novel, Slaughterhouse-Five, is about to happen, the first since director George Roy Hill's 1972 movie. However, it will take shape this time as a television series for Universal Cable Productions, whose purview notably includes USA, Syfy and Bravo.
In the latest news, the Slaughterhouse-Five television project has gone into development with cable channel Epix, which – if the project gets ordered to series – would prospectively serve as the broadcast platform, reports Variety.
The studio's effort to bring Vonnegut's novel to the peak television arena involved the appointment of a talent already under the NBCUniversal umbrella in Patrick Macmanus, showrunner of Syfy's imminently-premiering series, Happy!, which adapts the similarly-surreal Grant Morrison-created comic book of the same name. Macmanus has signed an overall deal for Slaughterhouse-Five that will see him write and executive produce the TV adaptation. He will be joined by a gaggle of executive producers in the nigh-ubiquitous Gale Anne Hurd (via Valhalla Entertainment), along with Ensemble Entertainment's Jon Brown, and Brand Y Media's Bradley Yonover.
Elise Henderson, senior vice president of development for UCP, claims that the project was on the studio's radar for "many years" as they waited for the rights to be freed up. As she explained to Variety back in December 2017:
"As soon as they did, we jumped in. At that point, we needed a writer, and we had just been introduced to Patrick for Happy!. Having read his material, we knew that he has the ability to do the emotional character depth that we need but also the ability to figure out a complex story and how to crack it, and capture the humor and the tone."
Read the latest Den of Geek Special Edition Magazine Here!
Slaughterhouse-Five centers on the experiences of Billy Pilgrim. A prototype for the "unreliable narrator" trope that USA's Mr. Robot embraces, Billy finds himself lost in time, living out things that unfold in a non-linear fashion, such as his experiences during World War II as an Army chaplain's assistant and eventual prisoner in Germany, where he survives the Allies' firebombing of Dresden (since, ironically enough, war prisoners were safely stowed in the basement). Elements of Billy's post-war life also come into focus, consisting of marriage, children and, in a radical thematic departure, abduction by aliens, during which he is kept in a dome menagerie, forced to mate with a missing movie star. The novel, which also implies ambiguity over the veracity of Billy's experiences, has long been fodder for scholarly analysis.
Indeed, showrunner Macmanus (formerly of Netflix's Marco Polo,) implies his intention to delve deep, stating:
"There are no lines that Vonnegut ever throws away. But there are certain lines within the book that allude to a much larger world. I'm not just talking about going off into outer space. He alludes to the Balkanization of the United States and to the hydrogen bombing of the United States. I feel like today's TV is the only way to tell this story. Even though it's only approximately 275 pages, I think that it's ripe to be expanded upon exponentially."
We will keep you updated on Epix's Slaughterhouse-Five television project as things happen!