News
Scalped TV Series Adds to Cast, Gets a Producer
The comic adaptation has rounded out its pilot cast with three actors and has enlisted Native American producer Sterlin Harjo.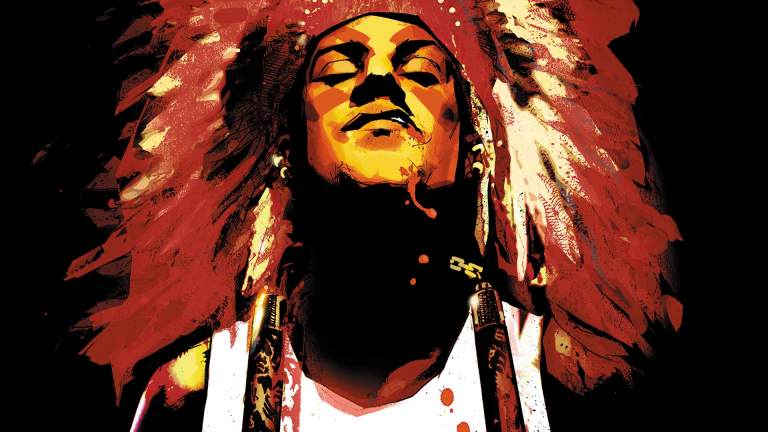 DC Entertainment/Vertigo's next post-Preacher adaptation for television, Scalped has finished up casting for its pilot on WGN America and added a respected filmmaker as a producer to boot. 
Gil Birmingham (Twlight, Unbreakable Kimmy Schmidt), Irene Bedard (the voice of Pocahontas), and Chaske Spencer (also Twilight) join the previously announced Alex Meraz and Lily Gladstone as part of the cast. 
Birmingham will play Chief Lincoln Red Crow, a Lakota elder involved in pretty much every aspect of life on the reservation. Meraz will portray Dashiell "Dash" Bad Horse, an anti-hero whose return to the reservation kickstarts the events of the story. Gladstone will be Carol Red Crow, the chief's daughter. Bedard will be Gina Bad Horse, a legendary activist. And Spencer will be portraying Sheriff Falls Down.
Native American film producer Sterlin Harjo has also joined the project as an executive producer. He will lend his expertise to the creative team already in place led by writer/director Doug Jung.
Scalped is being billed as a modern day crime drama that takes place on a Native American Indian reservation. It will be based on the enormously well-received Vertigo comic from Jason Aaron and illustrated by R.M. Guera. The series is 60 issues in and takes place on the fictional Prairie Rose Indian Reservation in South Dakota as members of the Oglala Lakota tribe grapple with issues of crime, poverty and politics on the reservation. 
WGN America has committed to only a pilot for the time being, with IMDB even listing the project as a "TV Movie." But should the pilot get a full series order, it would be the first TV series in history with a predominantly Native American cast.