News
Ringo Starr Announces Photography Book and Tour
The leader of the All-Starr band admits all he's got are some photographs for Ringo Starr: Another Day In The Life.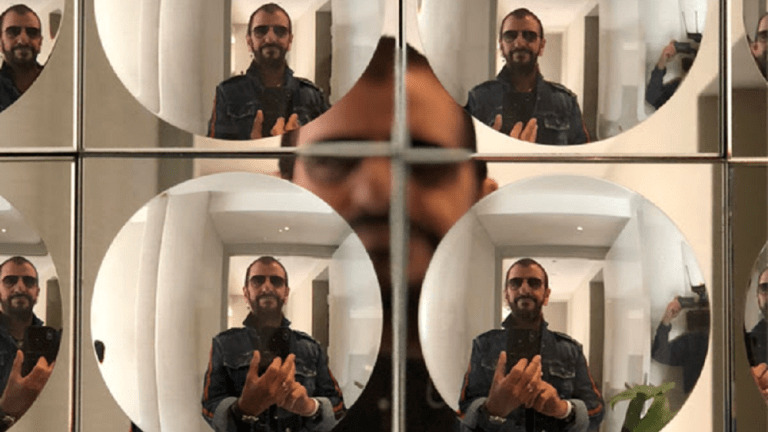 Ringo Starr bought a Pentax in Japan the first time The Beatles toured there and has had an eye behind the lens ever since. One of his first solo hits, written with George Harrison, was "Photograph." Credited as Richard Starkey M.B.E., he was the director of photography for the band's surreal film Magical Mystery Tour. Now that he's a knight, and a hard day's one at that, he's putting out a scrapbook, Another Day In The Life, capturing his photographic art.
"I love taking photos of random things, and seeing how they all fit together," Ringo said in a statement. "Whether it is at home or on the road, certain things catch my eye – and when I see something that interests me, that's the emotion of it, and I want to capture it. I am a photographer as well as a musician."
This is Ringo's third photo album following the sell-out success of Postcards From The Boys (2003) and Photograph (2013). The book will be published by Genesis this fall. David Letterman once joked that a new edition of The Beatles' Anthology was coming out because Ringo remembered a new anecdote. The book will present a "previously unpublished collection of his photographs, captioned with his own thoughts and anecdotes," according to the web site.
"Reflecting his love of music, travel and nature, Another Day In The Life shows us the world as seen through Ringo's eyes," reads a statement. "From Los Angeles to Tokyo and everywhere in between, many of Ringo's observational images celebrate the quirkiness of life. Other photographs are taken behind the scenes during historic events, such as Ringo's acceptance of a Grammy Lifetime Achievement Award and his return to New York's Plaza Hotel, 50 years after The Beatles first visited the USA. Featuring Paul McCartney, Joe Walsh and a host of All-Starr friends, Another Day In The Life shares personal moments from Ringo Starr's legendary life in music, and offers a unique and inspiring look at the world around us."
Photos include Starr receiving a Grammy Lifetime Achievement Award and his return to New York's Plaza Hotel, 50 years after the Beatles first visited the United States. The book's cover is designed by Shepard Fairey.
The book's release will coincide with Starr's previously announced tour of North America. Ringo Starr's All-Starr Band will perform 20 shows in September. The 2018 edition of Ringo's All-Starrs adds first-time member Graham Gouldman from 10cc, who put thousands of overdubs on their etheric love denial song "I'm Not In Love," but admitted it was one of the "Things We Do For Love." Colin Hay from Men At Work, which comes from "Land Down Under," will also be returning. Steve Lukather, the guitarist from Toto, keyboardist Gregg Rolie from Santana continue on from the 2017 tour. The beats will be laid by drummer  Gregg Bissonnette and percussionist Warren Ham, who doubles on sax. Todd Rundgren and Richard Page made other plans this year.
Starr released his most recent album, Give More Love, in 2017.
Ringo Starr: Another Day in the Life will be available in the fall.
Culture Editor Tony Sokol cut his teeth on the wire services and also wrote and produced New York City's Vampyr Theatre and the rock opera AssassiNation: We Killed JFK. Read more of his work here or find him on Twitter @tsokol.