News
ReedPop to Launch New York Super Week During Comic Con
With New York Comic Con growing each year, ReedPop is looking to celebrate the festivities with their own citywide celebration.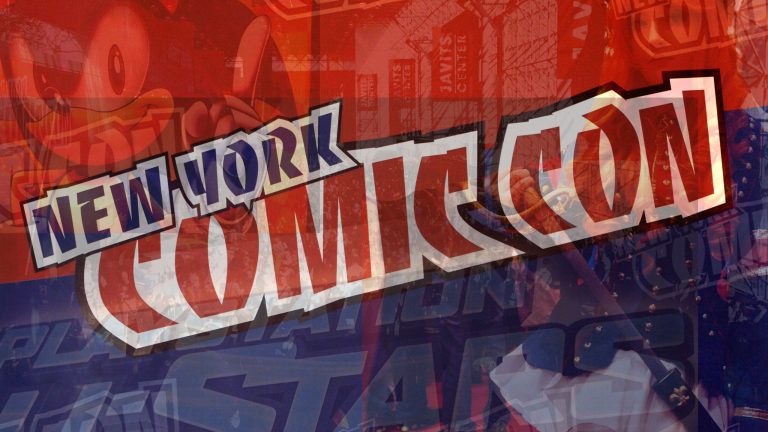 ReedPop's New York Comic Con has grown to the point where it now caters to more than 115,000 attendees who pack the Jacob Javitz Center every October.
They are there to shop for toys and comics, meet their favorite actors and comic creators, unleash their fiercest cosplay upon the world, and sit in on a diverse set of panels. But beyond the immediate area surrounding the Javitz Center, there is little evidence (save for a few afterparties, some off-site events and mainstream TV news coverage that treats cosplayers like zoo animals) that North America's second largest pop culture convention is in full effect.
This year, however, ReedPop is looking to change that with New York Super Week, a citywide celebration that will incorporate parties, comedy shows, concerts, themed Karaoke and trivia events and off-site panels into the overall convention experience in an effort to, it seems, give NYCC more of a festival vibe.
When we spoke to ReedPop Global VP Lance Fensterman two weeks ago for an upcoming article about the comic convention business and this weekend's Special Edition: NYC, we asked him about the individual congoer experience and if there is a worry about the intimacy of the experience and he had this to say: "I think that's the challenge. How do you keep it special and fun and unique for a fan while also growing? It's almost paradox, because to get the really killer content you gotta be a really big show but once you're a really big show, it's really harder, as a fan to get in to see the killer content. So, we're always trying to look at different ways, whether it's streaming — so even if you can't get in, you can grab it online. Even if it's closed circuit TV on an overflow panel. We're using RFID technology for the second time and we're gonna do some new things that we think are going to allow for more limited good connections between fans and creators and fans and brands and publishers. So, yeah, it's hard. It's hard to keep the show growing and big and vibrant and exciting, but also, the experience good for the fans."
While Fensterman wasn't talking about New York Super Week when we spoke to him, it seems clear that this cool addendum to New York Comic Con will go a long way toward providing fans with an experience that is intimate, unique, fun and unforgettable while also growing the footprint of the convention, so all in all, New York Super Week sounds like a win for fans, ReedPop and the city.
If you want to learn a bit more about New York Super Week, you can check out the official site and read the official press release below.
Official Press Release: 
ReedPOP, the world's largest producer of pop culture events, today announced the launch of New York Super Week – a first of its kind pop culture festival. For one week the entire city of New York will become a playground for super heroes, villains, vampires, zombies, geeks and passionate fans of all sizes. With different pop culture themed experiences happening in every corner of the City – including concerts, comedy shows, gaming events, lectures, podcasts, storytelling, food tastings and more – New York Super Week is an immersive and inclusive experience that aims to bring the energy, passion and color of the entire universe of popular culture to every corner of all five boroughs of New York City. The event will take place October 3-12, 2014 leading into the East Coast's biggest and most exciting popular culture convention, New York Comic Con. Clear Channel Spectacolor has been announced as the Official Media Partner of New York Super Week and New York Comic Con in 2014 and will co-produce several New York Super Week events.

ReedPOP has partnered with a number of venues, bars, restaurants and retailers throughout the city, including, but not limited to: Hammerstein Ballroom, 92nd Street Y, Rock Bar, The Bell House, Galapagos Art Space and Barcade. New York Super Week will be the ultimate celebration for fans of pop culture. Kicking-off with StarTalk Live! hosted by Dr. Neil deGrasse Tyson at the Hammerstein Ballroom, New York Super Week events will demonstrate the breadth of international, national and local pop culture, ranging from live recordings of Ask Me Another and Slate's Hang Up & Listen podcast, to The Big Quiz Thing, Running Late with Scott Rogowsky featuring the co-creators of Dr. Katz, Story Collider, and eSports competitions.

Additional partners, on sale dates and details about purchasing tickets for each of the New York Super Week events will be continually announced throughout Summer 2014. In addition to tickets for individual New York Super Week events a New York Super Week Card will be available for purchase starting on June 18 and will offer cardholders access to discounts and special offers happening during New York Super Week at dozens of retailers, restaurants and bars across the city ranging from happy hour prices, free desserts, and merchandise discounts to priority seating for select New York Super Week events.

"We envision New York Super Week taking over NYC, brining diverse content from all corners of the pop culture galaxy to all the corners of the five boroughs of the greatest city in the world. New York Super Week will follow the spirit of popular events like South by Southwest, but introduce it with a distinct New York sensibility and flair and fully rooted in the world of popular culture," said Lance Fensterman, Global Senior Vice President of ReedPOP. "With New York Comic Con becoming so popular amongst fans, media and sponsors it was natural to broaden the scope of content and tear it out of the Javits Center and into the city at large allowing new fans and more fans  to experience a whole week of content leading into the show."

"With New York Comic Con attracting over 130,000 people each year to the Javits Center and generating tens of millions of dollars to New York City¹s economy, we look forward to the increased programing being offered through New York Super Week," said Fred Dixon, president and CEO of NYC & Company. "We encourage both New Yorkers and visitors to experience the inaugural New York Super Week, a truly unique pop culture celebration throughout the City¹s five boroughs."Since ReedPOP's first event in 2006, the sold-out New York Comic Con, the group has sought to dually produce exceptional experiences for passionate audiences and grow the industries surrounding these passions, and this philosophy has led to burgeoning attendance, the support of major creators and publishers, and partnerships with leading entertainment brands including Lucasfilm (Star Wars Celebration), UFC (UFC Fan Expo) and Penny Arcade (PAX). ReedPOP's events now reach 600,000 attendees, welcome 3,000 exhibitors, showcase 2,000 guests, and occupy 4,000,000 gross square feet across 15 conventions on four continents around the world.
Like us on Facebook and follow us on Twitter for all news updates related to the world of geek. And Google+, if that's your thing!