News
Queen: Album By Album Explores History of the Band
The upcoming book Queen: Album By Album will make a perfect listening companion to Queen's 45th Anniversary.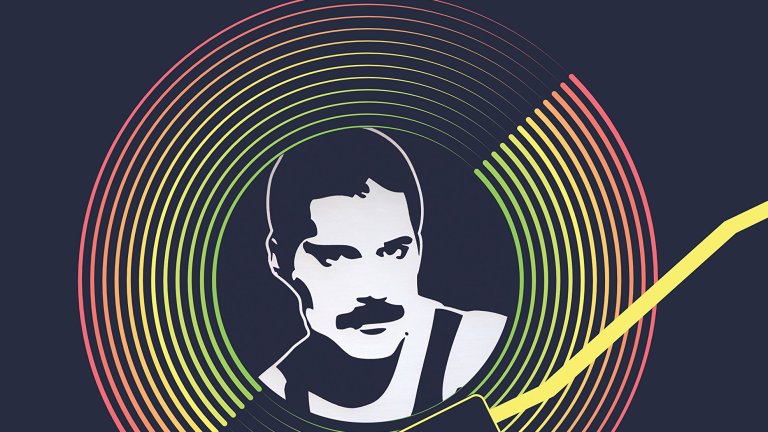 Wayne Campbell and Garth Algar make Queen's operatic, six-minute epic "Bohemian Rhapsody" look so easy in the opening scene of comedy Wayne's World, it could be sung off-the-cuff in an AMC Pacer. But it took the band three weeks to record the song at Trident studio in 1975. It took them twelve hours just to record 180 vocal overdubs, besides the piano, bass, guitars, drums and that elegantly massive Chinese gong at the end. Heavy-metal journalist Martin Popoff's upcoming book Queen: Album By Album, which comes out next month as part of Voyageur Press's Album by Album series, details all the studio tricks the band employed. The book will arrive just in time for the 45th anniversary of their first album and the upcoming feature biopic.
"Formed in 1970, Queen went on to become one of the most popular—and most successful—rock bands of all time, even following the untimely death of beloved and magnetic frontman Freddie Mercury, and nearly 50 years after their formation," reads the official press statement. Queen: Album By Album explores all 15 of the band's studio albums, including their soundtrack for the 1980 film Flash Gordon. The songs are picked apart by fellow musicians like Paul McCartney and Dee Snider, along with journalists, music industry pros and Queen's producer Mack.
Further reading: Bohemian Rhapsody Trailer, Release Date, and Cast Info for Queen Movie
Queen: Album By Album delves into "individual songs, the circumstances that surrounded the recording of each album, the band and contemporary rock contexts into which they were released," through "freewheeling discussions" with Dave Ellefson, Derek Shulman, Jeb Wright, Daniel Nester and other experts. The book is illustrated with rare live performance and candid offstage photography, as well as "scads of rare Queen ephemera."
Read and download the Den of Geek NYCC 2018 Special Edition Magazine right here!
The Album by Album series injects varied voices to bring a unique approach to the rock bio genre. Popoff has written over 7,000 album reviews, and the books Rush: The Illustrated History; Metallica: The Complete Illustrated History; The Art of Metal; and The Big Book of Hair Metal. He has also worked on film documentaries about Rush and ZZ Top.
Queen: Album by Album comes out in hardcover on November 13, 2018.
Culture Editor Tony Sokol cut his teeth on the wire services and also wrote and produced New York City's Vampyr Theatre and the rock opera AssassiNation: We Killed JFK. Read more of his work here or find him on Twitter @tsokol.