News
Quarry Cancelled by Cinemax
Cinemax cancels its dark crime drama Quarry and co-creator Michael D. Fuller provides post-mortem thoughts.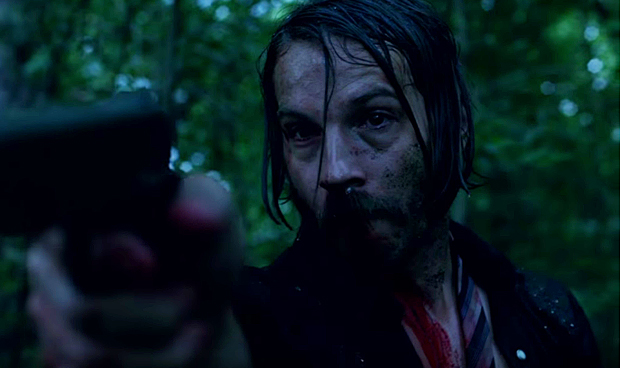 Quarry viewers just received some long-awaited news and it is not good. After several months of speculation, Cinemax has decided to cancel its monumentally morose, pathos-driven crime drama after just one season.
The announcement of Quarry's cancellation was confirmed today by Michael D. Fuller, who co-created the series with Graham Gordy. The move gives closure to fans of the series after its fate was left hanging in the balance after the September-October 2016 run of its 8-episode inaugural (now only) season had concluded. According to Fuller, despite solid ratings and reception, Quarry has become a casualty of "several factors," notably the increasingly used explanation of a network looking to "re-brand" its dramatic lineup.
Quarry, adapting the prolific 1976-present novel series of the same name by Max Allan Collins, is set in 1972 and stars Logan Marshall Green as Mac Conway, a Marine sniper Vietnam War vet. After a rough transition to civilian life upon returning home to Memphis, Mac finds himself thrust into the orbit of a clandestine "Dixie Mafia," who wish to use his talents for wetwork that's locally sourced. Interlaced with war flashbacks, the series is a dark character showcase of an already-tortured man's painful arc leading into the world of contract killing. The series also co-stars Jodi Balfour, Peter Mullan, Nikki Amuka-Bird and Damon Herriman.
In his confirmation of Cinemax's cancellation of Quarry, co-creator Fuller, clearly in mourning for his passion project, laments on his blog how a half-decade-long process ultimately amounted to so very little, stating:
"My writing partner on the project (and one of my best friends of nearly 20 years) Graham Gordy and I first came across Max Allan Collins' Quarry novels in December of 2011. We then worked on Season 1 of Rectify and spent the rest of 2012 developing Quarry w/ Anonymous Content writing the pilot and the series bible. We sold the show to Cinemax in the spring of 2013, shot the original pilot in the summer of 2013, received the series greenlight in summer of 2014, went into production in the spring of 2015 and aired in the fall of 2016. Half-a-decade for what ultimately amounted to one season of television that I am immensely proud of personally and professionally."
Indeed, the cancellation leaves a Quarry quandary for the viewers who tuned into the series and expected to learn about the fate of Mac, who was last seen in possession of a mysterious toiletry bag, stripping down and swimming across the mighty Mississippi River. Regarding the unrealized Quarry Season 2 and Cinemax's unfortunate intervention, Fuller states:
"Season 2 was going to be set in 1973 and see Mac fully immersed in The Broker's network, the arrival of Mac and Arthur's war buddy Hall Prewitt and the trouble coming w/ him, Buddy asserting his individuality, all w/ the specter of Watergate looming. We actually wrote the entire second season, 6 episodes, before receiving word that Cinemax was going in a different direction w/ their branding and content. Since we didn't get a Season 2, let's just speculate as to if Mac actually made it to the other side of the river.) It's a sadness I will carry w/ me for the rest of my life, but there's a tremendous measure of solace in the fact that I had the opportunity to work w/ some of the most immeasurably talented people in the world on something we all believed in and deeply, abidingly cared about. A Memphis-BBQ-platter sized thanks is due to our wonderful cast and crew who made our writing better than it had any business being, and to Max Allan Collins himself, who trusted us w/ a character he's lived w/ for 40 years: thank you, sir. I hope we didn't mess it up too badly."
Thus, Quarry will have to stand as an 8-episode curiosity that posterity might be able to enjoy via streaming outlets. Of course, Max Allan Collins's Quarry novel series shows no signs of losing steam, with the 14th novel, appropriately titled Quarry's Climax, set to hit shelves this October. Indeed, the television series, in its brief life, can at least be seen as a live-action gateway for fans into that deep, decades-spanning literary mythology.