News
Peter Rabbit Trailer: James Corden's Peter is a Party Animal
The live-action/animated Peter Rabbit reboot film stars James Corden, Domhnall Gleeson and Rose Byrne.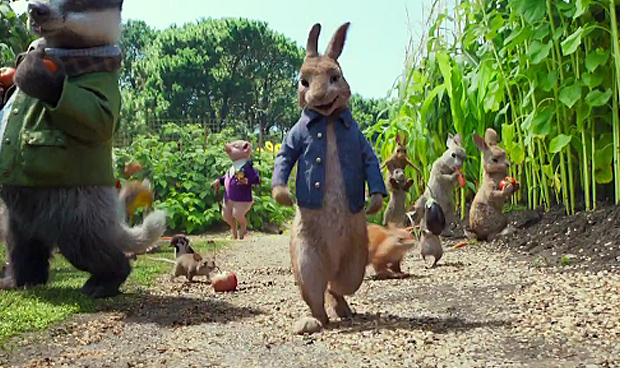 Peter Rabbit, the 2018-scheduled live-action/animated hybrid reboot movie of the long-esteemed children's book series by author Beatrix Potter, has corralled an impressive mixed-media cast with James Corden, Domhnall Gleeson, Margot Robbie, Rose Byrne, Daisy Ridley and Elizabeth Debicki.
Here's everything you need to know about this Peter Rabbit mixed-media movie revival!
Peter Rabbit Trailer
The second Peter Rabbit trailer has arrived. This one is a little more focused on the traditional dynamic of Beatrix Potter's mythology, centered on the comically escalating feud between James Corden's Peter and Domhnall Gleeson's farmer McGregor.
While the McGregor is amorously enamored with his new neighbor, Bea (Rose Byrne), he doesn't quite share her view that Peter and his gang of wild animals should have crop-pilfering free reign over their collective properties. Thus, a secret war of sorts is ignited, with McGregor making constant attempts to skewer and/or squash his pointy-eared enemy and Peter tapping into his inner Kevin McCallister to set clever house traps for the farmer, even filling his room with rakes to give him the old Sideshow Bob treatment.
The first Peter Rabbit trailer introduces us to the reboot film's new version of Peter, voiced by late-night talk show host James Corden, seemingly portraying a loquacious, immensely extroverted manifestation of the classic children's book character with extremely magnified personality attributes.
While the old stories typically depicted Peter's stealthy exploits to steal the crops of Mr. McGregor, this Peter takes purloining produce to a level far beyond that simple concept, invading the farmer's home to host a party filled with fellow animals while he's away. However, upon the inevitable return of McGregor (played in live-action form by Domhnall Gleeson), things get insanely awkward, seemingly setting the tone for the picture.
Peter Rabbit Release Date
Peter Rabbit will emerge from its proverbial hole of post-production for a release on February 9, 2018.
Peter Rabbit Story
Per the official synopsis.
Peter Rabbit, the mischievous and adventurous hero who has captivated generations of readers, now takes on the starring role of his own irreverent, contemporary comedy with attitude. In the film, Peter's feud with Mr. McGregor (Domhnall Gleeson) escalates to greater heights than ever before as they rival for the affections of the warm-hearted animal lover who lives next door (Rose Byrne).  James Corden voices the character of Peter with playful spirit and wild charm, with Margot Robbie, Elizabeth Debicki, and Daisy Ridley performing the voice roles of the triplets, Flopsy, Mopsy, and Cottontail.
Peter Rabbit Poster
Here's a promo poster for Peter Rabbit, which touts its previous (subsequently expedited,) animal-apropos Easter release window.
Peter Rabbit Cast
James Corden, late-night talk show host and karaoke carpooler, will voice the title role of Peter.
Domhnall Gleeson (Star Wars: The Force Awakens, The Revenant, Ex Machina) will play perpetual crop-theft victim Mr. McGregor. Much of the Peter Rabbit mythos centers on the rabbit's adventures in Mr. McGregor's garden, typically resulting in a fast-paced pursuit through the patch. However, since McGregor is conventionally depicted as an old man, the 34-year-old Gleeson will put a more youthful spin on the classic farmer foil.
Rose Byrne (X-Men: Apocalypse, Neighbors, Damages) will play Bea.
Margot Robbie (Suicide Squad, Focus), Daisy Ridley (Star Wars: The Force Awakens, Murder on the Orient Express) and Elizabeth Debicki (Guardians of the Galaxy Vol. 2, The Man from U.N.C.L.E.) also provide their voices for roles.
Peter Rabbit Crew
Peter Rabbit will be directed by Will Gluck, helmer of the 2014 Annie remake (which also co-starred Rose Byrne), along with 2011 rom-com Friends with Benefits, 2010 Emma Stone-starring comedy twist on Nathaniel Hawthorne Easy A and 2009 male cheerleader comedy Fired Up!. Gluck works off a screenplay by Rob Leiber (Alexander and the Terrible, Horrible, No Good, Very Bad Day), which the director himself revised.
Read and download the full Den of Geek Special Edition magazine here!