News
Paper Girls Series Ordered at Amazon Studios
Amazon Studios will adapt Brian K. Vaughan's comic Paper Girls into a TV series.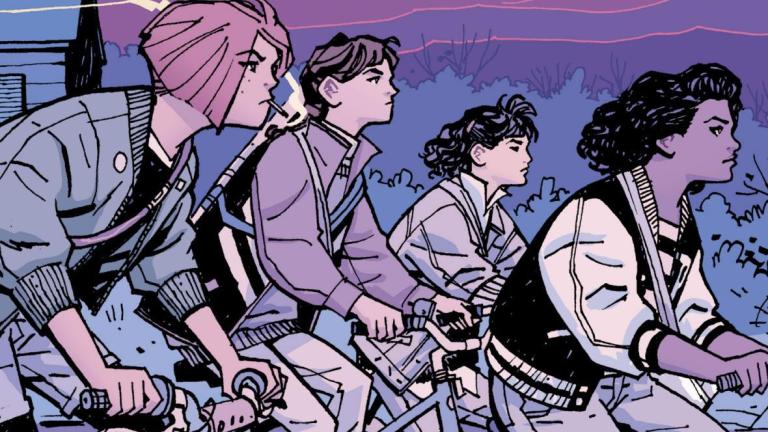 Earlier this year, prolific comic book writer Brian K. Vaughan struck a deal with Legendary Entertainment to adapt some of his comic IP. Now the first project from that deal has been announced.
According to Deadline, Brian K. Vaughan, Legendary, and Plan B (the studio behind Moonlight) have a deal in place with Amazon Studios to adapt his time traveling adventure story Paper Girls. Amazon Studios is the studio arm behind Amazon Prime and it's safe to assume that means the Paper Girls TV series is destined for Jeff Bezos's streaming giant.
Toy Story 4 co-writer Stephany Folsom will write the adaptation of Vaughan and Cliff Chiang's comic and will also produce the project alongside Vaughan and Plan B. Folsom has a relationship with Amazon already as she is part of the team working on Amazon's massive Lord of the Rings series. There were apparently many suitors for Paper Girls and Amazon won out in a competitive bidding war.
It's understandable why Paper Girls would attract lots of attention as it's one of Vaughan's more well known and critically lauded works. The comic follows paper four girls from 1988's Cleveland, Ohio who find themselves thrust into a conflict between warring factions of time travelers. The girls are sent through time on journeys of immense personal and fateful significance.
Several of Vaughan's comic projects are in the works or have made their way to television outside of his new Legendary deal. Vaughan serves as executive producer on Hulu's Runaways adaptation and is set to do the same for FX's Y: The Last Man. Still, there are plenty more of Vaughan's comics to be mined in this deal, including Ex Machina, Barrier, and arguably the writer's magnum opus, Saga.
Alec Bojalad is TV Editor at Den of Geek and TCA member. Read more of his stuff here. Follow him at his creatively-named Twitter handle @alecbojalad