News
Original Vampirella / Dark Shadows Crossover Comic Uncovered
The Collinsport Historical Society uncovers a secret Dark Shadows/Vampirella conspiracy among lost artifacts.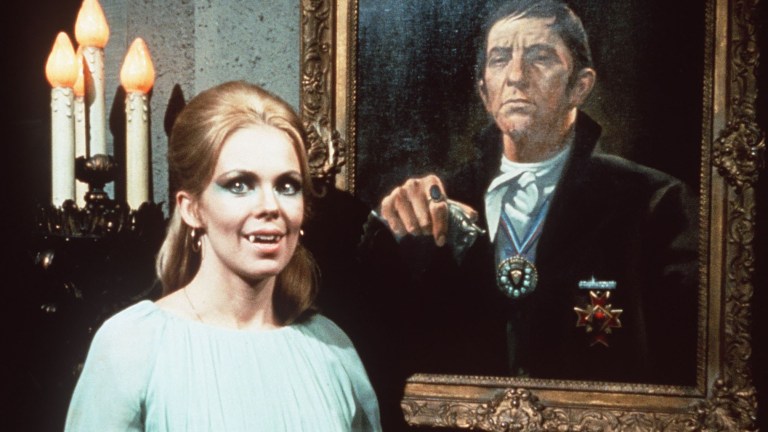 Dark Shadows is an icon of sixties television. The first spooky soap opera centered on a reluctant vampire, in love and remorseful, and a powerful witch, in love and vindictive, and lives on as a cult favorite.
Vampirella is an iconic horror comic. One of the genre's first bad girls gone good, Vampirella had all the powers of a vampire and a direct line to a fresh blood delivery service from outer space. According to the Collinsport Historical Society, the two disparate series also shared a secret.
There was a "secret crossover of sorts between the alien vampire from Drakulon and Dark Shadows back in 1972," the Collinsport Historical Society wrote. Vampirella issue #19, "Shadow of Dracula," and #20, "When Wakes the Dead!" were tributes to Dark Shadows. Both issues were illustrated by the late José González Navarro, the subject of a series of documentaries by director Tony Macousqui called Love Strip.
"In the early 1980s, José González Navarro was one of the world's most admired comic book artists," reads the official synopsis on the Love Strip trailer page on YouTube. "In April 2009, all his personal belongings were found in the rubbish."
Macousqui took on the job of documenting the beloved artist. While sifting through the treasured finds, he came across the issues that were written by T. Casey Brennan, including two that bore extreme similarities to the sixties supernatural soap opera.

"He found all the Vampirella issues I wrote (17-21) and asked me to write a commentary on each," Brennan tells Den of Geek.
"I rediscovered that story while preparing a written commentary on my 1972 Vampirella work for the web series Love Strip: The Life and Times of Pepe Gonzales," Brennan says. "Had it not been for that, 'Shadow of Dracula' and it's connection to Lara Parker and Dark Shadows might have been lost for another 45 years or so."
According to the Collinsport Historical Society, Brennan said he "asked the editor to send [Gonzalez] pictures of Lara Parker as Angelique. I carefully re-crafted Vampirella's Dracula into the intermittently repentant Barnabas. I set the story in my favorite Dark Shadows era  – 1897. I used the standard Dark Shadows ploy of a look-alike relative for Dracula."
Brennan told the historical society that he wanted the likeness of the Dracula character to have looked like actor Jonathan Frid, but the artwork for that character was already established. Gonzalez was obsessed with Marilyn Monroe and, according to the Collinsport Historical Society, envisioned her as his Lucy Westenra. Brennan was haunted by another blonde.
"Lara Parker was clearly the anti-Marilyn," Brennan told the Collinsport Historical Society. "She was the blonde sweet Marilyn, without Marilyn's frailty, re-imagined for a more rebellious age. At the time I wrote that story, every girl I knew idolized Angelique. I'm certain one of the Warren bunch got a picture of her to Jose Gonzales."
The shadows darken as the details unfold about what went on in the pulp pages.
"This was a plot, every bit as rebellious as when the underground comics tried to steal Mickey Mouse ("Mickey and the Air Pirates")," Brennan tells Den of Geek. "I conceived it, Gonzales was in on it; so was the editorial staff who sent him the photos of Angelique as I directed. We were going to steal the Lara Parker Angelique and give her one brief romp through Vampirella. Kept secret for 45 years, it is now revealed through Tony Macousqui's movie.
"When I got to 'Shadow of Dracula,' I decided to just tell Tony the whole thing," Brennan says. "I had shown it to Katherine Leigh Scott [who played Maggie Evans on Dark Shadows], but it hadn't gone anywhere. After making the admission to Tony, I decided to take pictures of Lucy Westenra in the comic next to Lara Parker. Then the Collinsport Historical Society picked it up."
"When T. Casey Brennan showed me the art, he was ready to make his case that González was modeling the character on Lara," Wallace McBride, editor of the Collinsport Historical Society, tells Den of Geek. "He'd asked the editors at Warren to forward González reference photos of the actress, but never knew until the book was published whether or not that paid him any attention. If you've seen Lara Parker, you already know she looked as if she had been drawn by González, but if you compare her hair style on Dark Shadows and the finished art, it's clearly her in the comic."
The society's chief editor appreciates the artistry.
"The really interesting thing about these issues of Vampirella, in my opinion, is seeing her drawn by José 'Pepe' González," McBride saus. "González was a fine artist who just happened to be working in comics, so it's a real treat to his work here."
The cryptic curator says it proves the long-lasting appeal of the cult series.
"Lara's presence in Vampirella shouldn't be much of a surprise," McBride says. "Comic creators have a long-running practice of slipping characters from the show, especially Barnabas Collins, into their work. You can see familiar faces from Collinsport in everything from issues of Marvel's The Avengers to Charlton's The Partridge Family comic. They were pop idols in their own right."
There was a six-part mini-series that crossed Barnabas Collins with Vampirella in 2012, "Sadly, that was too little, too late," according to the Collinsport Historical Society article.
Vampirella made her first appearance in "Vampirella of Drakulon" by Forrest J. Ackerman and Tom Sutton in Sept. 1969. Vampirella comes in at #35 on Buyer's Guide's "100 Sexiest Women in Comics" list.
Pepe González died in total poverty on March 13, 2009.
DEN OF GEEK TV: THE LATEST