News
On Chesil Beach Trailer: Saoirse Ronan Stars in Ian McEwan Adaptation
Lady Bird's Saoirse Ronan stars alongside Billy Howle in the adaptation of Ian McEwan's novel about young, uncertain lovers.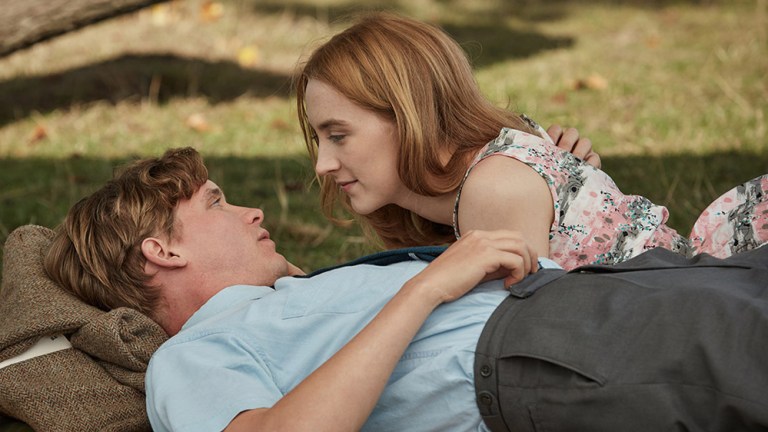 On Chesil Beach, the film adaptation of Ian McEwan's bestselling novel, has a trailer, and it showcases what looks like another star performance from Lady Bird's Saoirse Ronan, who stars alongside British actor Billy Howle.
This will the second time the young actors will be appearing together. The two both starred in the yet-to-be-released film adaptation of The Seagull. Previously, Howle has appeared in TV series Glue, and is set to appear in the upcoming The Sense of an Ending.
On Chesil Beachtells the story of two newlyweds from different social background on their wedding night in 1960s England. The story, which is really more of a novella at 166 pages, focuses on both husband and wife's unspoken anxieties and differing desires on their wedding night. It is a slow, sad story very much routed in a specic intersection of place and time. It will be wonderful to see what Ronan — and the other creators attached to the project — can do with the film.
Ronan's casting seems particularly fitting given that it was another Ian McEwan novel adaptation — Atonement— where many film viewers first saw Ronan. She was only 12 when she played Young Briony in the 2007 film. She was nominated for a Best Supporting Actress Oscar for the role and director Joe Wright was so impressed with her work he would go on to cast her in the title role for Hanna.
On Chesil Beach is produced by Number 9 Films' Elizabeth Karlsen and Stephen Woolley — aka the team behind Carol. Karolsen and Woolley also worked with Ronan in vampire film Byzantium.
The film was directed by Dominic Cooke, who is coming from a theater background as a director and playwright. This is his first feature film project, but he has earned serious acclaim as a theater director as the former creative director for the Royal Court Theatre. His 2007 revival of The Crucible for the Royal Shakespeare Company took home the Laurence Olivier Award for best director in 2007.
Though Cooke has never directed for film before, he has stepped behind the camera for the TV continuation of The Hollow Crownminiseries — aka a series of Shakespeare's history plays adapted for television.