News
Never-Before-Seen War of the Worlds Footage Lands
We've just seen footage from the War of the Worlds movie that never happened, and it's far-out.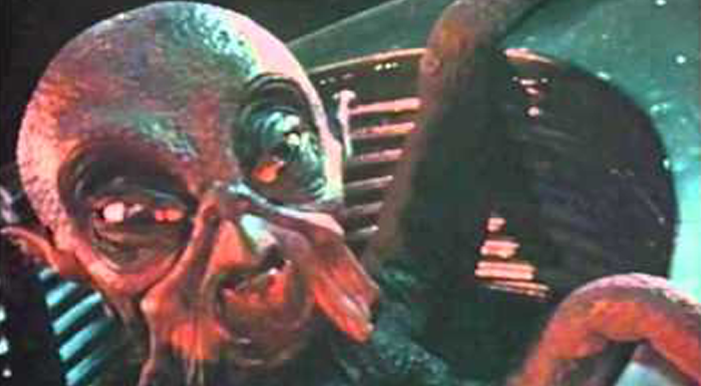 Yet across the gulf of space, minds that are to our minds as ours are to those of the beasts that perish, intellects vast and cool and unsympathetic, regarded this earth with envious eyes, and slowly and surely drew their plans against us.
— H. G. Wells, The War of the Worlds, 1898
After the 1938 radio broadcast of H.G. Wells' The War of the Worlds sent primetime listeners everywhere into either a panic or a bomb shelter, how filmmaker Ray Harryhausen's movie version never touched down on earth might be understandable (but still unforgivable). We've just found a relic from space left floating in the alien depths of the interwebs: a clip from the potentially epic sci-fi film that never was. 
Well before CGI technology beamed extraterrestrials onto the big screen, stop-motion animation master Harryhausen brought to life Wells' vision of a slimy Martian with enormous bulging eyes, a slobbering beaked mouth and "Gorgon groups of tentacles" in a 16 mm test reel. The result is something that looks like a twisted mashup of a Muppet and an octopus. It crawls out of a metal tube to a backdrop of audio from that infamous recording, which sounds so realistically frantic you'd think it was an actual vintage newscast. No wonder people scrambled to their basements in sheer horror. 
Harryhausen's sketches, based on Wells' novel, are also nothing short of mind-blowing. Expect things like three-legged flying saucers taking over New York and a disc-like UFO from which emerges a creature that could pass as spawn of the Kraken. 
"Any imaginative creature or thing can be built and animated convincingly," said Harryhausen of his wizardry with special effects. 
With visions of aliens crushing the Brooklyn Bridge and an outline of the entire potential movie, complete with sketches and test reel, in his briefcase, Harryhausen was unable to invade Hollywood with the alien apocalypse. Just when it looked like director George Pal had deal with Paramount on the horizon, Pal abducted the project for himself. While his 1953 iteration of The War of the Worlds reached cult-classic status, we can only imagine what it could have been with Harryhausen's otherworldly FX powers. 
We only wish Hollywood had been as convinced.