News
Neil Gaiman Will Adapt Good Omens as a Television Miniseries
Neil Gaiman will work on a television adaptation of Good Omens, the popular apocalyptic novel he co-wrote with Terry Pratchett.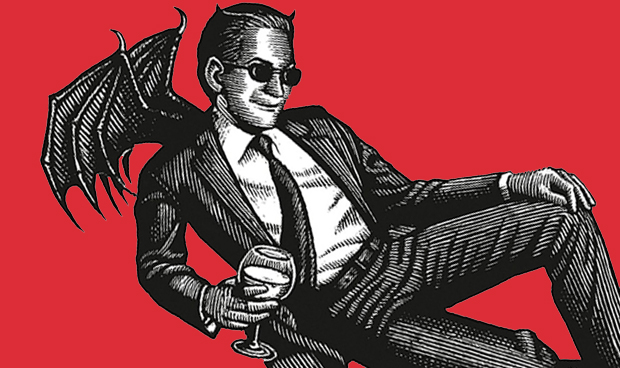 Back in 1990, a novel called Good Omens from a fantasy legend in Terry Pratchett and a then up-and-coming comic book visionary in Neil Gaiman provided a unique take on Biblical global destruction with an influential style of quirky levity that's taken for granted today. Now, over a year after co-author Pratchett passed away, it appears that Gaiman will carry on the enduring legacy of their collaboration, adapting the novel for television.
According to The Guardian, Gaiman announced Thursday at a memorial event for Pratchett that he will adapt Good Omens for the small screen as a six-part television miniseries. The project will bring to life the novel's unholy-ish dynamic duo in the demon Crowley and angel Aziraphale, whose shared penchant for life on Earth since its very beginnings have teamed them together for the goal of halting the upcoming apocalypse. Of course, they must deal with all the repertory signs of an impending Armageddon once prophesized by an eerily prescient 17th century witch Agnes Nutter, including the coming of the Anti-Christ, who happens to be a normal 11-year-old comically misplaced at birth.
For Gaiman, the process of arriving at this adaptation decision turned out to be bittersweet, considering that he initially refused such an idea, stating "Terry and I had a deal." While he would only work on Good Omens with his co-author and close friend Pratchett, plans got nixed when he passed away back in March 2015 from a rare form of Alzheimer's disease. However, a posthumous note from Pratchett to Gaiman not only gave him full blessing to adapt their book, but even went so far as to insist upon the idea. According to Gaiman, "At that point, I think I said, 'You bastard, yes."
This is certainly the most promising (and touching) news on the Good Omens live-action front, which has seen several false starts over the years, including one prospective iteration as a television project headed by Monty Python's Terry Jones that got nixed due to bad timing seeing as it was pitched during an unwelcome era for dark, end-of-the-world humor in the aftermath of the 9/11 terrorist attacks. At one point, a nixed feature film version was also in the works with Pirates of the Caribbean screenwriter Terry Rossio pegged to pen the script.
It will be fascinating to see if a prospective Good Omens television adaptation can live up to the monumental expectations of the novel. However, with Neil Gaiman seemingly carrying out this task as a tribute to Pratchett, this is probably one project that you should not bet against.