News
Michael Mann to Direct Vietnam War Limited Series Hue 1968 for FX
Filmmaker Michael Mann will direct upcoming limited series on the bloodiest battle of the Vietnam War in FX's Hue 1968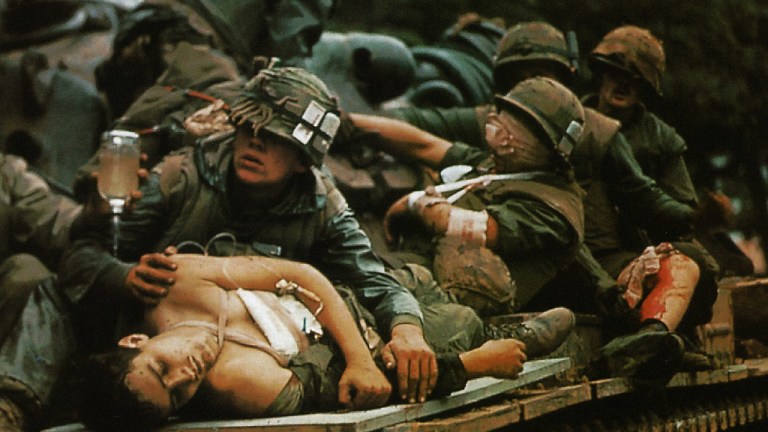 Michael Mann (Miami Vice, Heat, Starsky and Hutch) and Michael De Luca, the producer of Moneyball, will executive produce an adaptation of Mark Bowden's recently-released bestseller Hue 1968 into a limited series for FX.
Mann, the Oscar-winning director of Collateral and The Insider, is expected to direct the pilot and several of the eight to 10 episodes. This isn't his first TV job. He directed an episode of  Police Woman in 1977, an episode of Crime Story in 1987, and the pilot for HBO's series Luck in 2011.
The novel focuses on the 26-day siege of Hanoi's 1968 Tet Offensive.
"The first battle book from Mark Bowden since his #1 New York Times bestseller Black Hawk Down, Hue 1968 is the story of the centerpiece of the Tet Offensive and a turning point in the American War in Vietnam," reads the official synopsis at Amazon.
"In the early hours of January 31, 1968, the North Vietnamese launched over one hundred attacks across South Vietnam in what would become known as the Tet Offensive. The lynchpin of Tet was the capture of Hue, Vietnam's intellectual and cultural capital, by 10,000 National Liberation Front troops who descended from hidden camps and surged across the city of 140,000. Within hours the entire city was in their hands save for two small military outposts. American commanders refused to believe the size and scope of the Front's presence, ordering small companies of marines against thousands of entrenched enemy troops. After several futile and deadly days, Lieutenant Colonel Ernie Cheatham would finally come up with a strategy to retake the city, block by block and building by building, in some of the most intense urban combat since World War II.

With unprecedented access to war archives in the U.S. and Vietnam and interviews with participants from both sides, Bowden narrates each stage of this crucial battle through multiple viewpoints. Played out over 24 days and ultimately costing 10,000 lives, the Battle of Hue was by far the bloodiest of the entire war. When it ended, the American debate was never again about winning, only about how to leave."
The series will aim at different perspectives during Tet Offensive. Characters include an innocent Vietnamese schoolgirl turned revolutionary; a war hero Marine captain from Pennsylvania; a Hanoi teacher who fights for the North Vietnamese army's infintry; and Ameran president Lyndon B. Johnson.
"We are them," Mann told Deadline when the project was first announced in April. "There are no background people; people abstracted into statistics, body counts. There is the sense that everybody is somebody, as each is in the actuality of their own lives. The brilliance of Bowden's narrative, the achievement of interviewing hundreds of people on all sides and making their human stories his foundation, is why Hue 1968 rises to the emotional power and universality of For Whom the Bell Tolls and All Quiet on the Western Front."
SOURCE: DEADLINE