News
Master and Commander Sequel Teased by Russell Crowe
Russell Crowe gives hope to film fans who want a sequel for 2003's Master and Commander: The Far Side of the World.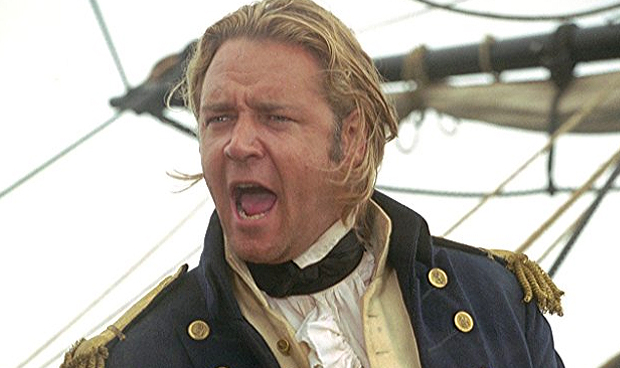 Russell Crowe's blockbuster resume won't likely include the 2003 maritime movie, Master and Commander: The Far Side of the World, on a greatest hits list, due to its paltry performance at the box office. However, the film – based on author Patrick O'Brian's "Aubrey-Maturin" novel series – was a memorable, Napoleonic Wars-set, historical epic that, to this day, has its share of advocates, some of whom have long-desired to see a sequel.
Now, with a tweet, it would seem that the star himself has breathed life into the heretofore unlikely notion.
Crowe has come out of the gate with an intriguing post that teases positive signs for a potential belated Master and Commander sequel. While his abundant usage of ambiguous qualifications such as "perhaps" and "potentially" in describing what is, at best, a "pre-proposed possibility," makes this a grain-of-salt kind of idea, the pure randomness of the comment, which comes from the star himself, gives it a bit more potency.
Master and Commander: The Far Side of the World was released on November 14, 2003, arriving as Russell Crowe's momentum-riding big-budgeted blockbuster follow-up to his Oscar-nominated performance in the Best-Picture-winning 2001 film, A Beautiful Mind. Directed by Peter Weir (The Truman Show, Dead Poets Society), the film saw Crowe star as Captain Jack Aubrey of the HMS Surprise, joined by Paul Bettany as ship surgeon Dr. Stephen Maturin, engaging in a punishing voyage to pursue a gigantic French war vessel in South American seas during the height of the Napoleonic Wars. The film was well-received and even earned 10 Oscar nods, which yielded two wins (Best Cinematography, Best Sound Editing). However, with a bloated budget of $150 million, its $93.9 million domestic gross – boosted by $118 million foreign – rendered it a financial dud by industry standards, essentially eliminating sequel prospects.
Considering those variables, the manner in which a Master and Commander sequel might get off the ground remains to be seen. Moreover, director Peter Weir, whose last film was 2010's The Way Back, is 73 and has been out of the picture for some time. However, it's still possible that a passion project that gets the Master and Commander band back together might be enough coax the veteran Aussie helmer back, even at his age. We've seen more unlikely sequels and even more unlikely comebacks. Indeed, if the buzz is loud enough, Fox will heed the (admittedly-expensive) call to return Crowe, Bettany and company to the cinematic ocean blue.