News
Marvel Adventures – The Avengers 1: incoming!
Marvel are in good form right now, thanks to Jeff Parker's continuity-less Marvel Adventure books. And Rob's getting excited about The Avengers 1...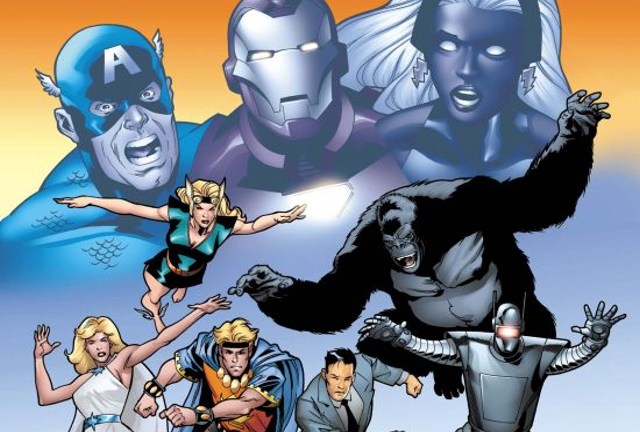 For those not reading the "all ages" Marvel Adventures line of comics, you're really missing out.
Set outside of the current Marvel '616' Universe these great underrated books are completely continuity-free and have all your favourite heroes doing battle, defeating bad guys and standing up for truth justice etc.. And it's all wrapped and concluded in one issue of storytelling.
Since the book's inception we have had some great concepts and stories, such as the Marvel Avengers team being transformed into giant MODOKS (think evil wobbly-bobble headed thingies), the Hulk wiping the floor with the Abomination, and finally all the heroes from the books joining together to get rid of a city full of evil Ultron robots.
This welcome return to one issue storytelling is all thanks to one of Marvel's up and coming writers, Jeff Parker, whose retro style and action-focused storytelling has made the Marvel Adventure books hidden gems that don't come with the baggage of decompressed stories specifically written to go into trade paperbacks.
To follow on from his initial success across the titles the writer will be (with the help of penciller Leonard Kirk) releasing Giant-Size Marvel Adventures – The Avengers 1, which will hit the shelves this July. What will make the book even more fun than usual will be that the story will take the Avengers back to the 1950s for a team-up with another of Parker's other hidden comic gems, the Agents of Atlas.
For those who haven't read this book either get down to your comic shop right away to pick up the trade as the book contains everything you want in a comic – robots, mad aliens, underwater princesses, spies and even machine gun firing gorillas!
If this wasn't enough for you the book will also be extra sized and contain reprints of some of the Agents of Atlas' first adventures from way back in 1947, complete with the rarely seen covers to those issues. All this, and the added bonus of Marvel's purple-helmeted version of Doctor Who, Kang The Conqueror making an appearance. And all in one comic book – what more do fans need?