News
Mark Millar's Empress Movie Confirmed for Netflix Slate
Empress will arrive as part of Netflix's inaugural slate of Mark Millar adaptation projects.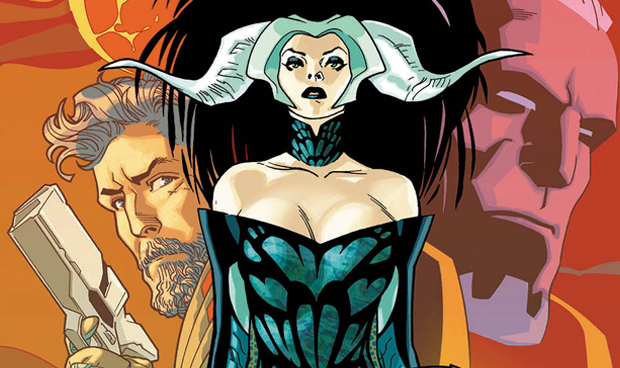 When it comes to Mark Millar's upcoming project, Empress, we could be seeing the next phase of the comic book movie renaissance. In what seemed like an unprecedented move, the comic movie adaptation went into development before the release of the comic title it adapts. However, a lot has changed since then, notably Netflix's acquisition of Millarworld.
Millar's Empress project has been a heralded topic in the comic book world for the last few years, showcasing an embattled female lead amidst a Jack-Kirby, New Gods-esque dynamic of the political power struggles of intergalactic titans. Millar's comic title, illustrated by Stuart Immonen, launched in 2016 with the first of a six-issue miniseries trilogy.
In the latest news, the Empress movie has officially landed on Netflix's first slate of Millarworld adaptation projects, capitalizing on the streaming giant's 2017 acquisition of Mark Millar's publishing brand. Writer Lindsey Beer, who worked on upcoming comedy Sierra Burgess is a Loser, as well as the 2019-scheduled Tom Holland/Daisy Ridley sci-fi film, Chaos Walking, will adapt Empress, joined by producers Joe Roth and Jeff Kirschenbaum (The Voyage of Doctor Dolittle, Maleficent).
Here's Netflix's official plot description:
Queen Emporia is married to (literally) the worst dictator in the galaxy, King Morax. After escaping his palace with her children, Emporia and her family, must hide from Morax and his army at all costs — even if it takes teleporting from planet to planet to avoid them.
This is first substantive development on the Empress movie front since 2016, when Millar – before the Netflix acquisition – was teasing that he'd already cast the film's lead actress, supplemented by a photo of a scarf-covered woman. While Anne Hathaway seemed to be the dominant guess amongst the inquisitive fandom, other names like Krysten Ritter, Charlize Theron, Alicia Vikander (and, jokingly, Eddie Redmayne) were also in the pool. 
Of course, the mystery actress tease turned out to be a stunt and the woman in the photo wasn't even an actress.
— Mark Millar (@mrmarkmillar)
March 8, 2016
However, one aspect from the mystery actress debacle that still needs to be considered is that Millar had previously gone on record, touting how the role of Empress will distinguish itself by addressing a controversy in Hollywood when it comes to an unrepresented demographic in over-40 actresses. As Millar told ComicBoook.com, "There aren't really that many action roles for 40-year-old actresses when you think about it so I think that's what's caused a lot of the excitement among the various actresses hearing about this. It's going to be a really fun part for a movie-star."
With that idea in place, another sphere of speculation could still point to an actress such as Angelina Jolie. Such an idea would be supplemented by the poeticism behind Jolie (no stranger to action movies,) reuniting with Millar after their successful collaboration in 2008's Wanted. Of course, opinions still vary on the identity of the woman in the photo.
Regardless, Empress will be an amalgamation of several dramatic tropes, evoking an aura of the court of Flash Gordon evil overlord, Ming the Merciless while grounding itself in the relatable drama in the struggle of its embattled title character. While on the surface, Empress is the wife and mother of three children to a powerful and cruel interplanetary tyrant named King Morax who appears complicit in his sadistic stewardship, she secretly plots an escape with her children.
With the help of a brave bodyguard, they risk everything in this elaborate estrangement plot. Of course, the mythology comes with an obligatory twist: The planet in question, is Earth… 65 million years ago! Of course, Empress is, by no means a dainty damsel in distress on an ancient Earth and will be showcasing some impressive powers and fighting skills of her own. In fact, she seems akin the archetype of Kirby's Big Barda as a super-powered former intergalactic agent of tyranny to Darkseid who grows a conscience and breaks free.
Whichever high-profile actress (in or nearing her 40's) has actually nabbed the role for Empress, it certainly sounds like a fascinating project. If anything, its shocking, cart-before-the-horse, preemptive movie rollout strategy highlights how far the comic book film genre has come. We shall see what develops on Apr. 6 with the big reveal!