News
Marc Webb to Direct Westboro Baptist Church Movie
Reese Witherspoon and Bruna Papandrea will produce This Above All, true story of Westboro Baptist Church Convert Megan Phelps-Roper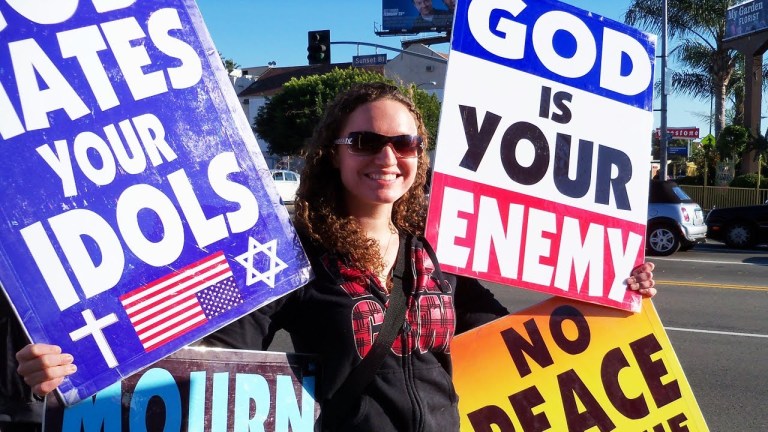 The Westboro Baptist Church redefines Christian concepts like brotherly love and turning cheeks. They promise "eternal retribution or the everlasting punishment of most of mankind in Hell forever." The hate mongering tenets crave legitimacy like dogs eat their own vomit. The upcoming feature film, This Above All, will tell the true-life story of Megan Phelps-Roper, former member of the Westboro Baptist Church. The film will be directed by Marc Webb, from a script by Nick Hornby. The film will be produced by Reese Witherspoon and Bruna Papandrea, along with Dawn Ostroff and Jeremy Steckler of Condé Nast Entertainment Webb, and River Road Entertainment's Bill Pohlad.
"As the granddaughter of the famous founder of the Westboro Baptist Church, Phelps-Roper grew up espousing the teachings of her family, preaching God's power and damning those who sinned," reads the official statement.
"She became one of the most powerful voices on social media for Westboro, where she used both a picket sign and her Twitter handle to doggedly protest everything from cultural events to funerals, until her ongoing conversations with opponents over Twitter led her to question her belief system. With her mind open to a different way of seeing the world, she and her younger sister made the difficult decision to leave the Church—and be disowned by their family—in order to find a life governed by love.
This Above All is being adapted from both an article written by Adrian Chen for Condé Nast's The New Yorker and from Phelps-Roper's soon-to-be-published memoir.
"When we read The New Yorker article about Megan's incredible journey, we knew that it was the perfect fit for CNÉ's film group, which focuses on compelling and timely stories from Condé Nast's vast library of publications," Ostroff, president of CNÉ, and Steckler, CNÉ's executive vice president of feature films, said in a statement. "Marc and Nick both have a powerful vision of how to tell Megan's story and we are very happy to be partnered with Reese, Bruna and Bill, who understand the importance of bringing this project to the big screen."
Based in Topeka, Kansas, the Westboro Baptist Church is one of the nation's most recognized hate groups, best known its anti-gay rhetoric.
"Megan's extraordinary story says so much about so many things in contemporary America, and I'm really excited about this project," Hornby said in a statement. "I'm looking forward to working with the brilliant Marc Webb, CNÉ and with my friends Reese Witherspoon, Bruna Papandrea and River Road, with whom I enjoyed such a good relationship during the making of 'Wild.'"