News
Mad Magazine Highlights Dumbest People and Events of 2019
MAD Magazine exclusively un-redacts its upcoming chronicle of the "20 Dumbest People, Events, and Things of 2019."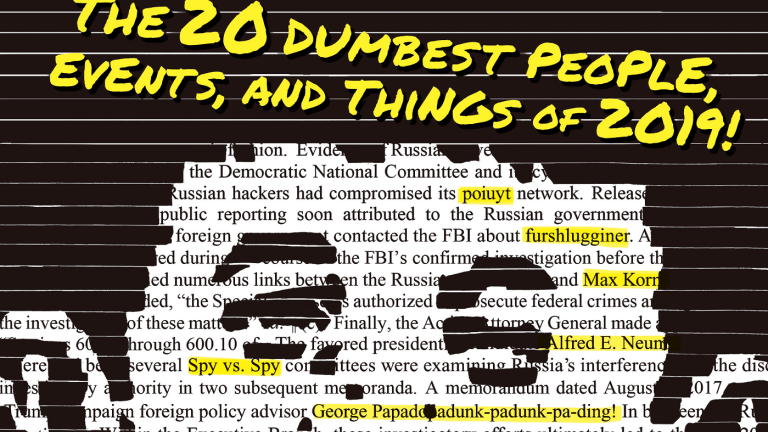 The end of the year marks the end of the decade. Even the usual idiots at Mad Magazine know that. They are such experts in the art of idiocy with deep understanding of its complexities they've been redubbed the usual gang of geniuses. As smart as that may make them seem, MAD entrusted Den of Geek with an exclusive first look at their upcoming issue #11, which highlights the "20 Dumbest People, Events, and Things of 2019."
MAD's "20 Dumbest" issue is an annual tradition that turns 21 this year. Rumors and fake news harshly claimed MAD would continue to publish new issues but they would be loaded with only old material. Brilliant as that may seem to financial minds, MAD's 2020 issues will feature new content alongside archival classics. Issues will still come out every other month, and MAD Magazine ain't going nowhere. What? You were worried?
You should be more concerned "The 20 Dumbest People Events, and Things of 2019" list originated from the U.S. Department of Injustice, and has been heavily un-redacted. The list spoofs politics and pop culture. The magazine takes on deplorable ICE border camps, takes us on a trip through an Anti-Vac Museum, calls the bursar's office about Lori Loughin's college admission fraud, and confronts the actual end of MAD itself.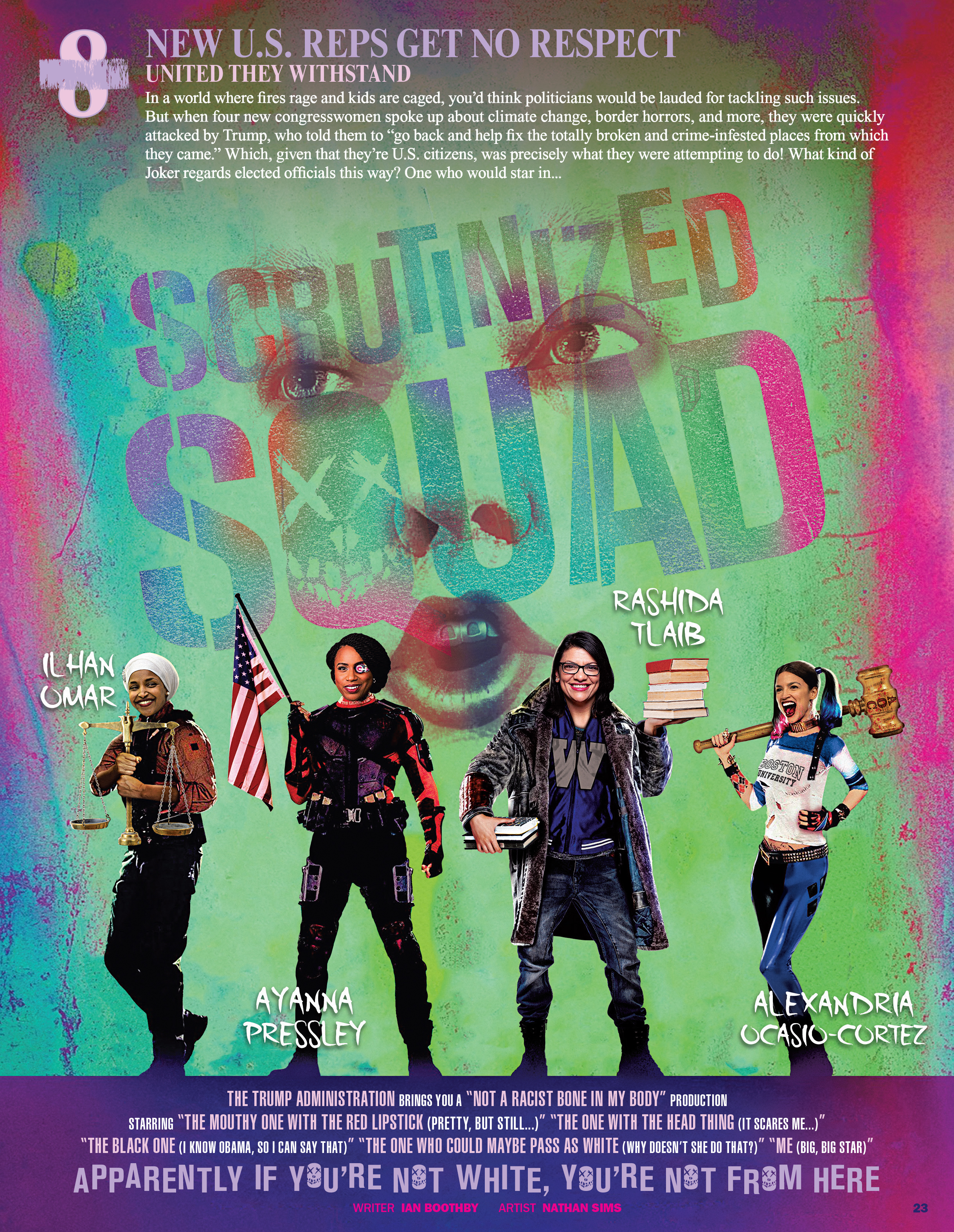 Coming in at number 8 is "Scrutinized Squad," a Suicide Squad parody made by the Trump Administration's Not a Racist Bone in My Body productions.
Artist Nathan Sims' poster features Ilhan Omar, Ayanna Pressley, and Rashida Tlaib, with Alexandria Ocasio-Cortez banging a gavel as the Harley Quinn clincher. The players are described by typical remarks Trump makes about U.S. Congresswomen, writer Ian Boothey quotes the president saying it stars "the mouthy one with the red lipstick, pretty, but still …," the one with the head thing, it scares me," "the black one, I know Obama, so I can say that," and "the one who could maybe pass as white, why doesn't she do that?"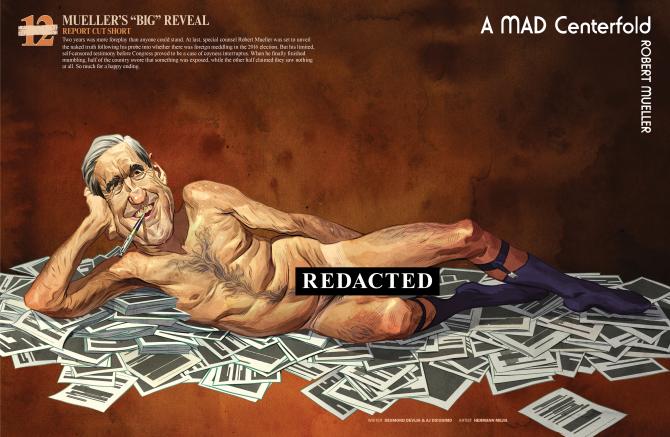 MAD also un-redacts Mueller's "big" reveal. Coming in at number 12, it is so revelatory, it doubles as a centerfold, done by artist Hermann Mejia.
"Two years was more foreplay than anyone could stand," Desmond Devlin and AJ Dicosimo write. "At last, special counsel Robert Mueller was set to unveil the naked truth following his probe into whether there was foreign meddling in the 2016 election. But his limited, self-censored testimony before Congress proved to be a case of coyness interruptus. When he finally finished mumbling, half of the country swore that something was exposed, while the other half claimed they saw nothing at all. So much for a happy ending."
MAD issues are on sale in select comic book shops, and for digital download on Magzter, comiXology, Google News, and Kindle, but readers can subscribe here.
MAD #11 will be on sale in select comic book shops, and available for digital download Wednesday, Dec. 18.
Culture Editor Tony Sokol cut his teeth on the wire services and also wrote and produced New York City's Vampyr Theatre and the rock opera AssassiNation: We Killed JFK. Read more of his work here or find him on Twitter @tsokol.
Read and download the Den of Geek Lost in Space Special Edition Magazine right here!