News
Luke Perry Has Unique Advice for the Riverdale Cast
Having starred in his own teen drama hit as a young man, 90210, Luke Perry has some pretty hilarious advice for Riverdale co-stars.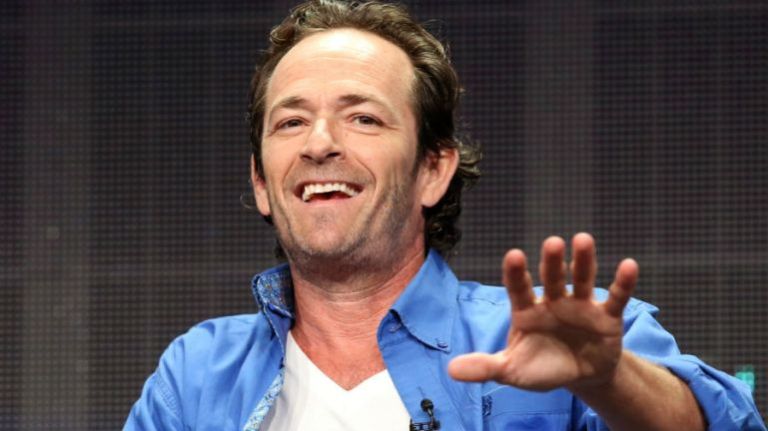 Long before he accepted the role of Mr. Fred Andrews on the CW's Riverdale, it's safe to say that Luke Perry already knew what to expect from teenage dramas. After all, he starred in what might be the teen soap by which all others are measured (at least for a certain generation): Beverly Hills, 90210. And as one of that 1990 series' biggest breakout stars, he has plenty of experience on the craziness that is attached to coming up in such an environment, even for a show as radically different as Riverdale (which owes as much to Twin Peaks as it does to Aaron Spelling).
So when asked during a San Diego Comic-Con roundtable interview about what advice he'd offer his younger co-stars for whom he plays a mentoring father figure, Perry at first wanted to note that they are all very sharp thespians who have gotten to the point of starring on a major network series on their own.
"These guys, they're pretty shrewd," Perry said. "They're pretty smart. In terms of advice, they didn't hire me for that, that's not my thing. I'm not their parent, these guys don't need it, but what I try to do in any project that I work on is, by example, show the other actors how I would like it to be." Perry went on to emphasize always arriving to set on time, realizing that just because you're the star of a show doesn't mean you're the star of a production, and to treat all collaborators with respect and decency.
… But then Perry had a thought about where he could actually advise in unique ways… were the show to, you know, be a hit, and history potentially repeated itself like Fred C. Dobbs arriving at a goldmine.
"I was really impressed on the pilot, no problems," Perry said before pausing and allowing a laugh to accompany his second thought.
"But then again, second season—I've seen shit go crazy. Oh, it can and will get wild for these kids. And I explained to them, and everyone's [saying], 'Oh, they all get along so good now, it's all so great.' And I'm like, 'Yeah, no one's said to them yet that we can have one person on The Tonight Show, right? And those are the things that come into an ensemble cast in the second and third season with any success. They're like, 'Yeah, we want somebody for a magazine cover. You, but not the other nine.' Then you've to go back to work and—it can create some fucking dynamics. So, we'll wait and see how these guys deal with it and try to steer them if I can!"
Hopefully, he can do so with the welcomed aplomb of Mr. Andrews himself.
Riverdale premieres on Oct. 3.