News
Looking back at Kapow! Comic Con
Michael went to check out the inaugural Kapow! Comic Con in London last weekend. And here's what he thought...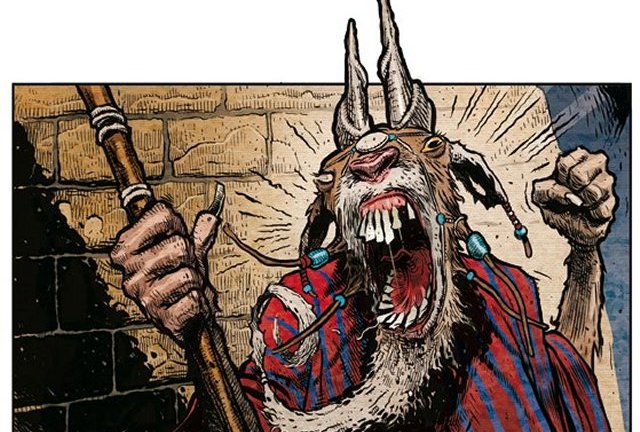 I'll admit it. I was pleasantly surprised by the inaugural Kapow! Comic Con.
Blame Mark Millar for my caution. His unique brand of braggadocio is nothing but divisive, and his disregard for the rather vibrant UK comics convention circuit while promoting his own con didn't win him much favour. And to fill out the programme with predominantly male guests, with an exclusive focus on mainstream superhero comics and their various spin-offs, seemed to clash with his supposed sense of infectious, inclusive populism.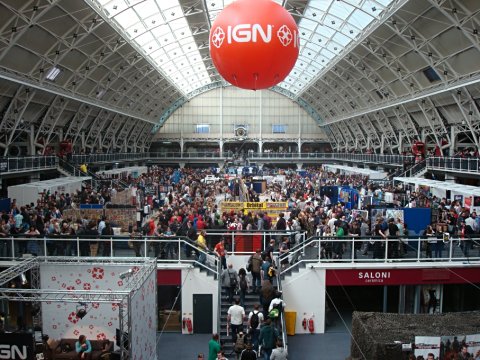 However, despite such a bias, simply strolling around Islington's Business Design Centre's convention floor was enough to inspire hope. Alongside the expected stacks of longboxes and nerd-friendly merchandise were a few surprises, namely stalls from publishers, comics shops and distributors, whose tastes stretch wider than spandex. Thanks to the catholic catalogue of Turnaround, the gleeful gatekeepers of Gosh!, and the Europhilic specialists at Cinebook, you had the potential to be lured in by the large, intimidating Green Lantern display, but leave with an armful of diverse wonders.
I picked up Weathercraft, the latest book from American indie comix stalwart, Jim Woodring, and the oh so French 1920s biographical comic, Kiki De Montparnasse, recently published by SelfMadeHero. Plus, a DVD from Manga UK of the anime series, Neon Genesis Evangelion. Not a bad haul for what seemed at first glance to be an affirmation of a sort of backward, boys' club mentality.
Also, behind the endless queues for superstar artists like John Romita Jr., Frank Quitely and Brian Bolland, there were smaller stalls, where indie hopefuls were touting their self-published works. There were fewer small press types than at rival cons, such as the huge, chaotic MCM Expo, or the hipster favourite Thought Bubble, but surprises were still in store.
One such super-creator was the ever dapper Geof Banyard, whose Fetishman, despite wearing a skintight suit, isn't much of a superhero at all, and instead offers an acute, cheeky satire on taboos, moral outrage, and sexual prudery.  
Likewise, the duo of Dan Willett and Daniel Lish, two creatives with backgrounds in toy and videogame design, were promoting their comics debut, the rather stunning Cartigan. Sadly, this fantasy adventure tale is not currently set for publication in the UK,or even in English, for that matter. French publisher, Akileos, is releasing the book later this year, but that didn't stop the two Dans from handing out quite lavish samples of the book. Hopefully, we'll see more from these two in the future.
Away from the floor, Kapow promised a line-up of scintillating panels and exclusive screenings. And while the results did not approach the scoop mania or star wattage of the cons of San Diego or New York, the single panel I caught, for Millar's Clint Magazine, was charmingly entertaining, with a welcome appearance from Stewart Lee.
The screenings, on the other hand, were uninspiring. The first episode of Falling Skies, the new alien invasion television series executive produced by Steven Spielberg, didn't elicit much excitement from the crowd, probably because of its cliché-ridden script and tepid attempts at both human drama and sci-fi action.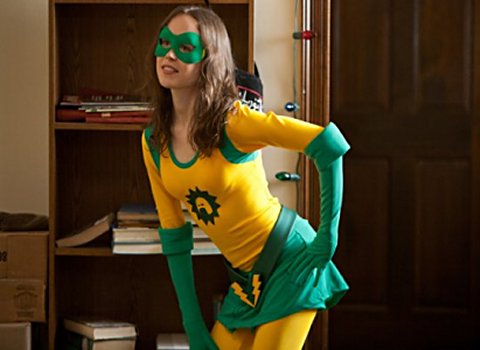 The top secret, exclusive screening, however, went down very well. Although, while it had been teased as a summer superhero blockbuster (which many hoped would be X-Men: First Class or Thor), the surprise offering was, in fact, indie gore-comedy Super, which stars Rainn Wilson and Ellen Page as twisted oddbods driven to taking down crime, or, in practice, anyone who contravenes their shaky moral code, such as queue-jumpers.
Boasting a mix of quirky indie aesthetics and consistently provocative flashes of bad taste, Super casts off all other concerns, be they narrative, psychological or character-based, in favour of getting sufficient mileage out of its dark, gratuitous sense of humour. However, besides a notable turn from Page as the deranged sidekick, Boltie, Super has little to offer beyond knee-jerk reactions of laughter, shock or disgust. Think of it as Kick-Ass without the style, wit, satire or heart.
Nevertheless, the crowd seemed to love it, confirming that, despite the slightly compromised execution, Kapow provided a satisfying and promising first outing. Perhaps the success of this year's convention will attract bigger guests and exclusives next time around. (Millar revealed that Ridley Scott was snooping around, scouting out the event for a Prometheus appearance in 2012.) However, for the moment, Kapow is filling a comfortable spot in the UK convention schedule.
You win this time, Mr Millar.