News
Locke & Key: Netflix Trailer, Release Date, Cast, and News
After years of development, the TV series adaptation of IDW horror comic Locke & Key is headed to Netflix soon.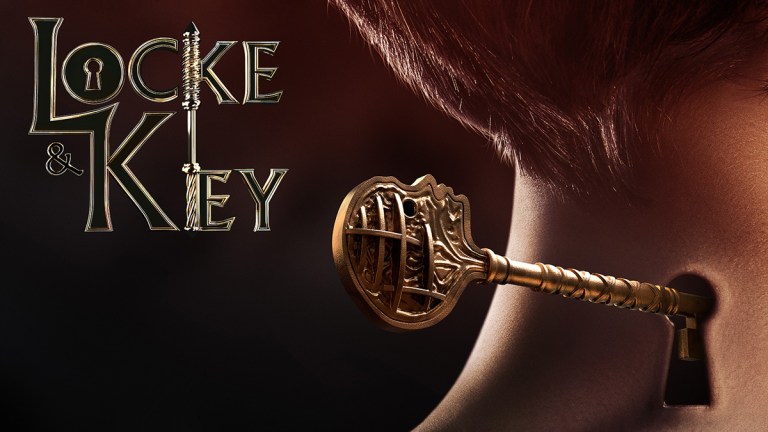 The Locke & Key TV series sailed troubled waters before landing on Netflix.
The live-action adaptation was initially set for Hulu, which ordered (and shot) a pilot adapting writer Joe Hill's IDW horror comic book series, with Carlton Cuse (Lost) set to serve as showrunner. Auspiciously, Andy Muschietti (It, Mama) directed Hulu's pilot after Doctor Strange's Scott Derrickson had to withdraw. Unfortunately, after all that, Hulu ended up passing on the project!
Netflix, however, came in for the rescue; a rescue that involved scrapping Hulu's pilot. Regardless, the Locke & Key TV series will finally arrive in February!
Locke & Key Trailer
In the latest sneak peek for Netflix's Locke & Key, teen Kinsey Locke (Emilia Jones) makes an ice-breaking get-together with a boy at school by inviting him to her family's creepy mansion and showing off her neck-stabbing magical dimensional portal keys (as opposed to, say, grabbing a sundae at the local Dairy Queen). 
The direct panel-to-screen comic book influences of the series are on display in a new featurette.
Netflix has also debuted the first full trailer for Locke & Key, as seen just below. It now makes more sense why the streamer would pick this up from Hulu as there's a real Stranger Things vibe here.
Locke & Key Release Date
Locke & Key is set to premiere on Netflix on Friday, February 7, 2020.
Locke & Key Poster
The premiere date reveal also came with the first bit of official ephemera in the form of a poster, which Netflix has also released in motion form, as seen below.
Locke & Key TV Series Cast
Darby Stanchfield (Scandal, NCIS, Castle) will star in Netflix's Locke & Key, reported Deadline. She will play Nina Locke, the widowed single mother of the three Locke children, who moves the family into their ancestral home, the Keyhouse, in Maine. However, the property has centuries of connections to the supernatural – and the circumstances of her husband's death – and acts as a dimensional portal through which malevolent demons wish to cross. 
She is joined by a young cast who will portray her onscreen children, the Locke siblings, on the streaming giant's reworked version of the Locke & Key TV series.
Connor Jessup (American Crime, Falling Skies) will play Tyler Locke, who, as a teenager, is the oldest of the siblings.
Emilia Jones (Wolf Hall, Utopia) will play Kinsey Locke.
Jackson Robert Scott (It – as Georgie Denbrough) will play the youngest of the trio, Bode Locke. Interestingly, Scott was cast as Bode in the nixed Hulu iteration and, for now, stands as the only cast member retained by Netflix.
Also onboard are the following:
Sherri Saum (The Fosters), Felix Mallard (Neighbours) Petrice Jones (iBoy), Griffin Gluck (American Vandal), Bill Heck (The Alienist), Coby Bird (The Good Doctor), Thomas Mitchell Barnet (In the Dark) and Laysla De Oliveira (The Gifted).
Locke & Key TV Series Details
While Netflix rescued the wayward project, the move involved crucial caveats, namely that Locke & Key would go back to the drawing board with a new cast and redeveloped the scripts, essentially scrapping the Hulu pilot, which was directed by It helmer Andy Muschietti.
Netflix opted to keep the Hulu iteration's creative fulcrum, comic creator Joe Hill, who remained onboard as creator/writer/executive producer. The same went for showrunner Carlton Cuse, known from Lost, The Strain, Bates Motel and Amazon's upcoming Jack Ryan series. Cuse is joined in that capacity by Meredith Averill, who's worked on Jane the Virgin, Star-Crossed and The Good Wife, along with Netflix's The Haunting of Hill House.
read more: 13 Essential Horror Comics
The story of Locke & Key centers on a single mother and her three children, who return to their family's ancestral home following the brutal and mysterious murder of their father. As they explore the house and its surroundings, it becomes clear that there are wonderful and terrible things lurking on the grounds. It is a comic book horror classic.
Hulu's scrapped Locke & Key pilot consisted of the following cast:
Frances O'Connor (The Conjuring 2, A.I. Artificial Intelligence) as Nina Locke. Sam Robards (Twisted, Gossip Girl) as Rendell Locke. Jack Mulhern (Walking to the Waterline) as Tyler Locke. Megan Charpentier (It, Mama) as Kinsey Locke. Jackson Robert Scott (It, Fear the Walking Dead) as Bode Locke. Nate Corddry (The Circle, The Marvelous Ms. Maisel) as Duncan Locke. Owen Teague (It, Bloodline) as Sam Lesser. Lastly, Danny Glover was to play a cameo role as teacher Joe Ridgeway.
Interestingly, long before Hulu's version, a 2011 TV adaptation made it far enough to produce a pilot, but never garnered a pick-up. This version had Josh Friedman as a showrunner (Terminator: The Sarah Connor Chronicles, Avatar 2)and a cast that included Miranda Otto, Sarah Bolger, and Ksenia Solo. Check out the trailer…
Sadly, this version of Locke & Keynever made it past a pilot, but the pop culture world seems better poised to embrace an onscreen version of this horror comic now. Not only are there way more comic book adaptations on TV and film, but Joe Hill has attained a better industry foothold, especially with the recent film adaptaion of Horns and AMC's TV series adaptation of his novel, NOS4A2. Hopefully, the Netflix adaptation is good and garners enough of an audience to ensure its continuation. Universe, you owe us this.
Joseph Baxter is a contributor for Den of Geek and Syfy Wire. You can find his work here. Follow him on Twitter @josbaxter.