News
Jeff Smith's Bone to Become a Movie
The director of Kung Fu Panda and The Little Prince will try his hand at adapting Jeff Smith's Bone to the screen.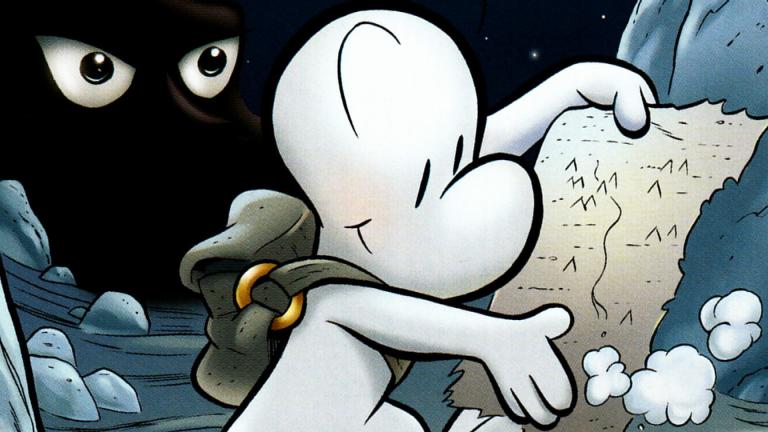 And from the "what took them so long?" department, Jeff Smith's epic fantasy comic Bone is finally getting the big screen treatment courtesy of Warner Bros. Mark Osborne (Kung Fu Panda, The Little Prince) will direct, and he'll co-write the script with Adam Kline. There had been rumblings that this was in development before (with director PJ Hogan), but this sounds like it has a shot to actually happen now.
Jeff Smith's Bone is kind of tough to describe here, but it's probably the finest all-ages comic book story of my lifetime. Smith wrote and drew the story, which is about these bizarre, cartoony Bone cousins who leave their home of Boneville and end up on an adventure that spans, well, over a thousand pages of perfect comics. The series reached its conclusion in 2004, and as perfect as it is on the page, it's so ripe for animation that it blows my mind that it's taken 13 years for this to happen.
"Boneis very special and unconventional because it blends elements together that you don't necessarily expect — soft, little comic characters and epic high stakes fantasy adventure," Mark Osborne told The Hollywood Reporter. "To carry this into the cinematic realm presents both an opportunity to represent what readers of all ages have loved about the series, while pushing animated storytelling into exciting and different areas."
He's right. Don't be fooled by the cuddly look of Bone, because this story has a lot more to offer. If this is a success, don't be surprised if it ends up as a trilogy, as there's plenty of material there.