News
Hunter S. Thompson Letters Will Hit the Auction Block
A lifetime of letters from Gonzo journalist Hunter S. Thompson will be auctioned off.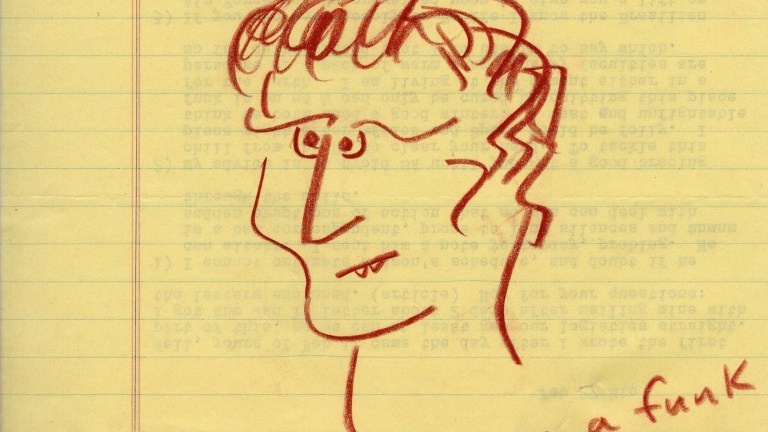 Okay you deranged pile of scurvy buzzards, we may not be proud of what we learned from the Godfather of Gonzo journalism, Hunter S. Thompson, but we never doubted it was worth knowing. The Rolling Stone and ESPN reporter didn't contain himself to stories, he also spewed wisdom he stuck in envelopes and licked the stamps, possibly hoping one may have been misplaced blotter. A collection of 182 letters written by Thompson will be auctioned by Nate D. Sanders Auctions on September 27, 2018.
"The letters begin in 1955 when a 17-year-old Thompson wrote to his Louisville, Kentucky childhood friend Paul Semonin, who was attending Yale University," according to the official statement. "All but two of the letters in the collection were written to Semonin.
The other two items include a letter to an unnamed friend and a telegram from Thompson to author Tom Wolfe. Wolfe edited a volume of work by writers including Thompson, Truman Capote, Joan Didion, Norman Mailer and George Plimpton, titled The New Journalism. Usually called Immersive journalism, Warren Beatty's reporter character in the film The Parallax View labeled it creative irresponsibility.
"I am not going to be either the Fitzgerald or the Hemingway of this generation," Thompson wrote in a letter from 1965. "I am going to be the Thompson of this generation."
The letters Thompson wrote to Semonin span from 1955 through 1974. The auction house describes them as "highly personal, providing a clear look at Thompson's view of the world. Nearly every sentence in the letters features Thompson's hallmark Gonzo journalistic style including riveting details about his experience at Slates Hot Springs in Big Sur as well as his time embedded (including the brutal beatings he suffered) with the Hell's Angels."
"Among the highlights of the archive is Thompson's famous letter written the day of President Kennedy's assassination," reads the statement. Twenty-five of the letters being auctioned were published in Thompson's collection, The Proud Highway: The Saga of a Desperate Southern Gentleman 1955-1967. One hundred and twenty six letters were typed and include handwritten notes. All of the letters are signed.
"This is a rare, personal, first-hand depiction of Hunter S. Thompson's life," auction owner Nate Sanders said in a statement. "It is clear in reading these letters that Thompson believed it was imperative to document the turmoil of the 1960s and share his perspective with his best friend from childhood."
Further reading: Hunter S. Thompson Authorized Bio Coming From MGM TV
There are also letters documenting Thompson's travels while writing The Rum Diary. The archive includes letters Thompson wrote while visiting or residing in Colombia, Ecuador, Brazil, Mexico, Aruba, Puerto Rico, New York, California, Colorado and Kentucky.
Hunter Stockton Thompson, who died of a self-inflicted gunshot at his fortified compound which he loving called Owl Farm, in Woody Creek, Colorado, learned journalism in the army and rose through local papers until landing a copy writing job for The New York Times. He built his reputation after moving racing, drinking and drugging with a biker gang in the story that launched him, "Hell's Angels: The Strange and Terrible Saga of the Outlaw Motorcycle Gangs" in 1967. Thompson was portrayed by Bill Murray in the film Where the Buffalo Roam, and Johnny Depp in Terry Gilliam's Fear and Loathing in Las Vegas (1998).
The bidding for the archive begins at $110,000.
The Thompson letters will be auctioned by Nate D. Sanders Auctions on September 27, 2018.
Culture Editor Tony Sokol cut his teeth on the wire services and also wrote and produced New York City's Vampyr Theatre and the rock opera AssassiNation: We Killed JFK. Read more of his work here or find him on Twitter @tsokol.