News
Asunda Fantasy Comic to Become TV Series at HBO
The Asunda fantasy universe from Stranger Comics is headed to HBO, with a TV series adaptation now in the works.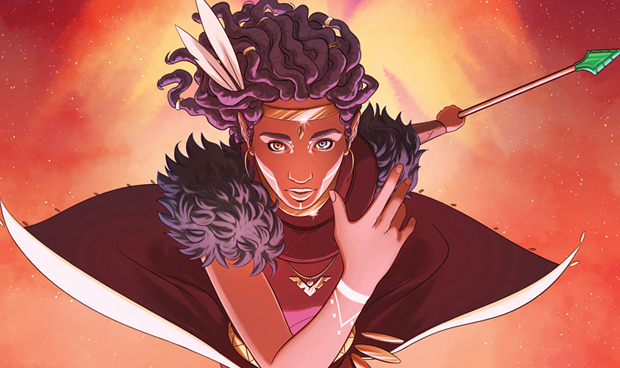 HBO is eyeing new fantasy-action TV series plans that could become as sprawling and grandiose as the plans it had after first meeting with George R.R. Martin for a certain series about "thrones" and the "game" over which they're played. This time, however, the source material arrives from indie comic company Stranger Comics, specifically its shared-universe titles that take place in the fantasy world known as Asunda.
A drama series based on Stranger's Asunda fantasy universe is in development at HBO, reports Deadline. Created by Sebastian A. Jones, the comic continuity – a culturally diverse amalgam of real-world history and mythologies with tropes like magic, elves, dwarves and orcs – manifests through shared-universe titles such as Niobe, Dusu, Erathune, Essessa and The Untamed. The TV project will have Jones serving as a co-writer and executive producer, joined in the latter capacity by Mimi DiTrani.
Yet, it is Niobe that serves as the flagship title with offerings such as Niobe: She is Life and Niobe: She is Death. Indeed, the canon – set on the war-ravaged world, Asunda – is centrally focused on title character Niobe Ayutami, who was introduced in The Untamed. She's an orphan girl whose parentage stems from two very different nations, maternally from the kidnapped chief of a tribe of elves that live in the West African jungle, and paternally from a king of a powerful Western country that's in the same vein of England and Europe. Raised in a small desert town, the half-elven Niobe discovers that she possesses the power to unite nations against the powerful forces of an ancient evil. Consequently, she is constantly hunted.
The HBO TV project is a major win for Stranger Comics, an imprint launched by Asunda creator Jones, which was initially helped by Kickstarter campaigns. The prospective series joins HBO during a transitional time when its global juggernaut fantasy/action series, Game of Thrones, will have completed its run after eight seasons, though fields plans for a prequel spinoff series. Moreover, it will arrive in a small screen medium playing field in which Amazon is bringing an amazingly ambitious – purportedly $1 billion-budgeted – Lord of the Rings TV series, adapting the legendary fantasy novels of J.R.R. Tolkien's Middle Earth mythology and director Peter Jackson's monumental movie trilogies with a prequel show set thousands of years before its primary titles.
We will keep you updated on HBO's Asunda television project as the news arrives!
Joseph Baxter is a contributor for Den of Geek and Syfy Wire. You can find his work here. Follow him on Twitter @josbaxter.