News
Harry Potter and the Cursed Child Wins 9 Olivier Awards
The Cursed Child came away with a record number of Olivier Awards yesterday in London, including Best Play.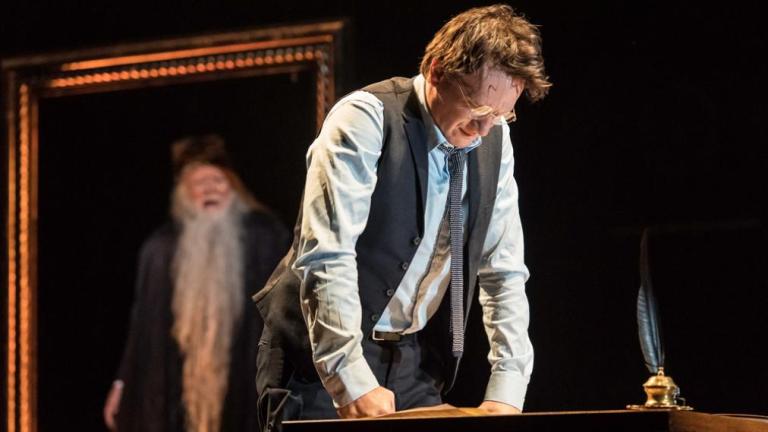 If you had any doubt Harry Potter and his friends were done dominating the cultural zeitgeist, then you were wrong. Harry Potter and the Cursed Child, the on-stage "sequel" to the beloved Harry Potter book series written by Jack Thorne, has won a record-breaking nine Olivier Awards. (The Oliviers are Britain's equivalent of the Tonys.)
Which category did The Cursed Child take home awards for? Best New Play, Best Director, Best Lighting, Best Sound, Best Costumes, and Best Set Design. On the acting side, the actors playing Harry (Jamie Parker), Hermione (Noma Dumezweni), and Scorpius Malfoy (Anthony Boyle) all took home the prestigious theater award for their performances.
Read why we think Scorpius Malfoy, and Boyle's performance of the character, is the absolute best part of this gorgeous play.
The only awards for which it was nominated The Cursed Child didn't manage to snag were Best Theater Choreographer and Outstanding Achievement in Music (which is a shame because Imogen Heap's emotive score is lovely and adds so much to the Cursed Child experience).
— Harry Potter Play (@HPPlayLDN)
April 9, 2017
"There was so much potential for cynicism and skepticism surrounding a production which could have been very tightly controlled and industrial and commercially minded," Parker said before later telling USA Today backstage: "I'm just so pleased and proud that the entire team are being celebrated."
Dumezweni, whose casting as Hermione was met with some controversy due to the color of her skin, accepted her award with these words: "So many young actors and actresses come up to me and say, 'I'm so pleased that you're playing her. I'm so pleased that I can see a version of myself onstage. So I am very, very privileged to do that."
(Perhaps also of interest to Den of Geek readers: Billie Piper took home an Olivier last night for Best Actress for her performance in Yerma, continuing her impressive post-Doctor Who career.)
— J.K. Rowling (@jk_rowling)
April 9, 2017
Harry Potter and the Cursed Child has been embraced by critics and fans who have seen it (this critic absolutely loved it), while the released script has been met with more mixed reviews. While many Cursed Child critiques are valid and no doubt would remain steadfast for many who see the play performed on-stage, I do think the degree to which The Cursed Childstage play has been lauded speaks to just how much is lost when you don't see this story performed. I would present the sheer number of Olivier Awards won as further proof that The Cursed Child needs to be seen on stage to be fully understood.
Obviously, that is not a possibility for most people — especially if you happen to live not in the U.K. Luckily for many American Potterheads, The Cursed Child is heading for Broadway in 2018. Hopefully, The Cursed Child will be released at some point in time in theaters, as well. After all, the number of people who make it to Broadway are still a geographically and/or financially privileged subset.