News
Goodbye Christopher Robin: Trailer Arrives for Winnie the Pooh Creator Biopic
Goodbye Christopher Robin, a biopic about Winnie the Pooh creator A.A. Milne, will star Domhnall Gleeson and Margot Robbie.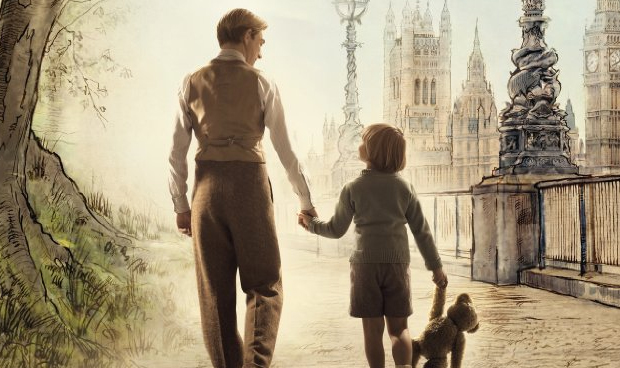 Goodbye Christopher Robin will showcase the real-life story of author A.A. Milne and his son Christopher Robin Milne in a dynamic that would eventually inspire the creation of the inimitable children's franchise Winnie the Pooh. Of course, Christopher Robin would serve as the primary inspiration things, as the human boy centered amidst the hijinks of his stuffed animals Pooh, Tigger, Piglet, Roo and Eyeore. However, as the film will reveal, the father-son dynamic was apparently a rocky one in real life before they eventually found their way.
Lest anyone be confused, Goodbye Christopher Robin is a completely separate project from director Marc Forster's upcoming drama Christopher Robin in which Ewan McGregor – like Robin Williams's Peter Pan in Hook – stars as a jaded adult version of the fictional Christopher Robin of Winnie the Pooh lore.
Goodbye Christopher Robin Trailer
The Goodbye Christopher Robin Trailer has arrived. Here, we meet Domhnall Gleeson's A.A. Milne, an Englishman who attempts to escape emotional and economic trauma from the unprecedented conflagration and chaos of the First World War by starting a family with his wife Daphne (Margot Robbie). They are eventually born a son in the titular Christopher Robin (Will Tilston), who is overseen by a dutiful nanny named Olive (Kelly Macdonald).
While the historically-documented difficulties between father and son seem to be briefly touched upon, the film clearly aims to dramatize the uplifting shared passion that eventually brings them together with the imaginary exploits of the child's stuffed animals, which fatefully serve as the inspiration for A.A. to create one of the most enduring children's properties of all time in Winnie the Pooh.
Goodbye Christopher Robin Poster
The Goodbye Christopher Robin poster has arrived, proving some artistic context to the batch of film photos released by Fox Searchlight a few months back. Here, the duo of Gleeson's A.A. Milne and his son Christopher Robin (Will Tilston) are seen holding hands against a gold sketchpad-like backdrop as the landmarks of London seemingly start to take shape by way of their heretofore untapped power of imagination.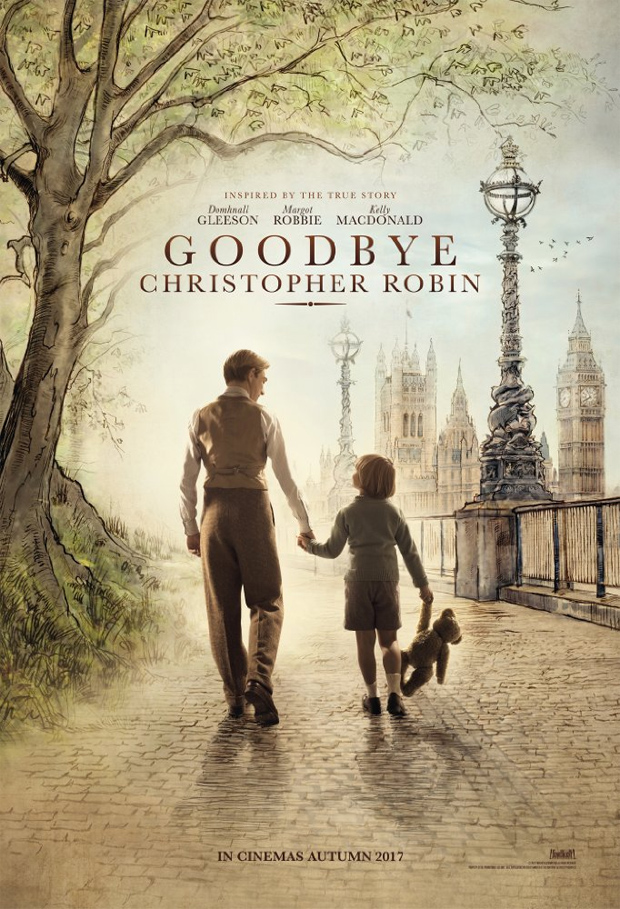 Goodbye Christopher Robin Cast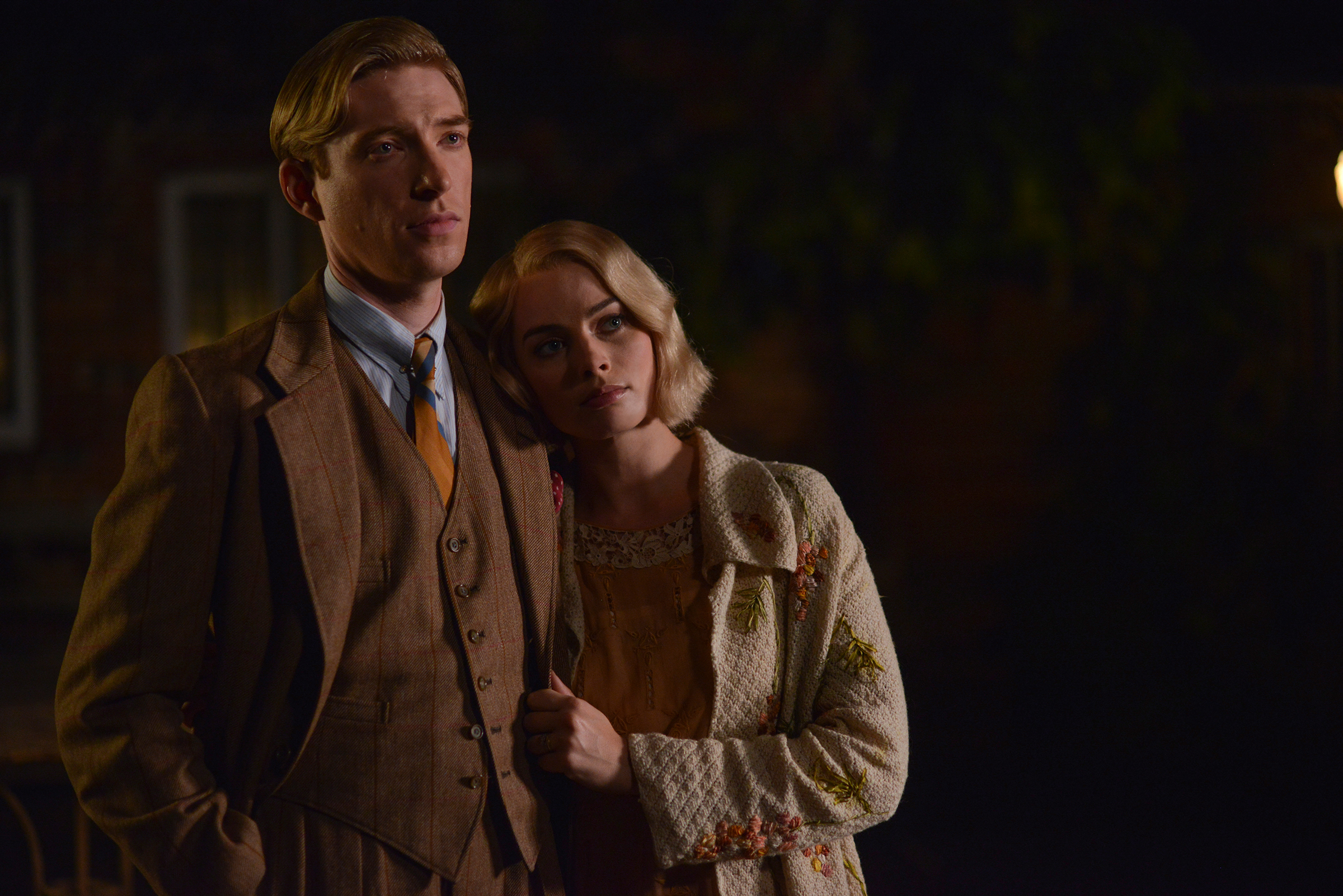 Domhnall Gleeson
plays A.A. Milne, the eventual Winnie the Pooh creator, who is dealing with a troubled relationship with his son Christopher Robin. The Pooh-centric project should also prove to be an intriguing collaborative turn for the white-hot career of Gleeson, who, besides the secured future status of his
Star Wars: The Force Awakens
character, also recently came off a role opposite Leonardo DiCaprio in the Oscar-winning historical suspense thriller
The Revenant
and reaped rampant buzz as the main character of
Ex Machina
alongside Alicia Vikander and his
The Force Awakens
co-star Oscar Isaac. With an array of projects on Gleeson's docket, he will notably reprise his role as the megalomaniacal General Hux in this December's
Star Wars: The Last Jedi
.
Margot Robbie plays Daphne Milne, A.A.'s wife. Robbie, the breakout star of 2013's The Wolf of Wall Street, has become a repertory leading lady for films such as Focus, Whiskey Tango Foxtrot, The Legend of Tarzan and Suicide Squad. She'll reprise her Suicide role as Harley Quinn in the gestating Gotham City Sirens spinoff and takes a rather intriguing role as a woman leading a double life in the thriller Terminal. Besides upcoming roles in Mary Queen of Scots and Marian, Robbie will lend her voice to the upcoming Peter Rabbit animated feature and play the notorious Olympic figure skater Tonya Harding in the biopic I, Tonya.
Kelly Macdonald plays Olive. Best known for her 2010-2014 series-spanning run as Margaret Thompson on HBO's Boardwalk Empire, Macdonald also achieved prominence as the voice of main character Merida in the 2012 Disney/Pixar hit Brave and for her role in 2007's No Country for Old Men. Her acting slate currently contains projects such as a TV movie, opposite Benedict Cumberbatch, called The Child in Time and director Etan Coen's upcoming take on Doyle's detective, Holmes and Watson, in which she plays a (younger) Mrs. Hudson. Macdonald recently reprised her film debut role from 1996's Trainspotting as junkie-drawing jailbait Diane Coulston in the 2017 sequel T2 Trainspotting, with the now-grown character ending up as a solicitor.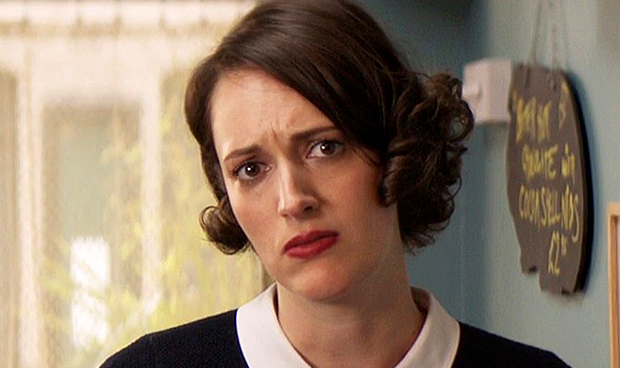 Phoebe Waller-Bridge plays Mary Brown. The dynamic London-born actress currently stars in the Amazon comedy Fleabag, also seen on U.K. shows such as Crashing and Broadchurch. However, Waller-Bridge will, like Gleeson, make a big screen jump into the Star Wars cinematic canon as part of the untitled 2018 Han Solo "Anthology" spinoff film. Interestingly enough, segments of the Doctor Who fandom frequently cite Waller-Bridge as a desirable candidate to – as the first female Doctor – replace the departing Peter Capaldi.
Will Tilston plays the titular role of 8-year-old Christopher Robin. The film serves as the very first onscreen acting role for the burgeoning child actor.
Stephan Campbell Moore, Alex Lawther, Richard McCabe, Nico Mirallegro, Geraldine Somerville and Shaun Dingwall also appear in the film.
Goodbye Christopher Robin Crew
Simon Curtis serves as director for Goodbye Christopher Robin, working off a script by Frank Cottrell Boyce (The Railway Man, Millions). Curtis was behind the camera for 2015's World War II-era drama Woman in Gold with Helen Mirren and Ryan Reynolds, also working on U.K. series such as Black Box, Freezing and Cranford.
As Curtis commented in a released statement:
"I am delighted to be collaborating with Frank Cottrell Boyce to tell the remarkable and poignant story of the family behind the creation of Winnie the Pooh. We are assembling a wonderful cast, headed by two actors I am longing to work with – Domhnall Gleeson and Margot Robbie."
Goodbye Christopher Robin Story
Publishing the first Winnie the Pooh story in the December 24, 1925 edition of London's The Evening News, Milne created one of the most popular and enduring children's properties in the world from the ursine inspiration of his son Christopher Robin's teddy bear, which was named after a black bear cub he saw at the zoo. However, don't look for Goodbye Christopher Robin to be too much of an ebullient, lighthearted tale of a simple man who created a lucrative children's empire. The film will apparently be a sobering drama about Milne's troubled family life and his rocky relationship with the aforementioned Christopher Robin, who, of course, manifests as a primary human character in the Pooh lore. The character of the boy's nanny Olive will also be a primary part of the film's familial dynamic.
Goodbye Christopher Robin Release Date
Goodbye Christopher Robin is scheduled to be released on November 10, 2017.