News
Giveaway: Win a Copy of The Secret Spiral of Swamp Kid
We're giving away one copy of DC's graphic novel The Secret Spiral of Swamp Kid to one lucky winner!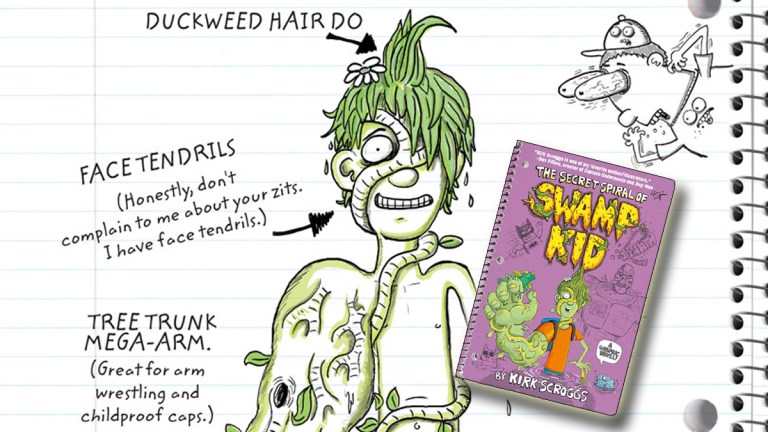 The Secret Spiral of Swamp Kid, DC's latest middle school graphic novel, is a perfect read for the Halloween season. The Secret Spiral of Swamp Kid has earned rave reviews from literary outlets such as Kirkus Reviews, School Library Journal, and Booklist who herald it as "a comedic win", "an excellent and inviting foray into the superhero genre" and perfect "for budding graphic novelists and fans of funny superhero stories. We received a copy of the imaginative graphic novel, but we can't keep it for ourselves! Fans of the Swamp Thing (and DC's Swamp Kid revamp) now have the chance to win a copy of The Secret Spiral of Swamp Kid by entering our giveaway.
Click here to enter via our official giveaway page.
Here's the full synopsis of the book below:
"Written and illustrated by Kirk Scroggs, The Secret Spiral of Swamp Kid is the latest middle grade graphic novel from DC. This action-packed adventure geared toward readers ages 8-12 follows middle schooler Russell Wainwright, an excessive notebook doodler, and his best friends Charlotte and Preston through the highs and lows of middle school. Russell's notebook details in both hilarious text and green-tinted illustrations (complete with ketchup stains!), what it's like to be different, to be comfortable in his own skin (no matter how slimy), to discover his true talents, to avoid the intense stare of Mr. Finneca (his suspicious science teacher), and to find humor in the everyday weird."
Kirk Scroggs is an author-illustrator best known for the Snoop Troop books, It Came From Beneath the Playground, and Attack of the Ninja Potato Clones, as well as the series Tales of a Sixth-Grade Muppet and Wiley & Grampa's Creature Features.
Click here to enter via our official giveaway page.
Entries will be accepted until October 24. One (1) lucky winner will be drawn randomly and then notified via e-mail. The winner will have forty-eight hours to respond or another winner will be chosen. Good luck!