News
Giveaway: Win a Copy of Pop Culture Quiz Book Vintage Geek
We're giving away five copies of Marshall Julius' pop culture quiz book Vintage Geek to five lucky winners!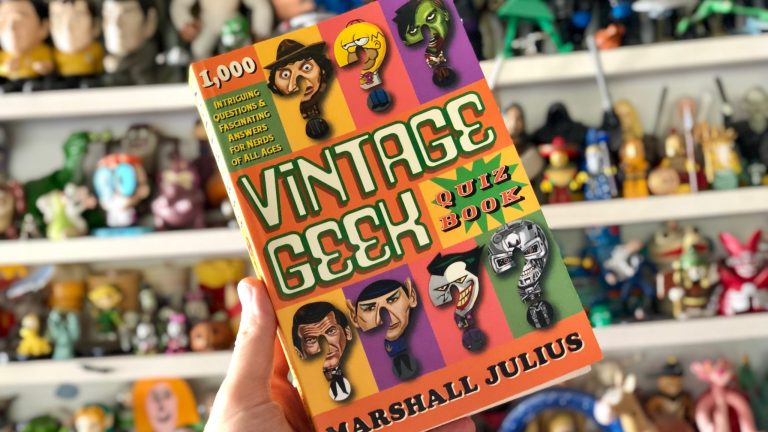 No matter what they're into – be it horror, sci-fi and Bond or Marvel, cartoons and comic books – geeks of the world are united by their unquenchable thirst to know absolutely everything about the objects of their affection – and then prove it! Vintage Geek by longtime Den of Geek friend Marshall Julius is the quiz book that every pop culture trivia fan has been waiting for. Luckily for geeks everywhere, Den of Geek is giving away five copies of Vintage Geek to lucky geeks (in the US, UK, or Canada, that is).
Click here to enter via our official giveaway page.
The quiz book is a nostalgic, heart-warming journey through the very best 20th-century fandoms, from the Universal Monsters, '50s Sci-Fi cinema and '60s Star Trek, to Tom Baker's Doctor Who, George Romero's Dead epics and the mighty Star Wars. From Steven Spielberg's incomparable cinematic adventures and Hanna-Barbera's cherished Saturday morning cartoons to 2000AD, early Atari, The Twilight Zone, Walt Disney and more.
We're not the only ones who love Vintage Geek! Read some of the glowing reviews for Vintage Geek by Marshall Julius:
"Vintage Geek is Marshall Julius's super-fun trivia treasure-chest for nerds of all ages. Essential reading." — Mark Hamill

"The book is like the best Simpsons episodes (the ones I wrote). It's funny. It's smart. It's packed with great material and loaded with guest stars. You will learn four amazing things on every page." — Mike Reiss

"It's not just a book. It's really a party! Fantastic stuff." — James Arnold Taylor

"A must-have for all those that think they know their classic pop-culture." — 2000 AD

"A wonderfully fresh and personal take on the quiz book format." — Sebastian J. Brook, Doctor Who Online

"Quite possibly one of the most family-friendly group-socialising books of the century." — Comics Review

"Vintage Geek is the kind of book you whip out at parties to flex on your geek friends… Julius has peppered in introductory blurbs for each section that are insightful and amusing, and well worth your time." — Holly Interlandi, FamousMonsters.Com
Click here to enter via our official giveaway page.
A veteran nerd with unbound enthusiasm for everything you love, Marshall Julius is a film critic, blogger, broadcaster, quizmaster and collector of colourful plastic things. Though his lifestyle appears sedentary, actually he's wildly active on Twitter (@marshalljulius).
Entries will be accepted until January 10th. Five (5) winners will be drawn randomly and then notified immediately via email. Winners will have forty-eight hours to respond or other winners will be chosen. Good luck!