News
Gary Oldman to Star in Apple Spy Series Slow Horses
Apple TV+ series Slow Horses will star Gary Oldman, adapting the acclaimed Slough House spy novels of Mick Herron.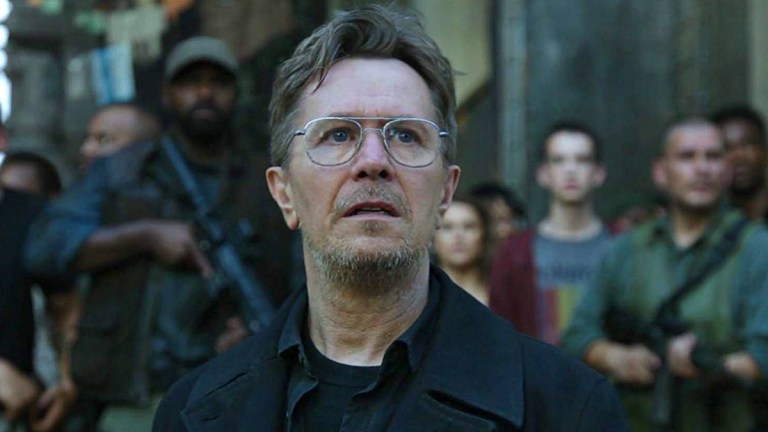 Gary Oldman is joining the ever-expanding small screen cavalcade of stars of the tech-giant-generated streaming platform, Apple TV+, set to headline a spy series titled Slow Horses.
The television series will serve as an onscreen adaptation of author Mick Herron's novel series, collectively called "The Slough House," which focus on the espionage exploits of a misfit spy group led by Jackson Lamb (Oldman). The project will manifest under the creative purview of a writer-executive producer in UK-based scribe Will Smith, who's known for shared Emmy-winning accolades for his work on HBO's Veep, also from BBC's The Thick of It and contributions to the Paddington 2 screenplay. Amongst the gaggle of attached executive producers is Graham Yost, the creator of FX crime drama Justified, who recently worked on Amazon's Sneaky Pete.
The story of Slow Horses centers on Oldman's Lamb, described in the logline as "the brilliant but irascible leader of the spies who end up in Slough House due to their career ending mistakes." In Herron's franchise-launching book, said Slough House is a London posting in which washed-up MI5 personnel (dubbed "Slow Horses,") are – for a variety of reasons – sent to carry on tedious work in obscurity. However, a curious case falls into their hemisphere; the kidnapping of a young man, overshadowed by the video-sent specter of his beheading. While this is just the kind of case that might get a discerning spy sprung from Slough House purgatory, there are elements of the case that appear dubious, calling into question the kidnappers, the victim and a disgraced journalist.   
Further Reading: Apple TV+ Streaming Service: Release Date and Price Revealed
Mick Herron's Slough House literary franchise that the series adapts currently consists of eight entries – novels Slow Horses (2010), Dead Lions (2013), Real Tigers (2016), Spook Street (2017), London Rules (2018) and this past June's Joe Country (2019), supplemented by novellas The List (2015) and The Drop (2018). The second novel, Dead Lions, earned the Crime Writers' Association's Golden Dagger award.
Star Gary Oldman is still gleaming from his 2018 Best Actor Oscar win for his role as Winston Churchill in Darkest Hour; the culmination of a near-four-decade storied career, notably consisting of his starring role in Bram Stoker's Dracula, The Dark Knight Trilogy and the Harry Potter films. He recently co-starred with Antonio Banderas in the fact-based Netflix crime drama, The Laundromat, and will next be seen in the November 22-released actioner, The Courier. His role on Slow Horses will see him return to the spy genre, in which he fielded an acclaimed Oscar-nominated starring role in the 2011 John le Carré movie adaptation, Tinker Tailor Soldier Spy.
Slow Horses writer-executive producer Will Smith will be joined by executive producers in the aforementioned Graham Yost, along with Jamie Laurenson, Hakan Kousetta, Iain Canning, Emile Sherman, Gail Matrux and Douglas Urbanski. The series, a production of See-Saw films, was commissioned by Apple's UK side by heads of worldwide video Zack Van Amburg and Jamie Erlicht, joined by creative director for Europe worldwide video Jay Hunt.
We'll keep you updated here on Apple TV+ series Slow Horses as the news arrives!
Joseph Baxter is a contributor for Den of Geek and Syfy Wire. You can find his work here. Follow him on Twitter @josbaxter.