News
Garfield to Become Part of Nickelodeon
Garfield has become the latest property to join the portfolio of Nickelodeon after an acquisition by Viacom.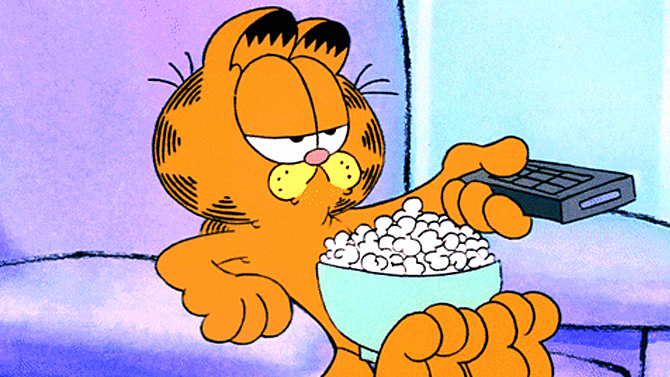 Garfield is getting ready to ravenously devour lasagna and malign Mondays as part of Nickelodeon. That's because Viacom Inc., the channel's corporate parent, has acquired property owner Paws, Inc., making it officially part of the Nick stable.
The announced acquisition of the Garfield intellectual property and its placement with Nickelodeon is part of its ongoing – and self-confessed – strategy to maintain its status as "the home for the biggest franchises kids and families love." Indeed, the famous feline will join kid's show icons like SpongeBob SquarePants (a property set for expansion with a spinoff and another movie), PAW Patrol, upcoming revival Blue's Clues and You! and Teenage Mutant Ninja Turtles (a property acquired in similar grandiosity back in October 2009). Additionally, it will join an all-new animated Star Trek series.
As Nickelodeon President Brian Robbins expresses of the company's orange fat-cat coup:
"This acquisition marks another step in our evolution toward being kids' first stop for the best new content and characters, so we're incredibly happy to have Garfield join our growing roster of globally loved franchises and to introduce this cool cat to a new generation of fans."
Further Reading: SpongeBob: How Its Late Creator Left The Show A Roadmap
As creator Jim Davis adds in the statement:
"I've always tried to make people laugh with humor that is classic and appealing to both kids and adults. I'm delighted that Garfield is going to be placed in the capable hands of the folks at Nick. They know how to entertain and will be great stewards for the franchise. I am also excited to continue to do the thing that gets me out of bed every morning…the comic strip!"
Garfield originated as Davis's comic strip, launched in 1978, showcasing an unapologetically slothful, but ever-manipulative orange cat and his human owner, Jon Arbuckle (for whom the comic strip's original 1976 iteration was named,) and a fellow pet in dog Odie. It would quickly become one of the most-syndicated comic strips in the country (a Guinness World Records-acknowledged achievement), and published in countless collections.
After a series of primetime animated specials, the cat made a serial leap into syndication with Garfield and Friends, which ran from 1988 to 1994 – a small screen showcase shared with another Davis creation, U.S. Acres. Along with a solid presence in multimedia offerings, Garfield would hit the big screen in 2004 with the live-action/animated hybrid, Garfield: The Movie, in which the corpulent cat was wryly voiced by Bill Murray, opposite Breckin Meyer's Jon. It would be followed by 2006's Garfield: A Tail of Two Kitties and three straight-to-video sequels.
As Pam Kaufman, President of VNCP, adds of the company's ambitions with the property:
"Garfield is a global evergreen franchise that is a natural fit with Nickelodeon and our portfolio of iconic properties. With fans around the globe that span both kids and adults, we are excited to ignite Garfield into a multi-generational consumer products juggernaut and further deliver on VNCP's 'Every Age, Every Aisle' mission."
Read and download the Den of Geek SDCC 2019 Special Edition Magazine right here!
Joseph Baxter is a contributor for Den of Geek and Syfy Wire. You can find his work here. Follow him on Twitter @josbaxter.