News
Game4Paul Fundraiser Reveals First Look of Vin Diesel as Bloodshot
The charity Reach Out WorldWide will be streaming a game-based fundraiser and Vin Diesel's using his upcoming superhero movie to help out.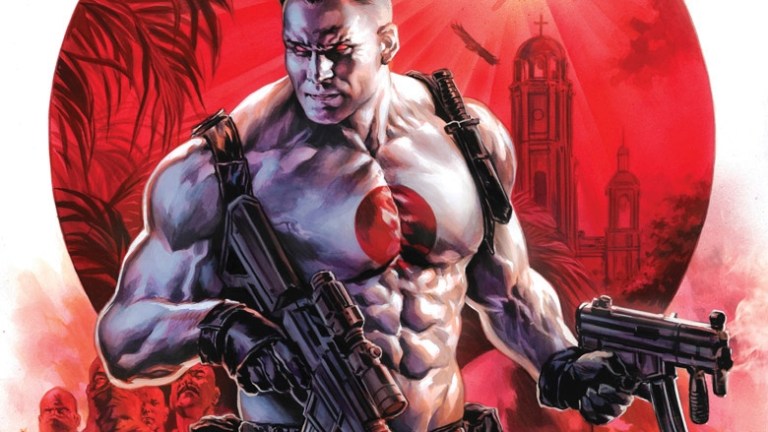 The late Paul Walker, known for his Fast and the Furious exploits, founded a charity called Reach Out WorldWide (ROWW) in response to the 2010 earthquake in Haiti. Although Walker is no longer with us, ROWW continues on with deploying relief in the wake of natural disasters. One of the ways they help raise funds is their annual Game4Paul livestream, where they have celebrities show up and play video games while raffling off some exclusive prizes.
This year is no different and not only will October 11 be the fourth installment of Game4Paul, but it also falls on what would have been his 45th birthday.
To get some eyes on the event, there's a focus on fellow Furious friend Vin Diesel, who is currently filming the Bloodshot movie (which should arrive in 2020) based on the Valiant Comics series. There are many Bloodshot-related prizes, which I will get to in a sec, but the most interesting one is a variant edition of Bloodshot Salvation #12 with cover art by Lewis LaRosa. Not only is this the only copy of this version of the issue, but the cover shows the first official depiction of what Vin Diesel as Bloodshot looks like.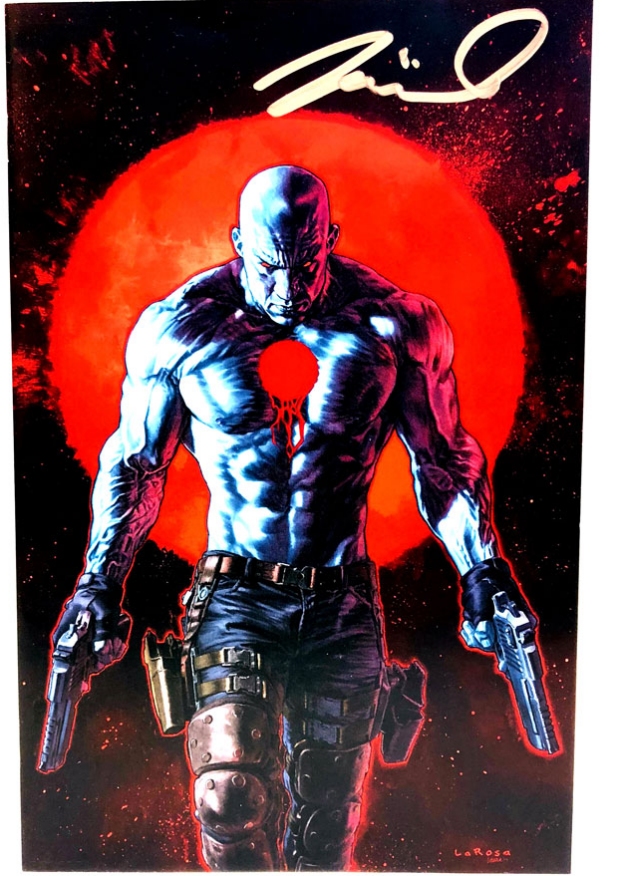 Nice!
Now, for those of you who don't follow Valiant Comics (we have a guide to them here) or don't know who Bloodshot is, here's the gist. Created by Kevin VanHook, Don Perlin, and Bob Layton back in the early '90s, Bloodshot is essentially RoboCop meets Wolverine meets Hardcore Henry meets someone who hates shirts. He's a seemingly unkillable soldier filled with billions of nanites that constantly heal him as long as he sustains them with protein. For a time, he was used as the ultimate weapon for shadowy government organization Project Rising Spirit. They programmed him with seemingly a dozen different lifetimes' worth of memories so that they could manipulate him into playing the hero and doing their dirty work.
Need an enemy base cleaned out? Make him think his "wife Nancy" or "best friend Bill" is being held captive behind enemy lines. Then once that's done with, put him on ice and wake him up for the next mission with a different made-up scenario for motivation.
But of course, nothing lasts forever and Bloodshot eventually broke free. Now, with so many false memories in his head, he doesn't know who he truly is and what his role in the world is supposed to be. There's rarely a dull moment with him because his status quo changes every four issues or so.
While that's what he's about in the comics, here's a new official synopsis of the movie:
[Bloodshot] follows Ray Garrison aka Bloodshot, a deceased soldier resurrected by weapons contractor Rising Spirit Technologies through the use of nanotechnology. Suffering from total memory loss but imbued with an array of staggering new abilities, Ray struggles to reconnect with who he was while learning what sort of weapon he has become…aided by a team of fellow augmented combatants codenamed Chainsaw.
The movie co-stars Guy Pearce, Eiza Gonzalez, and Sam Heughan. It's directed by Dave Wilson, written by Eric Heisserer, and produced by Neal Moritz, Toby Jaffe, and Dinesh Shamdasani.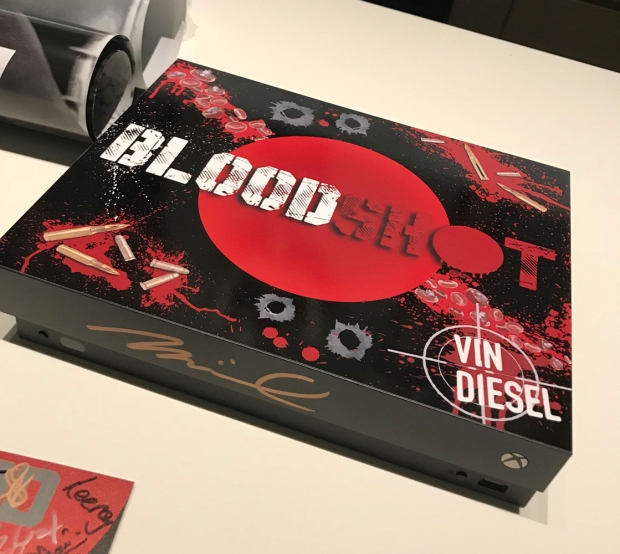 So what else does Game4Paul have to offer relating to Bloodshot? They have a Bloodshot-themed custom Xbox One X console. It has the movie's logo and exclusive artwork. It also comes with a 1TB hard drive and all the usual stuff that comes with the console. Vin Diesel also signed it.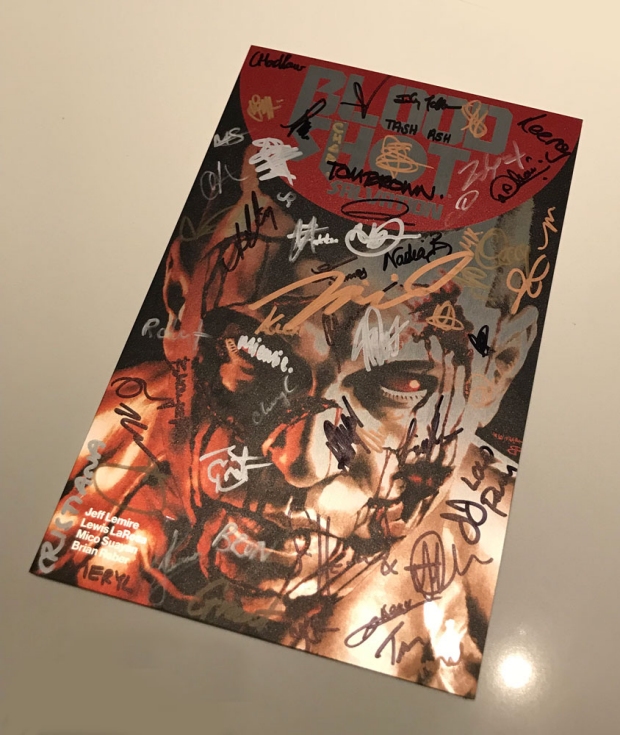 Various rare editions of Bloodshot comics, all signed by Vin Diesel, like a gold logo edition of Bloodshot Salvation #1 and an out-of-print hardcover collecting the first 13 issues of Bloodshot's 2012 series. The biggest get is the Bloodshot Salvation #1 brushed metal variant. This brushed aluminum metal sheet copy is signed by over 50 cast and crew members behind the Bloodshot movie, including Diesel and Guy Pearce. While there's one copy of that, there are three copies signed by just Diesel.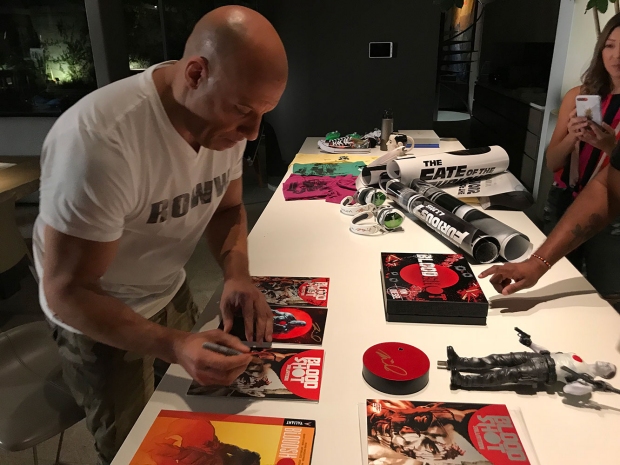 Then you get Bloodshot statues, mugs, plushes, and a very rare pair of custom Converse Chuck Taylor All-Stars. NYC street artist AKA MAG made five pair specifically for three of the producers, the director, and Diesel. Diesel signed his and is willing to part with the shoes in the name of charity.
The livestream of Game4Paul begins at 4pm ET. You can watch it right here off Xbox's official Twitch channel.
Gavin Jasper writes for Den of Geek and finds it awkward that there is a custom Xbox made to promote a movie by Sony. Read Gavin's other articles here and follow him on Twitter @Gavin4L
Read and download the Den of Geek NYCC 2018 Special Edition Magazine right here!