News
Game of Thrones Season 6 Season Finale Photos From Winds of Winter
We have the trailer for the Game of Thrones Season 6 finale, "The Winds of Winter," right here, as well as a full episode guide!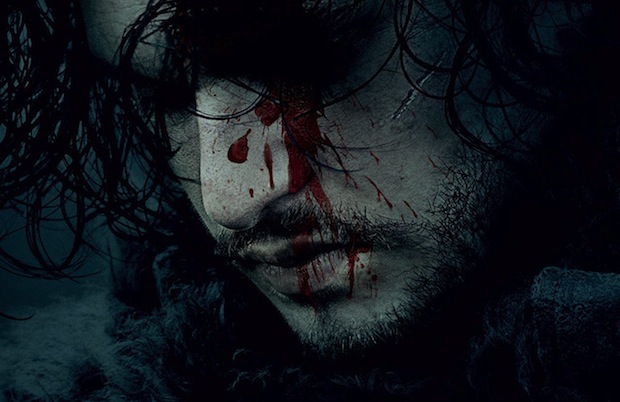 One of the few problems with watching (or honestly obsessing over, as we tend to do) a series like Game of Thrones is that its joyous annual induction of spring lasts for only a brief 10 weeks. Aye, after less than three months, our summer joys turned to wintry snow, and the long wait for Game of Thrones Season 6 began. But now it's here, and our obsession can begin anew.
This is now your one stop location for all of our Game of Thrones Season 6 news, reviews, features, podcasts, and suggestions for further reading.
Latest News
The final episode of Game of Thrones Season 6 is called "The Winds of Winter." And here is the trailer for its cryptic endings. Hit the gallery at the top of the page for some images from the episode, and watch the trailer here…
You can find our review for the most recent episode, "Battle of the Bastards," right here.
Also here is our podcast of You Still Know Nothing where we react to a glorious battle.
Also read our predictions about who lives and who dies this season right here.
Game of Thrones Season 6 Episode Guide
"Jon Snow is dead. Daenerys meets a strong man. Cersei sees her daughter again."
air date: April 24
air date: May 1
"Bran trains with the Three-Eyed Raven. In King's Landing, Jaime advises Tommen (Dean-Charles Chapman). Tyrion demands good news, but has to make his own. At Castle Black, the Night's Watch stands behind Thorne. Ramsay Bolton proposes a plan, and Balon Greyjoy entertains other proposals."
air date: May 8

"Daenerys meets her future. Bran meets the past. Tommen confronts the High Sparrow (Jonathan Pryce). Arya trains to be No One. Varys finds an answer. Ramsay gets a gift."
air date: May 15
"Tyrion strikes a deal. Jorah and Daario undertake a difficult task. Jaime and Cersei try to improve their situation.
air date: May 22
"Tyrion seeks a strange ally. Bran learns a great deal. Brienne goes on a mission. Arya is given a chance to prove herself."
air date: May 29
"An old foe comes back into the picture. Gilly meets Sam's family. Arya faces a difficult choice. Jaime faces off against the High Sparrow."
air date: June 5
"The High Sparrow eyes another target. Jaime confronts a hero. Arya makes a plan. The North is reminded."
air date: June 12
"While Jaime weighs his options, Cersei answers a request. Tyrion's plans bear fruit. Arya faces a new test."
air date: June 19
"Terms of surrender are rejected and accepted."
Game of Thrones Season 6 Episode The Winds of Winter
air date: June 26
"Season Finale. Cersei faces her trial."
Directors List
Jeremy PodeswaDirecting: Episodes 1 & 2Season 5 credits: Kill the Boy, Unbowed, Unbent, Unbroken Other credits: The Pacific, The Walking Dead, Boardwalk Empire.
David Sackheim Directing: Episodes 3 & 4Other credits: The X-Files, House, The Americans.
Jack Bender Directing: Episodes 5 & 6Other credits: Lost, Under The Dome, The Last Ship.
Mark Mylod Directing: Episodes 7 & 8Season 5 credits: High Sparrow, Sons of the Harpy Other credits: Shameless, Entourage.
Miguel SapochnikDirecting: Episodes 9 & 10Season 5 credits: Hardhome Other credits: Fringe, True Detective.
Game of Thrones Season 6 Trailer
Here is the first full trailer.
There's a new full length Game of Thrones Season 6 trailer. 
Watch it here:
Also, be sure to check out our full, in-depth analysis of 40 images from the trailer here.
We have our first Game of Thrones season 6 clip, and it is teasing what we are all desperately awaiting confirmation for: is Jon Snow going to stay dead?! In the above video from Conan O'Brien's TBS talk show, actor Liam Cunningham appears to chat about (what else?) Game of Thrones season 6. And he brought along the first clip, which features Cunningham's heroic Ser Davos Seaworth joining forces with whom appear to be other members of the Night's Watch loyal to Jon Snow. While their Lord Commander lays dead on a slab, Davos and these true brothers in black–plus Ghost!–prepare to do battle with the traitors led by Ser Alliser Thorne and the little Olly. Will it spell doom and gloom for Davos, and why is he fighting to protect Jon Snow's lifeless corpse?
Well, it should be noted that this clip presumably comes from the Game of Thrones season 6 premiere, which is titled, "The Red Woman." While Melisandre is nowhere to be seen in this clip, her role in this conflict is overwhelmingly present.
There were some earlier teasers, as well…
While the footage showcased below is actually made up wholly of the most depressing moments of the five seasons past–blink and you'll miss Ned Stark's execution, the Red Wedding, the death of Ygritte, and more–it features our first introduction to Max Von Sydow's version of the wizard that we call the Three Eyed Raven. He replaced the actor who appeared at the end of Season 4 and gives his natural gravitas to warning young Bran Stark not to dwell or mourn the past. Yet, Bran Stark in a bit of meta-reflection tells us that "they have no idea what's coming." He could be speaking of White Walkers, or he could be telling the audience that "Book Spoilers" as a thing are done. Now, everyone is in the same boat.
Also, you may take the very unsubtle hint by who the trailer is visually edited around that one death will soon be undone…
Also if you want to be teased about the coming central conflicts for the new season, the below Game of Thrones Season 6 teasers offer no new footage, but feature audio that indicates bad things to come for the Starks, Lannisters, and Targaryens from the respective threats of Ramsay Bolton, the High Sparrow, and a new Dothraki horde.
Here are some others.
Finally, this almost cruel little behind-the-scenes featurette gives fleeting images of the new season.
Game of Thrones Season 6 Premiere Date
Winter is coming alright…in the spring. Game of Thrones season 6 will premiere on April 24, 2016 at 9pm. If only we could say the same about The Winds of Winter. Alas, the several weeks of delay will not help publishers who had hoped to have a sixth novel in book stores by late March. Still, Westeros fans have plenty to savor in the new year, as this ominous poster portends…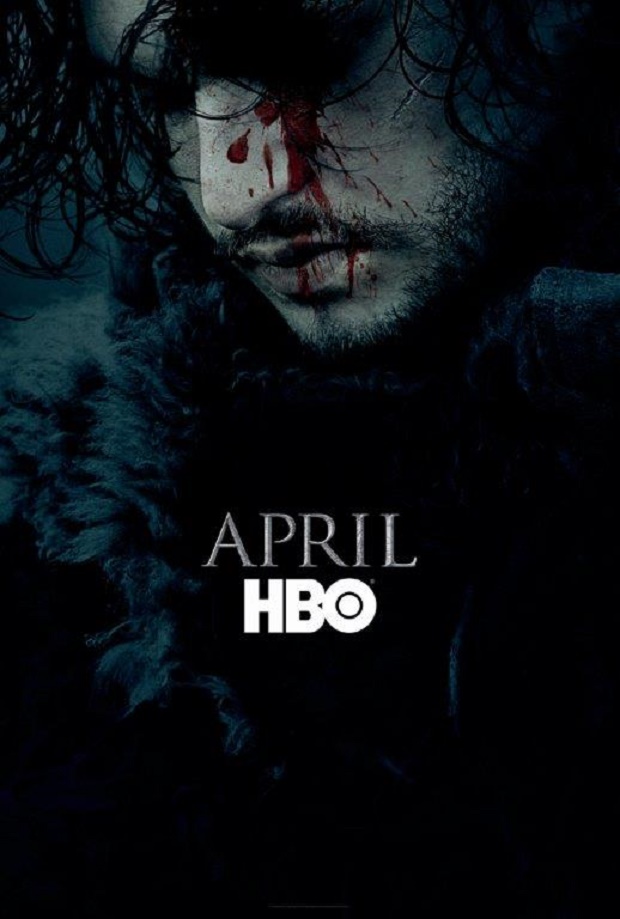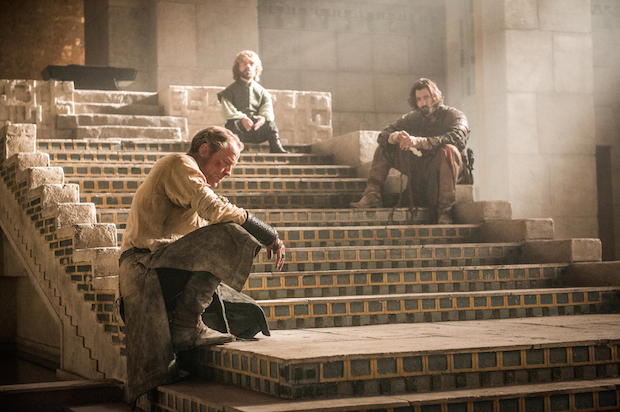 So, as HBO ventures now far past the reassuring safety of George R.R. Martin's sturdy literary Wall, and we already begin making our own educated guesses about what will happen in season 6, let's see what actually waits for them Beyond…
So About Jon Snow…
Obviously, the thing that has most fans salivating at the mouth about the upcoming new season is what will the fate of Jon Snow be. And as seen in the previous page's teaser art, showrunners David Benioff and D.B. Weiss have dropped all pretense and accepted that fans know Jon Snow will return. He might be dead, but as we explained here, he's just mostly dead in the George R.R. Martin saga.
Indeed, with Jon Snow's murder happening only within hours of Melisandre, the red priestess, entering Castle Black, it seems inevitable that the red god magic that resurrected Beric Dondarrion would be worked on Jon Snow. The Bastard of Winterfell, Lord Commander of the Night's Watch, and all around most handsomest bloke in the Seven Kingdoms is just too important to yet die. And we have had months of evidence that began with Harington finding himself photographed with Snow's trademark long locks (a look he apparently hates). He was then subsequently spotted at a Belfast airport (where Game of Thrones shoots) just as season 6 began production. You can view one of the images below.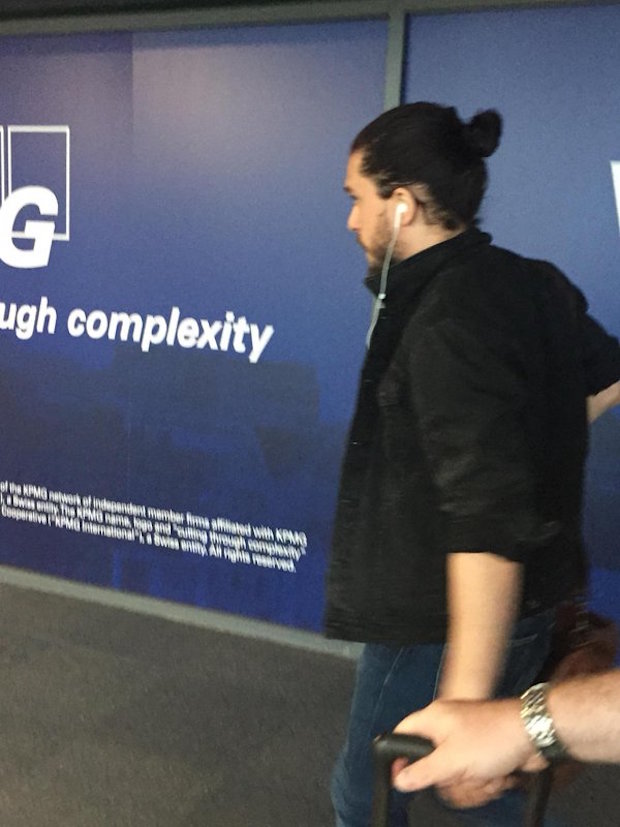 And then finally came the one-two punch from our friends at Watchers on the Wall that showed Harington on set the Game of Thrones season 6 set with some illuminating details about what likely appears to be a late-in-the-season battle. 
If you click right here, you can clearly see what is Kit Harington shooting a scene in medieval garb for Game of Thrones. However, it is not simply any kind of garb; it is distinctly not Night's Watch attire. In fact, it looks exactly like the kind of armor a Stark might wear into battle.
And then came another set photo nabbed by Watchers that you can see by clicking here. In that photo, we see what is obviously the staging of an epic battle that we can deduce is set in the North due to the banner flags of the houses Mormont and Stark. The Mormonts are clearly riding beside the Starks. And while we could conceive of a scenario where the North rallies behind Sansa Stark, we suspect that is not the case here.
Indeed, Harington not being dressed in black confirms our theory that when Jon Snow is resurrected from the dead (likely by Melisandre, who conveniently appeared at Castle Black mere hours before Jon's untimely demise), his oath to the Night's Watch will be fulfilled. Plus, the whole killing him thing likely left him in a sour place about his brothers.
Now, if Jon Snow is pardoned by a king or queen, the North rallying around Jon Stark and Sansa Stark for a climactic battle with the Boltons? That seems highly probable. Of course, who would give that bastard a pardon remains to be seen. Perhaps, he's simply fighting for Sansa until Daenerys inevitably shows up and joins forces with the then-pardoned bastard for a joint effort against army hordes of the undead…
But now I think we are just getting way ahead of ourselves. After all, the very most recent spoiler from Watchers on the Wall indicates that Kit Harington, Sophie Turner, and Iwan Rheon are all filming a scene together inside the ruins of Winterfell. That's right, two Stark children will finally berunited as Jon Snow and Sansa come face to face while in the presence of her demonic husband. Oh, please let this be about them deciding how best to kill him. Oh, please do not let them be doing anything less than cutting one piece off of Ramsay at a time… After all, apparently this sequence occurs after a battle since there is a giant present (no details are known beyond that).
Continue to the next page to read about non-Jon Snow spoilers and news!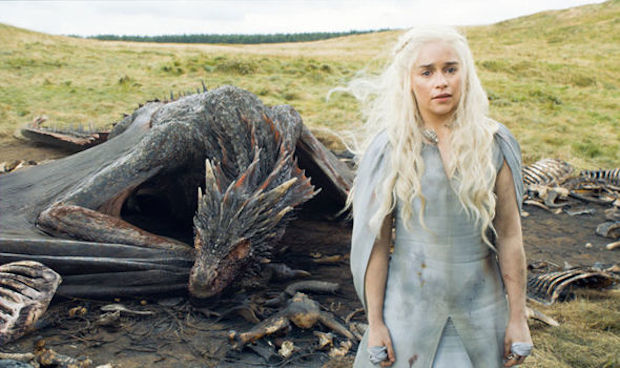 Game of Thrones Season 6 Spoilers and News
Sophie Turner Promises She Doesn't Die
Sophie Turner let out two very small spoilers for the new season at the Oscars last month. While chatting about Sansa Stark's role in the new year, Ms. Turner revealed that (unsurprisingly) there are multiple major deaths in the sixth season… however, Sansa Stark is not amongst them. You can see for yourself below.
Script Leak Indicates Dothraki Doing What Dothraki Do
In what is essentially a relatively harmless script leak, French actor Elie Haddad still likely endangered his character on Game of Thrones season 6. Posting on his Instagram a page of Game of Thrones scripting, Haddad is indeed confirmed to be playing one of the horse riding barbarians.
The words actually on the page do not indicate anything in regards to plot. They simply display a Dothraki warrior's always colorful, if limited, vocabulary: "I'd like to know what Khaleesi tastes like;" "Good. You can suck my dick."
Those adorable Dothraki!
They are obviously discussing Daenerys Targaryen, who you should recall crash landed in Dothraki land alongside a wounded drogon at the end of season 5. It looks like she will be spending at least part of next year negotiating her survival around the horse lords of the grassy seas. You can see the image below.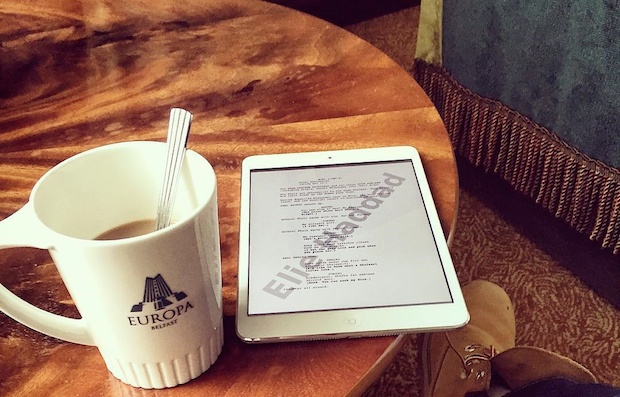 Guess Who's Back for the Game of Thrones Season 6 Finale
We have spent so much time as of late fretting about Jon Snow that it is easy to forget that Game of Thrones season 6 will be picking up many other dangling threads. In fact, one of the most exciting is the prospect of the Army of the Dead marching toward the Wall. Because no matter how you felt about the season 5 as a whole, the eighth episode of 2015, "Hardhome," was a series highlight when the White Walkers increased their ranks by a considerable margin.
And now thanks to director Miguel Sapochnik's Twitter page (he directed "Hardhome"), we now see what he is up to in terms of directing the Season 6 finale. And be careful, because here there be White Walkers… 
New Location Reveals New Death, Euron Greyjoy Cast
So, it's probably official that we're going back to the Iron Islands. And perhaps more importantly, another death from said islands has been confirmed by a shooting location revealed by Watchers on the Wall. So, lest you want to be spoiled rotten, turn back now…
Still with us? Good. As everyone knows, the Iron Islanders are the black sheep of the Westeros map. Imagine for a moment Civil War reenactors really did try to bombard Fort Sumter every 10 or 20 years, and you get the gist of how annoying they can be. They're so frustrating that even David Benioff and D.B. Weiss have more or less ignored the non-Theon Greyjoy characters for two seasons. But that all changes with the reveal that Game of Thrones season 6 is shooting in the Irish town of Ballintoy and on the Carrick-a-Rede bridge, a large dangling, roped thing.
For those who know their A Storm of Swords , Balon Greyjoy, the self-proclaimed king of the Iron Islands who now has no sons left, plummets his death off just such a suspension bridge. And his demise allows the rise of Euron Greyjoy, a brother of a more lively disposition. And as it just so happens, HBO has cast Pilou Asbæk (The Borgias) in that very role! A far more enjoyable presence than Balon, this pirating-viking-warlord hopefully can bring a little sizzle to those cold shores.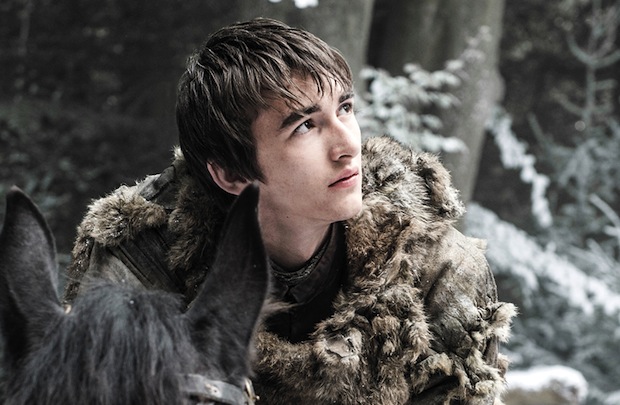 Bran Stark is Back with New Visions
After sitting out season 5, Isaac Hempstead-Wright is returning for Game of Thrones season 6 where things have changed for him. A lot. In addition to now being six feet tall, Hempstead-Wright's Bran Stark is also strong with the Warg power. Having previously compared the time jump for Bran to the difference between The Empire Strikes Back and Return of the Jedi for Luke Skywalker's Force powers, Hempstead-Wright has told EW that Bran will have "Inception" like visions of the past and future for Westeros, which will give us key glimpses into the history of Westeros. This includes new information about the blood feuds from generations ago between Starks, Baratheons, and Targaryens, as well as hints of the roles all must play in season 6.
Stannis is Dead
It was revealed during an EW interview with David Nutter, the director of the season 5 finale, that Stannis Baratheon is indeed dead and that Stephen Dillane will not be returning to the show. His fate was left in doubt after the scene of his presumed death quickly cut away before he could be hacked to pieces by Brienne of Tarth. 
Nutter told EW that  "From the very beginning, and [through] the script process, that was the intent — he's dead." The director explained that actually showing the death would have felt "gratuitous."
Continue to the next page for Game of Thrones season 6 casting news! 
Game of Thrones Season 6 Casting
The most impressive bit of casting we have heard is that legendary actor Max von Sydow of The Exorcist and The Seventh Seal (he is also set to appear in Star Wars: The Force Awakens) has been added as the wizardly force viewers thus far know as the Three-Eyed Raven. Revealed via Entertainment Weekly, von Sydow will personify the tutor that teaches Bran Stark "to fly," after luring the young Stark beyond the Wall with his magical three-eyed bird. The character has actually already appeared in the fourth season finale, but it is being left to the most famous supernatural-battling actor to pass on that ability to young Stark.
The magazine website also confirms that von Sydow will have a limited role in the new season, much like Ian McShane's mystery part (which you can read all about, including our theory of who he is, below). However, does this indicate that Bran Stark will have a truncated effect on Game of Thrones' new season? Again? Or perhaps, Bran will just be graduating his wizarding school of witchcraft faster than his magical pop culture peers?
Meanwhile, it's also official that Ian McShane is joining the cast of Game of Thrones season 6. However, HBO has played coy about what role McShane will be taking other than one of "key importance."
This naturally invites our speculation. And considering the casting announcements from earlier this year, I have a fairly nifty theory about who he might be: Randyll Tarly of Horn Hill, aka Samwell Tarly's not-so-happy papa.
HBO released a casting call earlier in 2015 that stated they were looking for an actor "aged 50s to 60, he's one of the greatest soldiers in Westeros—a humorless martinet, severe and intimidating. He demands martial discipline in the field and in his home."
Also described as a "good part," this seems to check off a lot of boxes for McShane who has worked previously with HBO as the malicious and enigmatic entrepreneur/crime lord of Deadwood . That role won McShane an Emmy and earned him a place in pop culture history as the deliciously nasty Al Swearengen. However, for all his cruelty, I'd never describe Al as "humorless."
In A Feast for Crows, Randyll Tarly appears as an obstacle in Brienne of Tarth's path through the riverlands. But since Brienne is already outside of Winterfell on the TV series, we imagine he will be used in a different capacity. It should be said that Randyll Tarly also supported the Lannisters only so far as his liege lord was Mace Tyrell. After Cersei has the Sparrows imprison Margaery, however, he marches on King's Landing and holds a seat of power that disquiets Ser Kevan Lannister, because he is much more dangerous than Mace (last seen singing Italian-esque love songs to Braavos in the season 5 finale).
Of course, we'll have to wait and see if this is the role McShane has actually landed…
At the very least, we know the major parts that HBO has had a casting call for (thanks to Vanity Fair). Some of the characters listed will obviously only be for guest spots or background supporting work. However, a few caught our eyes as potential Game of Thrones season 6 plot spoilers, as well as a hint of even more of the wars to come.
Thus the new roles looking to be cast are…
Father: "Aged 50s to 60s, he's one of the greatest soldiers in Westeros—a humorless martinet, severe and intimidating. He demands martial discipline in the field and in his home. It's described as 'a very good part' for next year and that he's 'centrally involved' in a protagonist's storyline."

His Family: "Mother in her 50s. She's a sweet, plump, and adoring mother, and has a soft spot for one of her children who benefits from her decency. Sister in her early 20s. She's a kind, friendly and unpretentious woman. Brother in his early to mid-20s . Athletic, a good hunter, an excellent swordsman, manly, not particularly bright but the favorite child of the father."
While I had suspected that they were cutting the Tarly family out of Game of Thrones, save for hapless Samwell, of course, it appears that might not be the case. Indeed, the description of the father being "humorless," "severe," and demanding of "martial discipline," all points to Randyll Tarly, who was namedropped recently in season five when Sam and Stannis chatted about dear old dad. Also, the insistence that he is involved in a protagonist's storyline indicates that he will be part of Sam's. Or perhaps, Randyll will show up in King's Landing, which will still be spinning in political unrest and upheaval after the Lannisters and Tyrells have essentially imploded upon themselves…
Large Boy: "With an actor who is 10-12 but playing 7 or 8. He's described as 'a clever boy' who seems too large for his age. He's big and tall but not fat. 'Characterful squat features' are a plus for this part. It's specified that this is a one-time appearance."

12-Year-Old Boy: "With brown hair and blue eyes. He needs to use a Northern accent. He has scenes where he has to spar with a wooden sword. The length of the role isn't specified."

7-Year-Old Boy: "With dark brown hair, a narrow face and green eyes. He also has a Northern accent. He also spars with the wooden sword, so it's safe to assume it's the same scene. This role is similarly open-ended, the description only stating that the character is being 'introduced.'"
The trio of boys here is interesting since there is no literary parallel that I can think of in the present for these three children. But at least two of them sound familiar, if much younger. A "large" for his age boy who is handsome and charismatic sounds very much like Robert Baratheon. And the two other boys, one of whom is older than the large child, could indicate a Targaryen if not for their hair colors. Thus, I'd suggest that they are young Brandon Stark and Eddard Stark as children. Fans only of the HBO series likely have forgotten, but Ned Stark was actually the younger child; he's the kid brother of Brandon Stark, a handsome boy who demolished Littlefinger in physical combat, was heir to Winterfell, and enjoyed Catelyn Stark's betrothed hand in marriage until Mad King Aerys II burned him alive before the Iron Throne.
But why would we see them as children since all three are long dead on the series? Well, who is to say that Littlefinger does not possess memories of his own? He already has recently spoken of Lyanna Stark and Rhaegar Targaryen at a joust. Perhaps, Littlefinger, who quietly dismissed Sansa's accusations of Rhaegar raping Lyanna, will finally be revealing a long gestating secret about all of these young men's youth, which holds a special meaning for Jon Snow…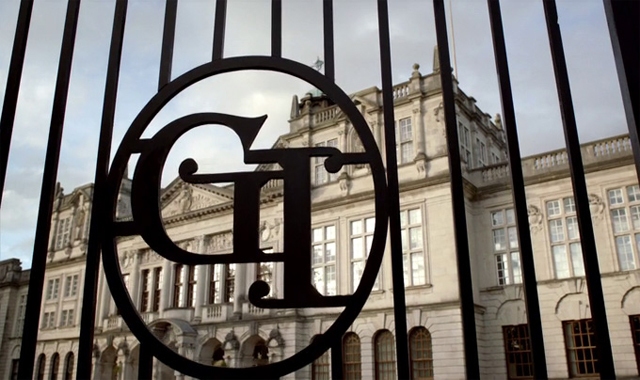 Another interesting casting tidbit is that the mighty Richard E. Grant has nabbed a role.
The news comes from fan site Watchers Of The Wall, who spotted HBO's sprawling fantasy series on Mr Grant's online CV. It has since been removed, but at this stage the secret is very much out – the Withnail & I star is headed to Westeros.
Meanwhile, Essie Davis of The Babadook has been cast a traveling Westerosi actress within the series, who appears in a play-within-the-show called The Bloody Hand, a representation of all things Westeros. In the play, she'll portray the role of Cersei Lannister. We assume she'll get in trouble for that.
Richard E. Grant is believed to play the leader of this acting troupe.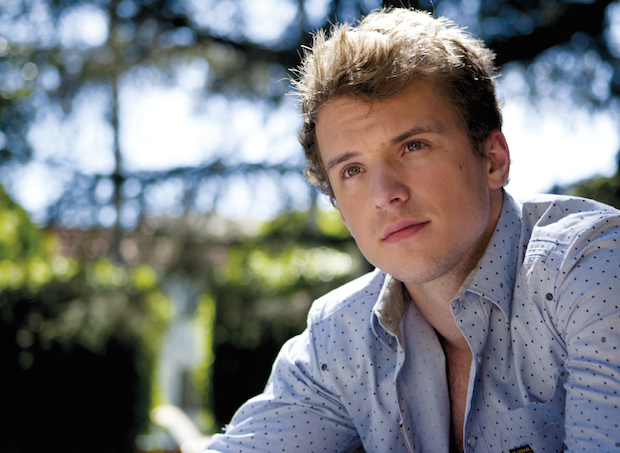 Also, as we first speculated on HBO's casting call breakdowns, it appears that we will be visiting more branches on the Tarly family tree in season 6. Indeed, HBO PR confirmed this over the Labor Day weekend when it was revealed that Freddie Stroma will play Dickon Tarly, the younger brother to our dear Sam "the Slayer" Tarly of the Night's Watch. Samwell, played by John Bradley, would have been heir to his father Randyll's seat at Horn Hill if not for his penchant for cowardice (and ales). Thus away to the Night's Watch Sam has gone, leaving Dickon as heir to the family title.
For the most thorough of book readers, Dickon appeared briefly in A Feast for Crows and A Dance of Dragons as the squire that reported to Randyll during a Brienne of Tarth chapter (unlikely to occur in the series given Brienne's northerly movements) and is mentioned to have wed 13-year-old Eleanor Mooton. However, we imagine that there is more to the casting than that since we suspect it's all but confirmed that Ian McShane will be playing Ser Randyll. With Sam and Gilly sailing in a southward direction, perhaps a family reunion is in order?
Meanwhile, further castings include Melanie Liburd taking on the role of a red priestess.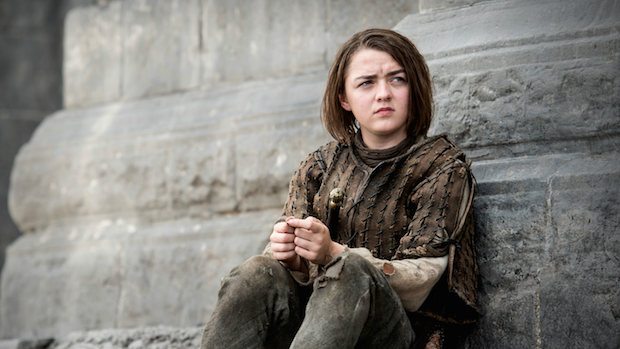 Game of Thrones Season 6 Production
Game of Thrones headed back to Spain for season 6. Indeed, the news was announced via an HBO press release in June, which revealed that the premium cable flagship would be shooting in several locations, including the cities Girona and Peñiscola.
Details also emerged (via Watchers on the Wall) that Game of Thrones season 6 shot near the castle of Mesa Roldán during this production.
Obviously, this likely indicates a return to Dorne, which will no doubt be in disarray since the Sand Snakes have just potentially started a war with King's Landing. Also, I imagine we have not seen the last of Braavos or Arya's training to become a Faceless Man. Keeping Needle tells me that the girl will never forget her true name, but her purpose in hardening into a killer of men is far from complete (especially with no eyesight!). And since Game of Thrones is probably not about to head to Italy to shoot on the real Floating City of canals, they'll likely continue using their Spanish backdrops in the sixth season.
Also the series shot at several new Spanish castles: namely, the Bardenas badlands in Navarre, and the castles of Santa Florentina and Zafra, as well as Almeria's Alcazaba.
The most obvious choice to speculate about these locations is that they're new sides of Dorne that we have not seen before. Yet, the apparently rural and spectualarly harsh, rocky deserts of Navarre leads me to believe that this might be where Daenerys and her new Dothraki companions ride in the new season. Or perhaps it is part of Jorah and Daario's rescue mission to traverse such climates? And the castles…well, when has Game of Thrones not needed a few new castle locations?
That's about all for now, but keep us mind as we keep you posted about all Game of Thrones season 6 news.
Game of Thrones Season 6 Pictures