News
Game of Thrones: Next Book Will Not Be Winds of Winter
George R.R. Martin reveals that a Targaryen companion book will arrive before long-gestating sequel The Winds of Winter.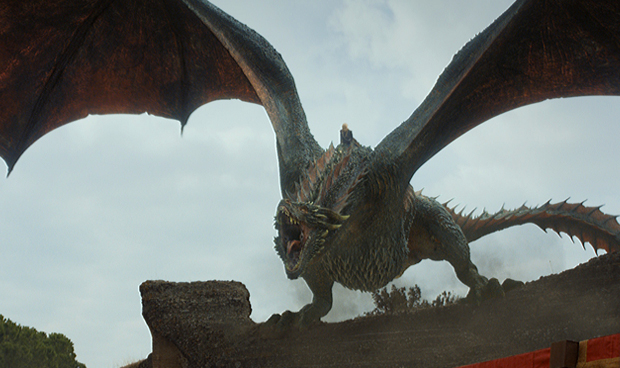 Game of Thrones Season 8 may be the light at the end of the tunnel for the HBO television series (at least before spinoff plans manifest), but fans of the source material, George R.R. Martin's A Song of Ice and Fire novels, have become accustomed to having their reading fix delayed by the author, as the release of penultimate volume The Winds of Winter perpetually shifts. Indeed, readers who came into 2018 thinking, "this will finally be the year," will undoubtedly be disappointed by the latest development, though there is a silver lining to embrace.
George R.R. Martin recently made what appears to be an impromptu revelation regarding his A Song of Ice and Fire release strategy in a comment on his Not a Blog Livejournal site. With the topic being Martin's upcoming series of companion novels, to be titled Fire and Blood, the author addressed something that has become a fairly standard question regarding The Winds of Winter and how the F&B volumes will affect the long-delayed sequel's release. As Martin replies:
"F&B will be in two volumes. Vol 1 [will be released] before [The Winds of Winter], vol 2 after."
Thus, the vocal Internet fans who have made a pastime of reminding Martin to stop whatever he's doing and get back to writing TWoW, will likely be frustrated by this news. Yet, it's not surprising, since Martin teased last year that his authorial attentions have not been on TWoW, but on the Fire and Blood books, a companion volume – akin to J.R.R. Tolkien's posthumous quasi-Biblical Middle Earth chronicle, The Silmarillion – focusing on the lengthy epoch-spanning history of the dragon-taming Targaryen family, reaching all the way back to Daenerys's continent-crossing ancestor, Aegon the Conqueror, to boy king Aegon III, as well as the great Targaryen Civil War (a.k.a. the Dance of the Dragons).
Martin claims that Fire and Blood Vol. 1 will arrive sometime in 2018; a notion that essentially takes The Winds of Winter off the table for 2018. Consequently, it's looking more likely that by the time Game of Thrones Season 8 makes its six-episode (undoubtedly tragedy-laden,) series conclusion in 2019, the chronological state of the novels will still be the same as they've been since the release of A Dance with Dragons back in July of 2011. – For reference, that volume was preceded by opening novel A Game of Thrones in 1996, A Clash of Kings in 1999, A Storm of Swords in 2000 and A Feast for Crows in 2005. The Winds of Winter (whenever that finally arrives,) will be followed by the concluding volume, A Dream of Spring.
Game of Thrones Season 8 will arrive on HBO sometime in 2019. While fans of George R.R. Martin's novels will likely enjoy the chronicles of Fire and Blood in 2018, the A Song of Ice and Fire novels will have to remain encased in the former element referenced in its very title.