News
Fox Adapting Amulet Into A Fantastical Movie Franchise
Star Trek producer Aron Coleite goes boldly into the fantasy-action graphic novel series by Kazu Kibuishi.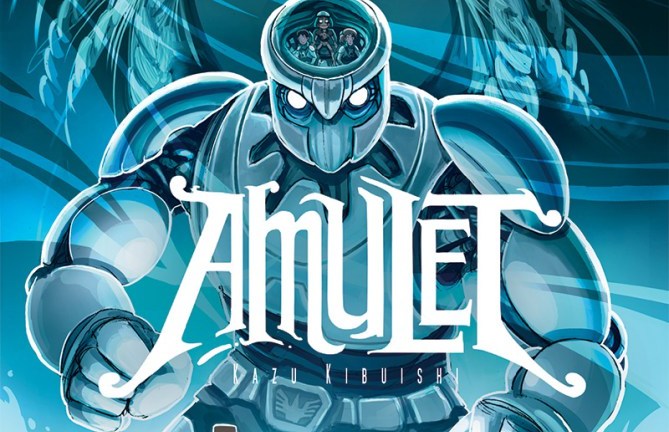 Japan has been in the stateside spotlight lately. On the heels of the Momotaro remake and the new Death Note movie bringing shinigami to the big screen, Star Trek TV series producer Aron Coleite will conjure up a film franchise of another Japanese import, Kazu Kibuishi's YA graphic novel series Amulet. 
Magic, elves, robots, demons, psychic trees, anthropomorphic animals and dead things from space haunt the world of Amulet, whose adventures start in one of those creepy old houses you just know has something unearthly and possibly dangerous lurking in its shadows. Emily Hayes hardly suspects any of this when she moves into her great-grandfather's house with her mother and her brother Navin. While the move is meant to be a reboot after the tragic death of Emily's father in a car accident, there is hardly time left to grieve before she finds a mysterious amulet in the library. Her mother is kidnapped by an enormous spider that night. 
While there is no closing Pandora's box after giant arachnids crawl out, Emily and Navin pass through a portal that takes them to the magical world of Alledia. The disembodied voice of the amulet becomes Emily's guide. Her great-grandfather's house also morphs into a giant robot that answers the question of getting around in a realm infested with evil. In the quests that follow, she, her brother and mother (who is eventually freed from the spider by an enigmatic elf) join forces with a band of robots and humanoid creatures. They set out in the house-robot to defeat the malicious Elf King who, like a less raggedy pointy-eared version of The Dark Crystal's Skeksis, wants the Mother Stone—the stone all the amulets arose from—for himself. 
With Coleite directing under 20th Century Fox, Marty Bowen and Wyck Godfrey will be producing at Fox with Temple Hill Entertainment, which has a history with making movie magic out of YA stories and most recently adapted James Dashner's dystopian Maze Runner graphic novels to the big screen. With nine volumes in the Amulet series, that's a lot of elves and robots.
While the cast and release date are still hidden in a portal somewhere, you can still travel to Alledia through Kibuishi's enchanting graphic novels. 
Source: Deadline