News
Fantastic Beasts and Where to Find Them: Trailer, Release Date & News
Everything you need to know about the latest addition to the Harry Potter universe...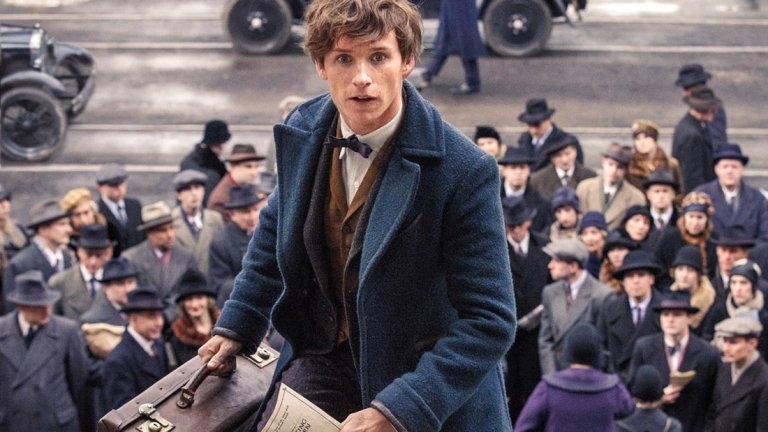 The Harry Potterspin-off Fantastic Beasts and Where to Find Them may still be a few months away from release (it comes out on November 18th), but Warner Bros. has started releasing sneak peeks that bring us into the wizarding world of 1926 New York, where the film is set.
Fantastic Beasts & Where to Find Them — Latest News
We know what Fantastic Beastswill look like, thanks to the many trailers and posters, but what will it sound like? WaterTower Music has just released a sneak peek at the Fantastic Beastsscore from James Newton Howard and it's the perfect mix of John Williams' original Harry Pottersoundtrack and something new…
Howard told Pottermore of the music:
You hear the main theme song of the movie play when the main crew arrive at the MACUSA the first time and various other times. You hear this haunting kind of theme. If you had to say what is the theme for Fantastic Beasts and Where to Find Them for now and in the future, it would be that theme. I wrote it on my piano because I believe that if that kind of thing is going to be good, it should be done that simply.
And here's a pretty classy advertisement for a limited edition picture disc vinyl featuring two early recordings that "helped shape the musical vision for the film."
The soundtrack is available for pre-order via Amazon and iTunes. It will be released on November 18th. Here is a complete track list:
1.  Main Titles – Fantastic Beasts and Where To Find Them2.  There Are Witches Among Us / The Bank / The Niffler3.  Tina Takes Newt In / Macusa Headquarters4.  Pie or Strudel / Escaping Queenie and Tina's Place5.  Credence Hands Out Leaflets6.  Inside The Case7.  The Erumpent8.  In The Cells9.  Tina and Newt Trial / Let's Get The Good Stuff Out / You're One of Us Now / Swooping Evil10.  Gnarlak Negotiations11.  The Demiguise and The Occamy12.  A Close Friend13.  The Obscurus / Rooftop Chase14.  He's Listening To You Tina15.  Relieve Him of His Wand / Newt Releases The Thunderbird / Jacob's Farewell16.  Newt Says Goodbye to Tina / Jacob's Bakery17.  End Titles – Fantastic Beasts and Where To Find Them
Deluxe: Bonus – Disc 2
1.  A Man and His Beasts2.  Soup and Leaflets3.  Billywig4.  The Demiguise and The Lollipop5.  I'm Not Your Ma6.  Blind Pig performed by Emmi7.  Newt Talks To Credence8.  End Titles Pt.2 – Fantastic Beasts and Where To Find Them9.  Kowalski Rag
Check out the gorgeous new posters for Fantastic Beasts and Where to Find Themfilm in the gallery above. There's on for each of the major characters, including this sinister one featuring Colin Farrell's Percival Grave character (and a Deathly Hallows clue)…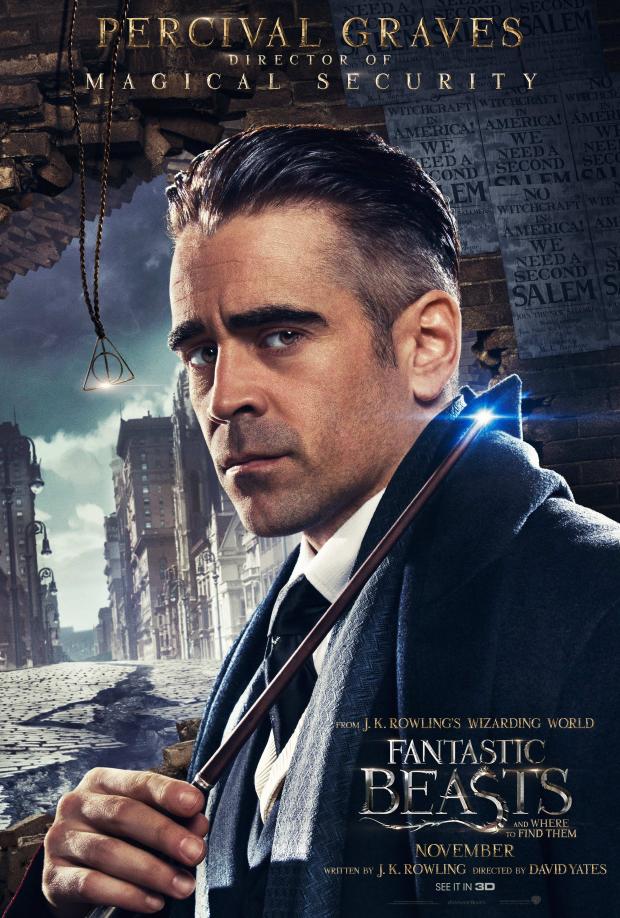 Warner Bros. have also released this cast-led invite to a Fantastic Beastsglobal fan event to take place in IMAX theaters. The October 13th event will include a livestreamed Q&A with the cast and some "special guests," as well as some exclusive content from the film. Check out the invite…
If you can't make it to the event, it will be livestreamed via the Fantastic BeastsFacebook page. You can look for local screenings and buy tickets here.
Fantastic Beasts and Where to Find Them Book
Fantastic Beasts  is based on a 2001 book written by J.K. Rowling as part of a larger charity drive for Comic Relief. The book is an encyclopedia of sorts for magical creatures of the wizarding world meant to be a copy of the actual Fantastic Beasts schoolbook Harry Potter brings to Hogwarts in his first year.
"Written by" in-universe magizoologist Newt Scamandar, it has notes from Harry Pottercharacters like Harry Potter, Hermione Granger, and Ron Weasley written into its margins. It also has a foreword from Albus Dumbledore for the book's 52nd edition. It is not a novel.
Fantastic Beasts Trailer
The final Fantastic Beaststrailer is chock full of gorgeous, terrifying, and imaginative new footage and reveals many more character and plot details. The most exciting detail? We learn more about Colin Farrell's character Percival Graves and his potential connection to European dark wizard Grindewald.
A magical war with the No-Majs is brewing. Will NYC be left standing when it's over? Watch the trailer and decide for yourself…
Here is the first official teaser trailer for Fantastic Beasts and Where to Find Themis here. Watch it below, then check out our full breakdown of the two-minute sneak peek here. 
 A new Fantastic Beasts and Where to Find Them trailer dropped at Comic-Con in San Diego and it features some truly frightening and fascinating beasts and they are surrounded by some of the most viscious creatures on the planet: humans…  
 Here's the announcement trailer for the project, introducing the world of Fantastic Beasts, as well as giving a brief synopsis of the plot — i.e. some of the creatures from Newt's suitcase o' magical creatures have escaped into NYC. This is all relayed in an announcement Tina makes to the MACUSA. 
 Warner Bros. released this behind-the-scenes featurette through Pottermore that gives us more details than ever about the characters of Fantastic Beasts and Where to Find Them. Meet Tina, Queenie, Newt, and Jacob… 
 "It's incredibly exciting. We're working directly with J.K. It's her first screenplay," says director David Yates, with producer David Heyman adding: "All four central characters are outsiders. Part of the journey of this, for each of them, is coming into themselves. This film will appeal to all. It's funny. It's moving. It's thrilling."
Fantastic Beasts Movie Release Date
Fantastic Beasts and Where to Find Them is scheduled to be released on November 18th, 2016 in the United States. And good news, 3D-cinephiles! It will be released in 3D and IMAX 4K-laser format. 
Fantastic Beasts Cast & Characters
Eddie Redmayne, perhaps best known for his roles in The Theory of Everythingand The Danish Girl, will play the central role of Newt Scamandar — author and employee of the British Ministry of Magic. Most importantly: he is a Hufflepuff.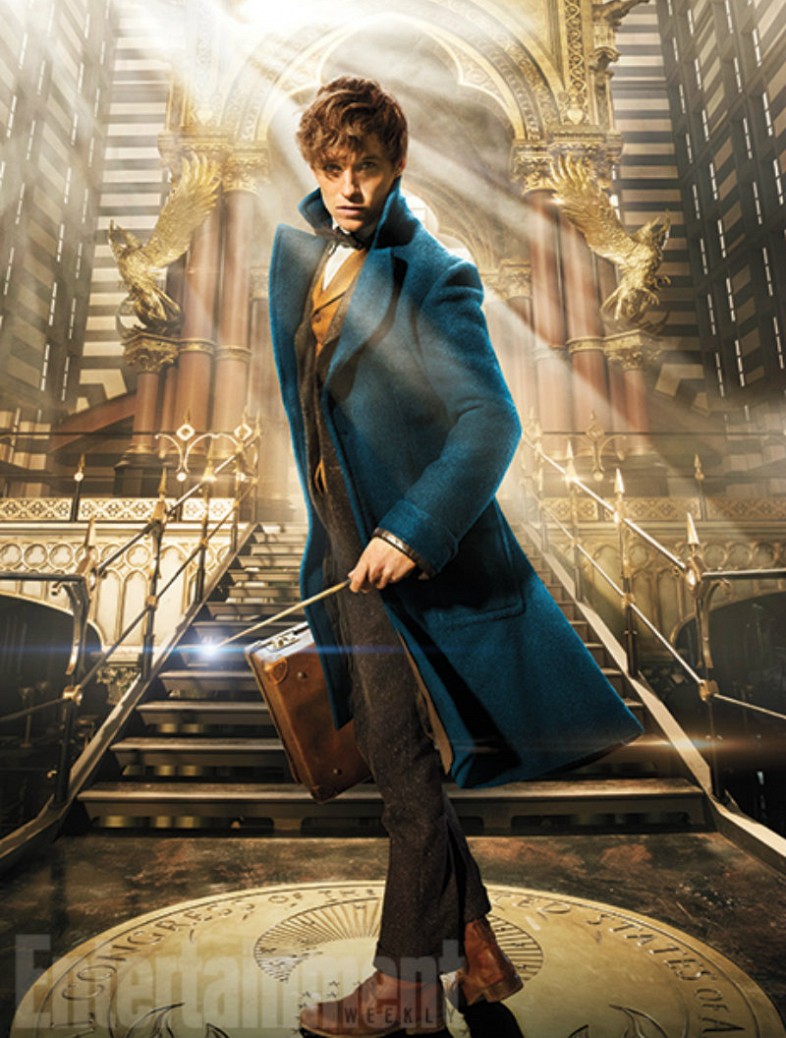 Speaking about hero Newt Scamander in a featurette, J.K. Rowling said: "My heroes are always people who feel themselves to be set apart, stigmatized, or othered. That's at the heart of most of what I write and it's certainly at the heart of this movie." See the featurette in its entirety below…
Rounding out the central quartet for the film: Katherine Waterson (Steve Jobs) as Porpentina "Tina" Goldstein, an employee at the Magical Congress of the United States of America (MACUSA) with a strong sense of justice; Alison Sudol (Transparent) as Queenie Goldstein, Porpentina's free-spirited younger sister and roommate; and Dan Fogler (Fanboys) as Jacob Kowalski, a No-Maj (aka Muggle) factory worker and aspiring baker.
Also in the cast: Samantha Morton (In America) as Mary Lou, the leader of the anti-wizard New Salem Philanthropic Society; Ezra Miller (Trainwreck) as Credence, Mary Lou's adopted son; Colin Farrell (True Detective) as Percival Graves, an Auror tasked with catching Newt; newcomer Faith Wood-Blagrove as Modesty, a young girl with a powerful gift; Carmen Ejogo (Selma) as Serafina, an important figure at the MACUSA; Jon Voight (Coming Home) as Henry Shaw, Sr., a U.S. senator; and Ron Perlman (Hellboy) as Gnarlack, a speakeasy-owning gangster.
A recent issue of Entertainment Weekly teased that a line of dialogue in Fantastic Beastswill reference Albus Dumbledore, though there is no mention of the character actually appearing in the film. The same story cites producer David Heyman as saying that, should the trilogy continue on as planned, we shouldn't be surprised to see some familiar faces.
The screenplay was written by Rowling, and David Yates is directing the film. Yates was behind the camera for the last four Harry Potterfilms. Here's a tweet from when Rowling visited the set…
— J.K. Rowling (@jk_rowling) 
December 3, 2015
Collider recently posted a report from their visit to the Fantastic Beasts and Where to Find Themset and its filled with fun, informative details about the upcoming film. 
From where I'm standing, the most interesting details tell us more about the tone of the film. Apparently, it will not be as dark as Deathly Hallows: Part 2(thank god) and aims to hit a variety of tonal notes — from darkness and humor to heart and adventure. Visually, director David Yates embraced the 1920s setting of the material — something that is already apparent in the trailers.
We also learn a bit more about Newt's character, who is described as an outsider who is "more comfortable with his creatures than he is with people." Another interesting tidbit: the film will take place over the course of only a few days, which implies it will be fast-paced and action-packed. Once those creatures are out, Newt & co. won't have much time to sit around.
More about Colin Farrell's character: He is called Graves, and he is the chief security officer for the protection of wizards for the MACUSA. He is also the right-hand man of president Seraphina Picquery. Gtaves will be investigating the goings-on in NYC and is in touch with Newt's brother, Theseus, who is a powerful Auror back in the U.K.
More on Jacob's character, played by Dan Fogler: Jacob lives on the Lower East Side and has just returned from WWI, which is why the magical creatures don't phase him too much. Fogler sees the relationship between Jacob and Newt as akin to the one between Holmes and Watson. The two first meet when Jacob is bitten by one of Newt's creatures. Jacob has a crush on Queenie.
J.K. Rowling created some new creatures from the film, which will be fun to look out for. The beasts featured in the movie include: the Nundu, Thestral, Doxy, Mooncalf, Billywig, Kappa, Fwooper, Diricawl, Hippocampus, Giant Dung Beetle, Graphorn, Lethifold, Runespoor, Murtlap, Erumpent, Pickett, Demiguise, and the Niffler. Fogler also mentioned the Demiguise, a creature that is particularly hard to catch as it can see the future. Goblins and elves will also appear in the film. 
Fantastic Beasts and Where to Find Them Plot
Set 70 years before Harry Potter's story begins, Fantastic Beasts and Where to Find Themgives us a peak into the wizarding world of 1926 NYC where relations are tense between the wizarding and No-Maj communities. The fanatical New Salem Philanthropic Society works to eliminate all of wizard-kind.
When some of Newt's magical creatures escape into the streets of NYC, the tenuous truce between these two communities is further threatened, prompting the American wizarding authorities to try to catch Newt. The film follows the adventures of Newt, sisters Tina and Queenie, and No-Maj aspiring baker Jacob as they presumably try to catch the escaped magical creatures and stop conflict between the No-Maj and wizarding communities. Here's the official synopsis for the story…
Fantastic Beasts and Where to Find Them opens in 1926 as Newt Scamander has just completed a global excursion to find and document an extraordinary array of magical creatures.  Arriving in New York for a brief stopover, he might have come and gone without incident…were it not for a No-Maj (American for Muggle) named Jacob, a misplaced magical case, and the escape of some of Newt's fantastic beasts, which could spell trouble for both the wizarding and No-Maj worlds.
Fantastic Beasts Trilogy
Fantastic Beasts and Where to Find Themhas been announced as the first in a trilogy. Of course, if the movie flops, Warner Bros. might reconsider more movies. (But, come on, this is a Harry Potterspin-offwe're talking about… It's not gonna flop.) Plus, Rowling herself recently tweeted a confirmation that Fantastic Beastswill be a trilogy, and she's a genius, so…
You heard wrong, I'm afraid. #CursedChild is a play. #FantasticBeasts will be 3 movies, though! https://t.co/7tvw4rolcR — J.K. Rowling (@jk_rowling) February 29, 2016
The second installment in the trilogy is slated to be released on November 16th, 2018, with the third one scheduled for November 20th, 2020.
Fantastic Beasts Movie Posters and Images
So far, we have relatively few official promo images from the film. Here's a poster shot of Newt with his suitcase filled with magical creatures, standing in the MACUSA.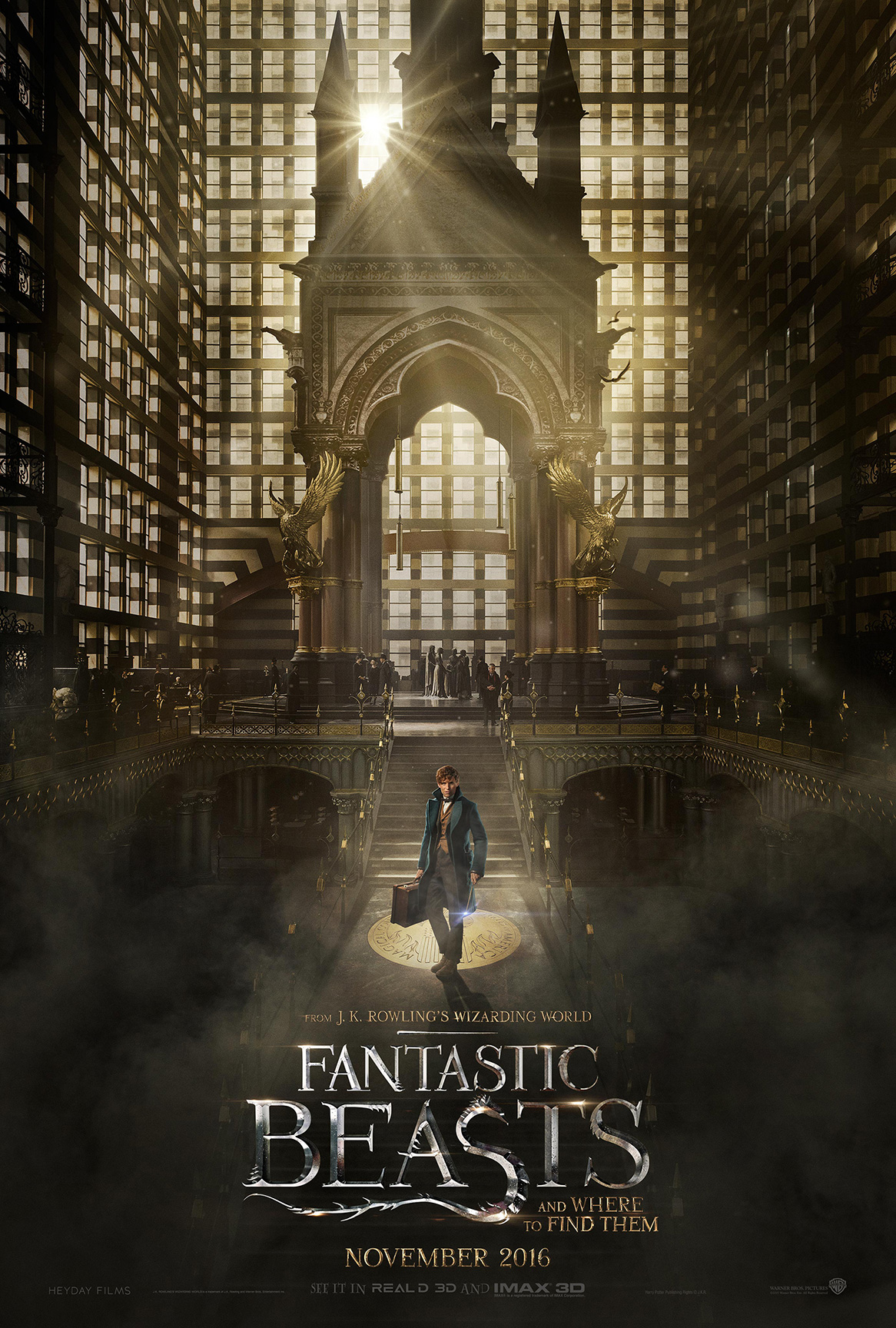 A new poster has arrived for Fantastic Beasts and Where to Find Them out of SDCC 2016. It's quite gorgeous and retro. Check it out: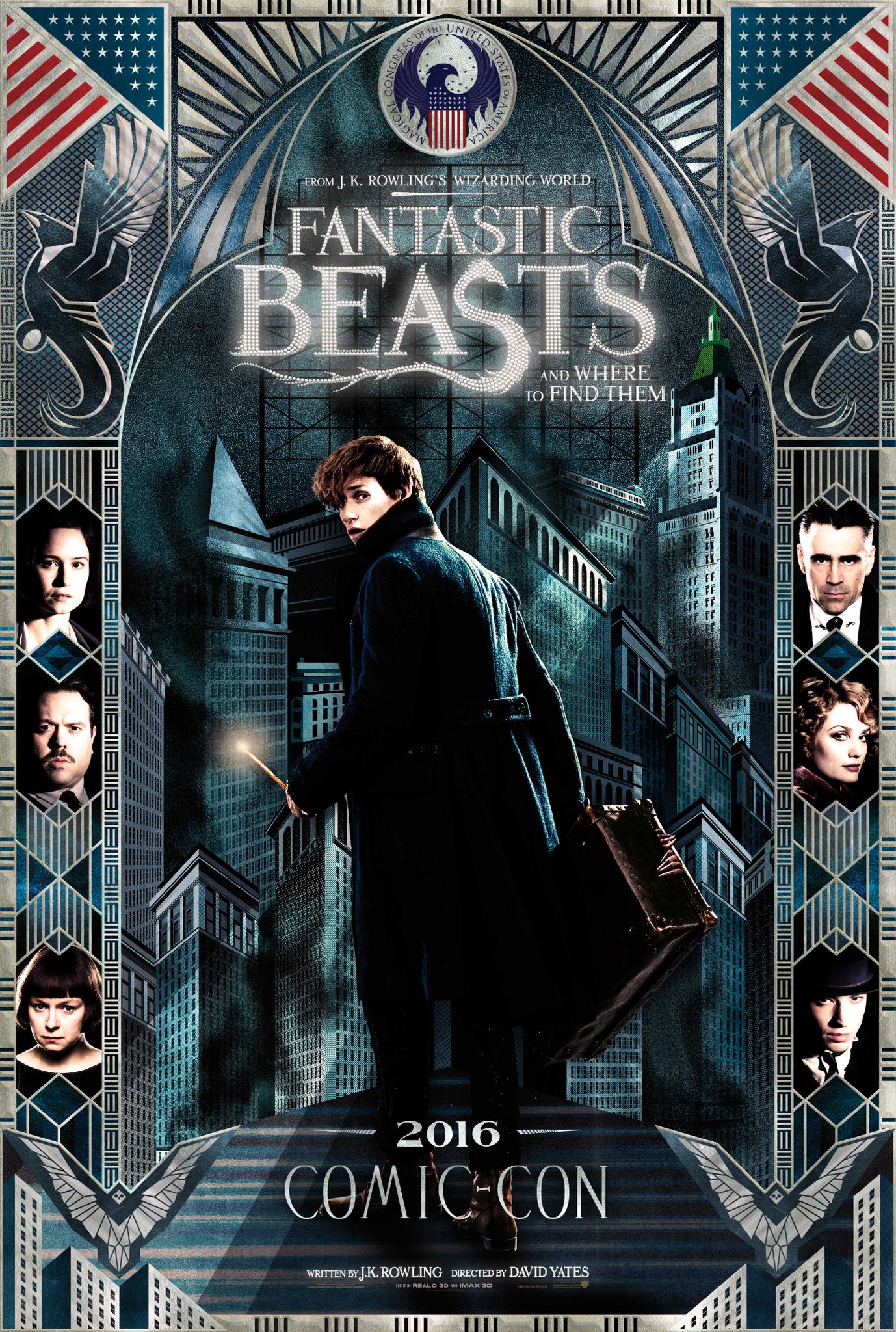 Here's a poster for the film dropped back in June: