News
Ernest Cline's Armada Adaptation Gains Steam After Ready Player One
Ernest Cline's next novel, Armada, is being adapted at Universal with a writer of The Flash following Ready Player One's success.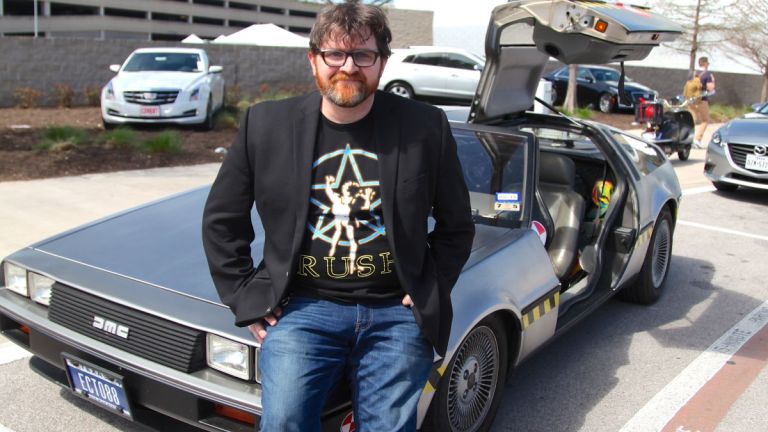 Success breeds success right? After Steven Spielberg's adaptation of Ernest Cline's first novel—which Cline helped turn into a screenplay—earned about $54 million in its opening weekend, Cline's literary follow-up to Ready Player One must look awfully appealing in Hollywood. In this vein, Universal is moving ahead in its adaptation of Armada, another geeky video game-meets-wish fulfillment narrative that Cline saw published n 2015.
Indeed, news came late Tuesday that Universal has tapped Dan Mazeau to write the latest screenplay adaptation of Armada. Mazeau has also recently been tapped to pen the latest Flash treatment for Warner Bros.; he also has a pre-existing relationship with Universal, where he previously wrote a treatment for Van Helsing, which is (was?) to be part of Universal's Dark Universe. His previous credit is one of three writers on WB's Wrath of the Titans from 2012.
Although not published until several years ago, Cline and Random House signed a deal with Universal to adapt Armada one year after Ready Player One became a New York Times bestseller in 2011. In the book, Cline follows Zack Lightman (who has the same last name, ahem, as Matthew Broderick's protagonist in WarGames). Zack is a small star in the online community for the air combat simulator Armada, which becomes useful after an actual UFO alien invasion begins. As it turns out, the video game was a covert military recruitment tool that was searching for ace pilots to fight the aliens. Yeah, that's right.
Cline apparently sold the concept to Universal more than five years ago based on a 20-page script treatment. However, the studio has been chastened to pursue it faster after Cline's other novel about a video game nerd who excels at online play became a Spielbergian hit. Literally.
Below is the novel's official synopsis.
Zack Lightman has spent his life dreaming. Dreaming that the real world could be a little more like the countless science fiction books, movies, and videogames he's spent his life consuming. Dreaming that one day some fantastic world altering event will shatter the monotony of his humdrum existence and whisk him off on some grand space faring adventure. But hey, there's nothing wrong with a little escapism, right? After all, Zack tells himself he knows the difference between fantasy and reality. He knows that here in the real world, aimless teenage gamers with anger issues don't get chosen to save the universe. And then he sees the flying saucer. Even stranger, the alien ship he's staring at is straight out of the videogame he plays every night, a hugely popular online flight simulator called Armada, in which gamers just happen to be protecting the earth from alien invaders. No Zack hasn't lost his mind. As impossible as it seems, what he's seeing is all too real. And his skills, as well as those of millions of gamers across the world, are going to be needed to save the earth from what's about to befall it. It's Zack s chance at last to play the hero. But even through the terror and exhilaration, he can't help thinking back to all those science fiction stories he grew up with and wondering: Doesn't something about this scenario seem a little familiar? At once gleefully embracing and brilliantly subverting science fiction conventions as only Ernest Cline, could Armada is a rollicking, surprising thriller, a classic coming of age adventure, and an alien invasion tale like nothing you've ever read before, one whose every page is infused with the pop culture savvy that has helped make Ready Player One a phenomenon.