News
Enter Our Magic X Mayhem Book Giveaway!
Enter for a chance to win a set of the eight books featured in the Magic X Mayhem bundle!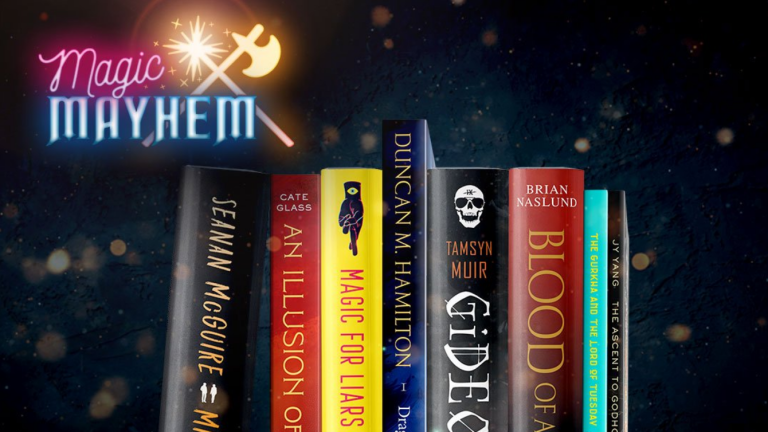 2019 is a year for breaking all the rules, both in the world and on our bookshelves. Gone are the days of simple good-versus-evil narratives; these are complicated times that call for complicated characters. Henceforth, 2019 shall be known as our year of magic and mayhem.
An impressive array of writers are fueling all this chaos and charm. Featured authors include Seanan McGuire (Middlegame), Cate Glass (An Illusion of Thieves), Sarah Gailey (Magic for Liars), Duncan M. Hamilton (Dragonslayer), Tamsyn Muir (Gideon the Ninth), Brian Naslund (Blood of an Exile), Saad Z. Hossain (The Gurkha and the Lord of Tuesday), JY Yang (The Ascent to Godhood) and more.
These books have everything: murder, dragons, alchemical twins, regular twins, godhood both forgotten and newly attained, schools for sorcerers, lesbian necromancers, magical heists, helpful reanimated skeletons, prophets, swordplay, immortals, too-mortals, mercenaries, space dictators, terrestrial dictators, haunted bridges, ancient technology, ancient folklore, and, naturally, dirty magazines. We can't keep them all to ourselves, so we're giving 'em away!
One lucky winner will receive a set of all the titles mentioned above, plus some exclusive Magic X Mayhem swag—stickers, tattoos, and a Magic For Liarsenamel pin. Enter now for your chance!
Entry in the giveaway is simple:
– Join the Den of Geek Book Club over on Goodreads.
– Comment in the Introduce Yourself discussion thread (and be sure to let us know it was the giveaway that sent you there!)
Unfortunately, only readers who reside in the United States qualify for this contest. Final entries will be accepted Friday, September 13th! One (1) winner will be drawn at random and contacted via Goodreads message. Good luck!