News
Earthsea: Ursula K. Le Guin's Fantasy Franchise Could Get New Film
Producer Jennifer Fox has acquired the film rights to Earthsea, the epic fantasy novel series of Ursula K. Le Guin.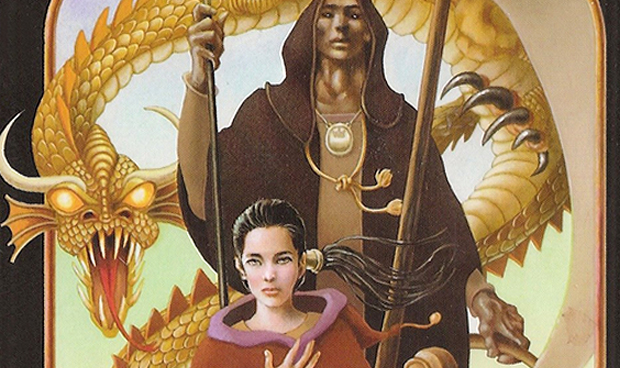 Earthsea appears to be on the verge of finally getting a film adaptation. The sprawling fantasy novel series, arguably the magnum opus of author Ursula K. Le Guin, is right up there with (for example,) J.R.R. Tolkien's Middle Earth works, in terms of volume and supplementary material, but its representation in the live-action adaptation realm is nowhere near as prominent. However, that could soon change, thanks to a producer's recent acquisition of the film rights.
Jennifer Fox, a producer from films such as Nightcrawler, The Bourne Legacy, Michael Clayton and Syriana, has optioned the film rights to the Earthsea franchise, reports Deadline. Apparently, the move completes a transaction that was started by author Ursula K. Le Guin, who passed away this past January. With the deal sealed, we can expect Earthsea to, at long last, reach a new level of mainstream awareness with a big screen treatment with franchise designs. The project will be executive-produced by Theo Downes-Le Guin, son of the author.
Earthsea stems back to Le Guin's 1964 short story, The Word of Unbinding. The mythology is set on the eponymous world of Earthsea, a fantastical Earth-like planet that lacks major continents, instead composed of a series of archipelagos on which human society lives an Iron Age-like existence, rife with things like magic and dragons. The stories frequently focus on magical themes and the Taoist concept of existential balance.
The mythos came into prominence with Le Guin's 1968 novel, A Wizard of Earthsea, a bellwether piece of fantasy literature by which many genre authors claim influence. That book follows the story of a young mage, named Ged, an attendee of a school of wizardry (think that concept influenced anyone?) who accidentally unleashes an evil force into the Earthsea world and embarks on an odyssey to undo his mistake. – Le Guin would release five Earthsea novels overall from 1968-2001, having also supplemented the mythos in those later years with more short stories.
There have been adaptations of Earthsea over the years, notably the 2004 Sci-Fi Channel (now Syfy,) TV miniseries, in which X-Men's Shawn Ashmore played book protagonist Ged, with a cast consisting of Kristin Kreuk, Isabella Rossellini and Danny Glover. However, the miniseries was critically lambasted as unoriginal and (as the author herself publicly noted,) guilty of the casting infraction of whitewashing, since its mostly-white cast stand in stark contrast to Le Guin's literature, which describes the inhabitants of Earthsea as having red-brown skin.
Additionally, an anime adaptation, called Tales from Earthsea, was released in 2006 from director Goro Miyazaki (son anime legend Hayao Miyazaki). Yet, that version also failed to impress Le Guin, who wasn't a fan of the liberties taken with its aesthetics. While there's been talk of other Le Guin movie adaptation projects in recent years, such as Planet Exile and, more recently with The Telling, the late author has seemingly given a stamp of approval to Jennifer Fox's pitch, which raises the prospects for this film project.
We will keep you updated on this exciting Earthsea movie project as the news arrives!