News
Doc Savage Movie Update: Shane Black met With Chris Hemsworth
In case you've forgotten, there's a Doc Savage movie in development, and Shane Black has someone in mind for the title role.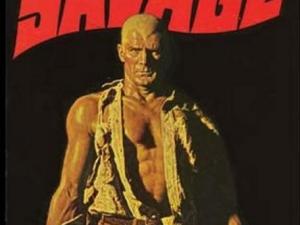 Tucked away in the nooks and crannies of The Hollywood Reporter's story about the impending Predator reboot from Shane Black is the first hint of an update about the Doc Savage movie we've had in awhile. For starters, it doesn't look like Mr. Black's involvement with the Predator reboot is going to interfere with his plans to write and direct Doc Savage, so that's good. But that's just the start.
Doc Savage remains a priority for Sony, apparently, so that's good.
What's better is this bit: "[Black] recently met with Chris Hemsworth for the title role." 
Now, there's no doubt that Chris Hemsworth is physically right for Doc Savage. He could easily pull off the "classic" look of the pulps or the more closely-cropped version made famous in James Bama's painted covers for the paperback reissues. Really, the toughest part is going to remain selling this "perfect" character to modern audiences. Doc Savage comes with much of the same "boy scout" baggage as Superman, but also doesn't come with the same degree of expectactions from the general public.
Hardcore Doc Savage fans (there are some of us) are a little tougher to please. Still, this is the first time we've heard a name seriously mentioned in connection with Doc Savage since Arnold Schwarzenegger was attached to an earlier version of the project.
Amusingly, it seems like the Hemsworth idea was first planted in an IGN interview with Shane Black, where he brought up that whoever plays Doc, "they've kinda gotta be tall." Jim Vejvoda suggested Chris Hemsworth, to which Black responded, "that's not a bad idea." Maybe this sparked the meeting that THR refers to.
There's no word on when production on Doc Savage might begin as it's apparently "grappling with budgetary issues," But the idea of Chris Hemsworth being the first man to play Doc Savage since Ron Ely is a fun one to ponder. Let's keep it in mind that a "meeting" means very little at this stage, but we'll keep an eye on this one for you.
Source: The Hollywood Reporter
Like us on Facebook and follow us on Twitter for all news updates related to the world of geek. And Google+, if that's your thing!