News
Diary of a Wimpy Kid: The Long Haul Trailer Showcases New Cast
Diary of a Wimpy Kid: The Long Haul revives the film franchise with a Vacation-style spin and a new cast.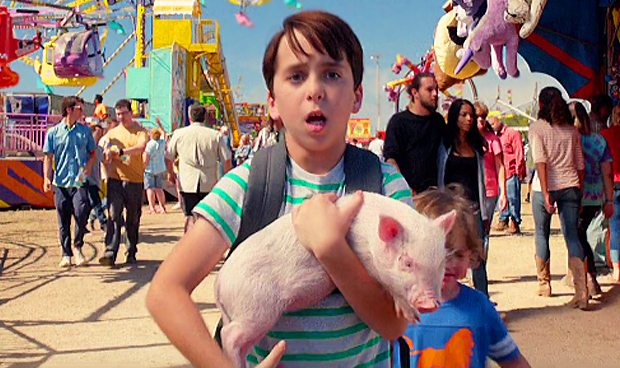 When the original Diary of a Wimpy Kid first arrived in 2010, it would have been hard to conceive that it could become a four-film-spawning franchise that would still be kicking some seven years later. However, after a five-year dormancy, the series, based on the irreverent novels written and illustrated by Jeff Kinney, is set to relaunch with its fourth film entry Diary of a Wimpy Kid: The Long Haul. Seeing as said "wimpy kid," originally played by Zachary Gordon, is no longer a kid, this new entry has wiped the entire cast slate clean, even the parents!
New cast aside, the Diary of a Wimpy Kid: The Long Haul trailer also reveals a stylistic detour, with the new version of the Hefley family taking a page out of the classic Vacation film series Griswold playbook with a torturous family road trip, cramming themselves into a car for days. However, the eponymous embattled wimpy kid himself Greg (Jason Drucker) and his impetuous brother Rodrick (Charlie Wright) have other plans in mind, concocting an ill-conceived scheme to – despite being too young to drive – hijack the family truckster to attend a Comic-Con-type geek pilgrimage event. This, of course, raises the ire of mother Susan and father Frank, who have seen their perfectly planned vacation spiral into comedic chaos.
Diary of a Wimpy Kid: The Long Haul also made interesting choices in recasting the parents. Replacing Rachael Harris as Susan is 1990's icon Alicia Silverstone. Indeed, the sight of the actress who stole hearts in a trilogy of Aerosmith videos and as protagonist Cher in one of the decade's defining films in 1995's Clueless now playing a doting mother to rowdy teenagers will make Gen-Xer's feel their age. In an oddly poetic twist, replacing Steve Zahn as Frank is his former cast-mate (and band-mate,) from 1996's That Thing You Do! Tom Everett Scott. While Scott's leading man days are likely done, he still manages to field major roles, recently seen in Oscar-favorite La La Land and on television on Scream: The TV Series and Reign.
In the director's chair for Diary of a Wimpy Kid: The Long Haul is the series' repertory helmer David Bower (Astro Boy, Flushed Away). After inheriting that role from original film director Thor Freudenthal, Bower has been handling the franchise since the 2011 sequel Diary of a Wimpy Kid: Rodrick Rules, following that film up with 2012's Diary of a Wimpy Kid: Dog Days.
Diary of a Wimpy Kid: The Long Haul is set to make mom angrily shout, "As if," after a boring family vacation is hijacked with a wanton rampage of rebellion. The film is set to hit theaters on May 19.