Features
Den of Geek Book Club Podcast #6: Marissa Meyer On Archenemies
We chatted with Marissa Meyer, the author of the Renegades series (and the Lunar Chronicles series) about writing superhero fiction.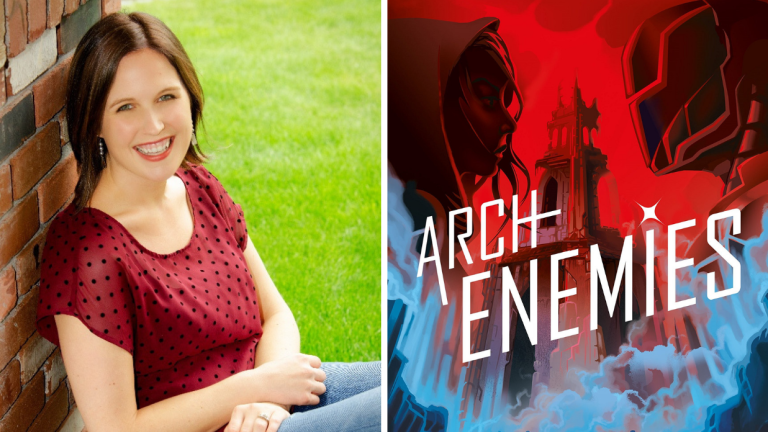 Here at Den of Geek, we love our superhero stories, and it's been pretty cool to see the genre make its way from comic books and film/TV to the book world. Right now, we're obsessed with the Renegades series by Marissa Meyer, who you may recognize from her Lunar Chronicles series, which reimagines classic fairy tales into speculative fiction settings.
Join the Den of Geek Book Club! 
Renegades is set in a world that is ruled by superpowered individuals called, um, Renegades. The Renegades took control after a period of disorder during which the Anarchists, this world's "supervillains," had power.
Nova and Adrian serve as our starcrossed friends-and-maybe-something-more and protagonists. Nova was raised by the Anarchists, and has the power to induce sleep (and also doesn't have to sleep herself). Adrian was raised by the Renegades, and has the power to bring to live anything he draws. When Nova goes undercover with the Renegades to bring them down from the inside, both Adrian and Nova's world views are complicated by the other.
Read Archenemies by Marissa Meyer
Meyer just published the second book in her Renegades series. Called Archenemies, it picks up where the first one left off, and continues to complex story of superpowered individuals that refuses to fall into a black-and-white morality. It's our current Den of Geek Book Club pick!
We had the chance to chat with Meyer about moving from the world of fairy tales to the world of superheroes, how she came up with the unique power sets in this world, and whether or not she's seen Sky High. Check it out below…
Subscribe: Apple Podcasts | Spotify | Stitcher | Acast | RSS
Kayti Burt is a staff editor covering books, TV, movies, and fan culture at Den of Geek. Read more of her work here or follow her on Twitter @kaytiburt.