Features
Den of Geek Book Club Podcast #1: Annalee Newitz on Autonomous
We talked to Annalee Newitz about Autonomous, gender, capitalism, artificial intelligence, and Riverdale.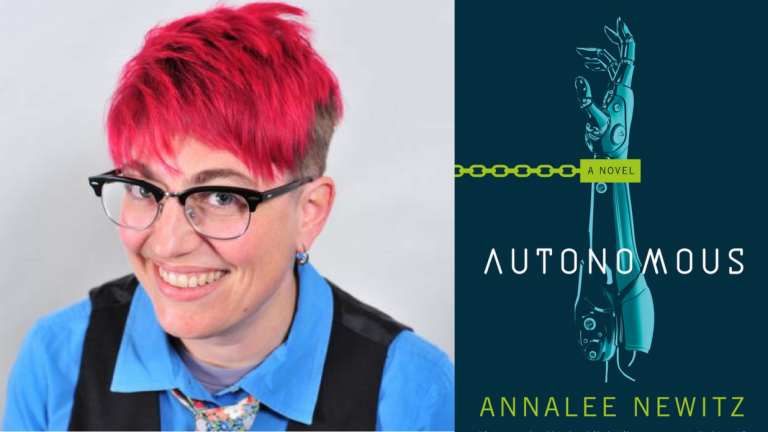 Annalee Newitz's science fiction debut Autonomous is a gutting tale of love, identity, and artificial intelligence in a future where anything, or anyone, can be owned. 
We enjoyed the robot pirate novel so much, we chose it as our Den of Geek Book Club pick of the month, and are giving away a hardcover copy of the new novel.
Join the Den of Geek Book Club conversation over on Goodreads!
Newitz is not only a science fiction author, but also (among many other things) the co-founder of io9 where she served as Editor-in-Chief from 2008-2015, the author or non-fiction book Scatter, Adapt, and Remember: How Humans Will Survive a Mass Extinction, and the current Tech Culture Editor at Ars Technica where she writes about the cultural impact of science and technology. She is also a very nice person.
You can follow Newitz on Twitter at @Annaleen.
We had a chance to sit down with Newitz at New York Comic Con, shortly following the release of Autonomous in October, to chat to the author about where the idea for this book started, crafting the vivid points-of-view in this tale of artificial intelligence, and why Riverdale is such a good show.
Buy Autonomous by Annalee Newitz
Note: Please excuse the chair-screeching sometimes going on during the recording of this podcast. If you're ever been to New York Comic Con, then you know how hard it is to find a quiet corner.
Subscribe: Apple Podcasts | Spotify | Stitcher | Acast | RSS