News
Cursed: Release, Date, Trailer, Cast, and Story for Netflix Arthurian Series
Netflix will follow the teen-aged exploits of King Arthur's Lady of the Lake character in Cursed.
Netflix is pulling a sword from a stone in its upcoming original series, Cursed. Based on King Arthur's Lady of the Lake, the project comes from comic book writer/artist Frank Miller (The Dark Knight Returns, Sin City) and Puss in Boots writer/producer Tom Wheeler. The 10-episode series is based on Miller and Wheeler's illustrated young adult book, Cursed.
Cursed puts a twist on the King Arthur legend, told through the eyes of the Excalibur-bestowing enchantress, the Lady of the Lake. The character is depicted here as a teenager, named Nimue, with a mysterious gift, and the coming-of-age series showcases her path to destiny. According to the plot description (via Variety), after her mother dies, Nimue joins a young mercenary named Arthur, on his quest to find the magician Merlin and deliver an ancient sword. The future Lady of the Lake becomes a symbol of courage and rebellion against the "terrifying Red Paladins, and their complicit King Uther."
In the latest news, a major character for the series has been cast, which you can read about just below. Additionally, check out Netflix's recently-released official image from Cursed, showing star Katherine Langford in her role as eventual Lady of the Lake, Nimue, which you can check out in full immediately below.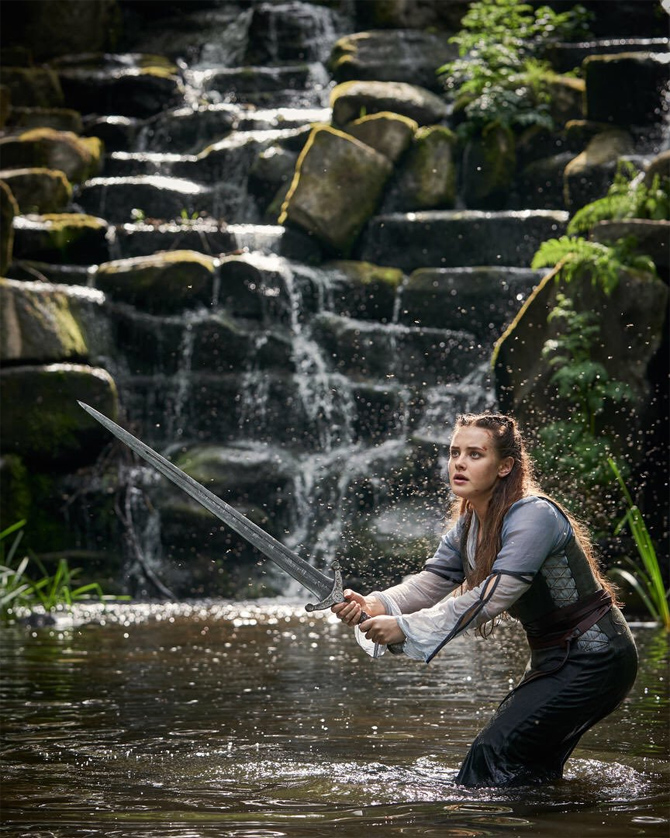 Cursed Release Date
Cursed is set to premiere all 10 of its episodes on July 17 on Netflix. Previously, Simon & Schuster Children's Publishing released the Cursed graphic novel on October 1, 2019
Cursed Trailer
Netflix has released the first official trailer for Cursed, giving us a look at the stylized Arthurian action. "The legend says this sword belongs to the one true king. But what if the sword chooses a queen?" Katherine Langford's Nimue asks.
Cursed Cast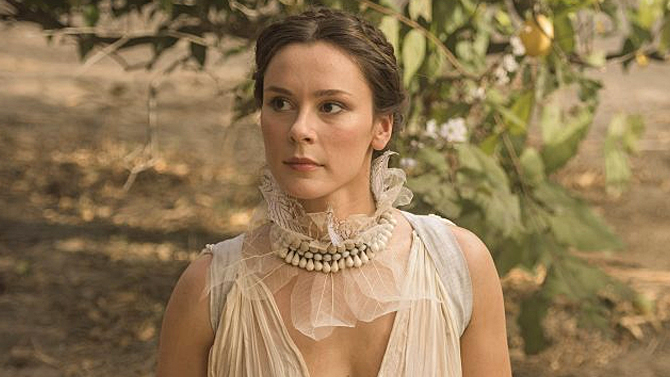 Bella Dayne has just joined the cast of Cured as a series regular, reports Deadline. She will play Red Spear, described as "a regal and ruthless Viking captain, with an eye for treasure…loyal to no one, the Red Spear and her crew raid villages along the coast of Britain, until a Fey stowaway boards her ship and entangles their fates."
Dayne, a German actress, co-starred on the BBC's Troy: Fall of a City in the crucial role of Helen of Troy. She's also fielded TV runs on AMC/Channel 4's Humans, FX's Trust and Showtime/Sky Atlantic's Guerilla, as well as guest spots on shows like Amazon's The Man in the High Castle, CBS's Person of Interest, ABC's The Goldbergs and FX's American Horror Story.
Katherine Langford will star in Cursed as Nimue, as Deadline reported back in September 2018. The role will serve as a quick Netflix homecoming for Langford, who, for two seasons, has starred on the streaming giant's controversial teen drama, 13 Reasons Why as the posthumous-video-providing self-martyred teen, Hannah Baker. With momentum from 13 Reasons Why, Langford, an Aussie actress, banked movie appearances in director (and Arrowverse CW TV maestro,) Greg Berlanti's rom-com, Love Simon, as well as the comedy-drama, The Misguided. While she had to see her role cut from the newly-crowned all-time box office topper, Avengers: Endgame, she did get to join the large cast of Rian Johnson's mystery movie, Knives Out.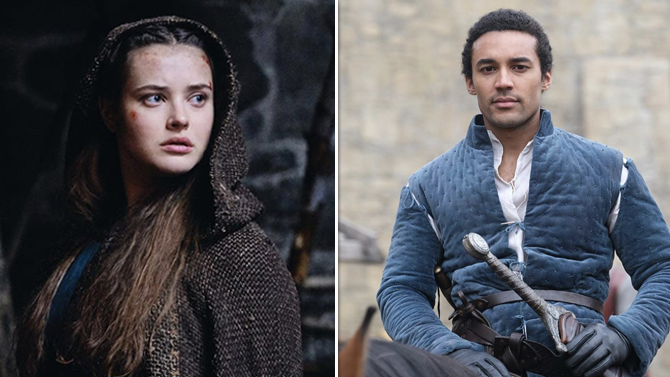 The cast also consists of Devon Terrell (pictured in Cursed directly above with Langford,) (The Professor, Ophelia), Peter Mullan (Ozark, Westworld), Lily Newmark (Sex Education, Solo: A Star Wars Story) and Gustaf Skarsgard (Vikings, Westworld).
Cursed Story
"I have always been entranced by the mythological Arthur story—and by Nimue, in particular," said Frank Miller said in a statement after the book announcement, per CBR. "It can be interpreted in any number of ways — from a delightful children's story, as in The Sword in the Stone, to a terrifying interpretation like Excalibur. This tale represents an incredible opportunity and an exciting challenge for me as an illustrator, and I'm excited to collaborate on the story with Thomas Wheeler. I inherited a collection of antique children's books from my mother, and I've always wanted to have a crack at it myself. This project is a dream come true."
Miller, who co-directed Sin City with Robert Rodriguez, also wrote the graphic novels Ronin, Daredevil: Born Again, and 300. He created the character Elektra for Marvel Comics' Daredevil series, and the character Carrie Kelley for DC Comics. Miller wrote and directed The Spirit, which was based on the Will Eisner comic book series.
Wheeler co-wrote Lego: Ninjago Movie for Warner Brothers. He also is currently writing the sequel to the Shrek spinoff Puss in Boots. Michael Bay will direct his original screenplay Vostok for Paramount Pictures. He worked on the screenplay for Dora and the Lost City of Gold.